I recently received a reader question from a Marine currently out of the country in support of the War on Terror. He sent me a little background on his mortgage situation and wanted to know if he should refinance his VA Loan from a 30-year mortgage to a 15-year mortgage.
Should you refinance a 30 year VA Loan to a 15-year mortgage?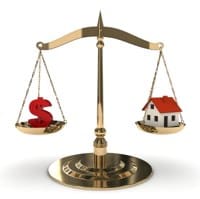 Q: Ryan, I'm looking at my mortgage situation and am considering refinancing my VA Loan from a 30-year mortgage to a 15-year mortgage because we can save thousands of dollars throughout the mortgage. My wife recently received her nursing degree and will be bringing in enough income that we can easily make the higher payments. The only downside I can see is the possibility of PCSing in the next couple of years. Would it be better to refinance for a 15-year loan, or make extra payments on the current loan?
A: Jarhead, thanks for fighting the good fight. We sincerely appreciate all you guys do to keep us safe. Based on your question, it looks like you have a solid grasp on the situation at hand – refinancing to a 15 year mortgage will definitely save you thousands of dollars in interest over the course of the loan, but as you hinted, making the same payments on a 30 year mortgage will have the same effect. But there are a few other differences between 15 and 30-year mortgages that you should consider.
Comparing 15 & 30-year mortgages. For example, most 15 year mortgages have slightly lower interest rates, larger payments, and shorter terms. Most 30 year mortgages have slightly higher interest rates, lower monthly payments, and longer terms. Assuming you take either loan to full term and you don't pay extra, a 15-year mortgage will save you hundreds of thousands of dollars interest throughout a loan. But those savings come at the expense of higher monthly payments and less flexibility.
Sometimes flexibility is more important. In most cases, a 15 mortgage is the better option if you can afford the payments. But due to the number of unknown factors and the military lifestyle, I think a 30-year mortgage will offer you more financial flexibility and the same opportunity to save thousands on interest if you make extra mortgage payments.
In your situation, I would consider more than just the bottom line. If you might PCS in the next year or two, then you have to consider whether or not you will be able to sell your home, and if not, whether or not you will be able to rent it out for what you pay on your mortgage each month (or at least close to it).
If the real estate market in Southern California has recovered reasonably well by the time you PCS, then you may be able to sell your home and be done with it. If you don't think you can sell it or you wish to keep it as a rental to build equity and perhaps move into it later, then a 30-year mortgage will keep your payments low and make renting it more feasible.
You also need to consider the opportunity cost. Many people will point to the interest you pay on a 30-year mortgage and tell you that you should repay your mortgage as quickly as possible so that you can save thousands of dollars in interest payments.
This is a true statement. But it ignores the opportunity cost of investing the difference in your monthly payment. You may pay several hundred dollars more per month on a 15-year mortgage than a 30-year mortgage. This is money that could be invested each month.
Historically, stocks have returned close to 10% annually. There is no guarantee to this return, of course. But it's something to consider if you have a low fixed-rate mortgage payment.
This article compares 15 year and 30-year mortgages while investing the difference. It's eye-opening to consider the longer mortgage and using the difference to invest.
Is refinancing a good option?
The 30 year VA Loan you currently have probably offered the right amount of financial flexibility, but that doesn't mean you still can't refinance your loan. Right now, mortgage rates are near all-time lows, making this a great time to refinance your mortgage (compare mortgage rates and compare VA Loan rates).
If you can save 1% or more on your interest rate, then it is probably a good idea to refinance, even if you maintain your 30 year term (just keep in mind it will extend your payments to the 30 year mark again, even though you may have already paid off several years worth of payments). But even with the longer term, the savings can more than justify the refinance expense, especially if you have the discipline to redirect your monthly savings toward your principal. Here are more things to consider when refinancing your mortgage.
Tips for refinancing VA Loans
VA Loans can be easier to refinance than some conventional loans because of a process called the VA Streamline Refinance. The VA Streamline Refinance enables you to quickly and easily refinance a VA Loan, often at a low cost. You will not need to submit another Certificate of Eligibility, and there is often reduced paperwork since the VA has your home's information on file.
Be sure to shop around for the best mortgage rates and stick with a fixed-rate loan instead of any exotic mortgages offered by many financial institutions. Once you have your refinanced VA Loan in place, go ahead and add a couple of hundred dollars in your budget toward your mortgage payment and set it up on automatic payment. That way, you ensure you make the extra payments each month and get the benefits of the lower interest rates as well as the same benefit of the 15-year mortgage.
I hope this helps you and your family, and thanks for your service.
About Post Author