VA Loans are one of the most valuable benefits available to veterans, as they can make it easier for some veterans to purchase or refinance a home.
VA Loans are backed by the Veterans Administration and can be bought with little or no money down.
There are also advantages for veterans who want to refinance their VA Loan.
Perhaps the easiest way to refinance a VA Loan is with an Interest Rate Reduction Refinancing Loan (IRRRL), or a VA Streamline Refinance.
The VA Streamline Refinance Process From Top to Bottom
I am currently in the process of refinancing my VA mortgage with a VA Interest Rate Reduction Refinancing Loan.
The IRRRL process was created to make it easier for veterans to refinance their current VA Loan into a lower interest rate, without having to go through as much of the underwriting process as getting a new loan from scratch.
In short, it's a little faster and more accessible for everyone involved.
I'll run you through the process I'm going through, why a Streamline Loan makes sense for many veterans who are already using a VA Loan but want a better rate, and how the process works.
I'll also show you how much my payment will decrease when my new mortgage is finalized (over $300 per month)!
Benefits of an Interest Rate Reduction Refinancing Loan
The IRRRL is probably one of the most straightforward home refinancing processes you will find anywhere.
The VA makes the refinancing process easy for everyone involved.
Because you have already gone through many steps to get your initial VA Loan, many of the steps are not required to refinance your VA mortgage.
Here are some benefits of a Streamline Refinance:
No appraisal or credit underwriting package is required for an IRRRL.
The VA also does not require a new VA Loan Certificate of Eligibility (COE), since you already had to use a COE to get your current VA Loan. (You may need to provide a copy of your previous COE).
No money out of pocket is required – homeowners can include all refinancing costs in the loan, or by choosing to receive negative points to allow the lender to cover the closing costs.
You can use any approved VA Loan lender to process your IRRRL, (but you should shop around to compare interest rates, lender's fees, and closing costs).
Additional Notes:
When refinancing from an existing VA ARM loan to a fixed-rate loan, the interest rate may increase.
Veterans are strongly urged to contact several lenders because terms may vary.
You may NOT receive any cash from the loan proceeds.
Borrowers can refinance through the IRRRL without paying any out of pocket expenses as all costs can be included in the new loan.
VA Loan Refinance Terms & Eligibility
An Interest Rate Reduction Refinancing Loan can only be used if an individual has already used their eligibility for a VA loan on the property being refinanced.
The refinance must be a VA to VA refinance, and the action will reuse the entitlement you have initially used.
A lender will need to see your prior use of entitlement so they may need a copy of the Certificate of Eligibility. If you use the same lender as your original mortgage, they may still have a copy on file.
Amount You Can Refinance
The amount of the refinancing loan can not exceed the outstanding balance on the original loan plus allowable costs and fees for closing.
Up to two discount points are also allowable. Additionally, you can add up to $6000 of improvements made for energy efficiency.
At no time can an individual receive cash back from the refinancing process.
When an original VA loan was done, there was a requirement to certify the individual was to occupy the home.
With an IRRRL, you only need to certify you previously lived in the residence.
Comparing Refinancing Costs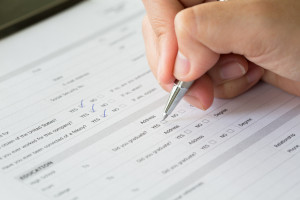 Refinancing any loan requires thought and consideration of your financial situation now and down the road.
Borrowers are strongly encouraged by the Veterans Administration to seek out the terms from several lenders and compare VA Mortgage rates before committing to one.
There can be significant differences between a lender's loan terms.
Some critical factors to consider are:
Mortgage Interest Rate
Annual Percentage Rate (APR)
Loan Origination Fees (Lender's Fees)
Cost of Points to Reduce Interest Rate
Additional Fees and Closing Costs
Escrow Costs (if required)
It may not seem like it on the surface, but sometimes the lowest interest rate isn't the cheapest loan in the long run. The cost of closing fees, origination fees, points, and other expenses can have a major impact on the upfront cost of refinancing, as well as the long term cost of refinancing.
The latter is especially essential if you roll the closing costs into your mortgage instead of paying them as you go.
For example, many lenders will automatically roll expected or required escrow costs into the amount of money you borrow on your mortgage.
This money is required upfront to fund your escrow account to avoid being underfunded for property taxes or insurance.
If you are refinancing, you will be refunded everything in your escrow account, but not until after you close on your refinance. So it's usually best to pay the escrow costs upfront if possible instead of adding them to the amount financed.
Adding escrow costs can add several thousand dollars to the amount you are financing, which can add hundreds more in expenses, including the cost of buying points, interest paid, and your monthly payment.
Are All Lenders the Same?
I receive several unsolicited offers each month from lenders targeting homeowners who purchased their home with a VA Loan.
Many of these companies use official-looking seals and company names. Most of them also use official-sounding language, such as "Use your Veterans Benefit to lock in this limited time offer," or "As a Veteran, you have rights to lock in this limited-time benefit."
Many of these companies want you to believe they are the only company that can offer you this deal.
This is far from the truth, and the fine print at the bottom of their loan offers says as much if you are willing to read the fine print.
The reality is any mortgage lender authorized to provide a VA Loan can also offer a VA IRRRL.
That said, you should consider using a company that is familiar with processing VA Loans. The paperwork, requirements, and timelines can be different from conventional VA Loans.
So you want to be sure to use a company with enough experience that you don't experience errors or delays in your loan processing.
Which Lender Should You Use?
Many great companies specialize in VA Loans. I can't tell you the interest rate, because it will vary for each situation.
Mortgage rates are highly variable, and can vary greatly based on many factors, including the state and county where you live, your credit score, your income, the price of your home, the duration of your loan, whether or not you purchase points to reduce your interest rate, closing costs, and many other factors.
Comparing Refinancing Offer: I recommend contacting several lenders to compare offers.
I usually create a spreadsheet and, at a minimum, list the following items:
Mortgage Interest Rate
Annual Percentage Rate (APR)
Loan Origination Fees (Lender's Fees)
Cost of Points to Reduce Interest Rate
Additional Fees and Closing Costs
Then, I fill in the amounts for each lender, along with any other required costs. Then I compare the total upfront cost, the ongoing cost, and other factors.
It does take a little legwork, but the time is well worth it. Putting a couple of hours into your research can save you hundreds of dollars each month, and tens of thousands of dollars in interest throughout your loan.
For example, I am reducing my mortgage rate from 4.0% to 3.25% over 30 years.
This is a fairly big drop in rates, and my mortgage payment is being reduced by $300 per month*.
The $300 monthly savings increases my monthly cash flow and reduces my fixed monthly expenses—both of which are awesome in my book!
My mortgage is my only debt, so I can use the extra cash flow to continue paying extra on my mortgage, saving for retirement, saving for my children's college expenses, or any other needs.
I'm pretty sure most of us could find an excellent way to put $300 per month to use!
*Note: You have to be careful when saying how much you will save each month on a refinance. My payment is being reduced by $300 each month, which is substantial. But it doesn't tell the whole story. I've had my mortgage for several years, and I have prepaid quite a bit. This new mortgage will extend the pay off date by several years. I'm also refinancing less money than my original loan because I have been prepaying my mortgage each month. It's not quite an apples-to-apples comparison to say I'm saving $300 per month. One way to compare your actual savings is to consider your current interest rate compared to your new interest rate.
For example, on a $200,000 30-year mortgage, you would have the following numbers:
4.00% – $955 monthly payment (Principal & Interest Only); $343,739 total payments (including interest)
3.25% – $870 monthly payment (Principal & Interest Only); $313,349 total payments (including interest)
True Monthly Savings – $85
Annual Savings – $1,020
Total Savings if Carried to Term- $30,390
So the actual monthly savings on a $200,000 loan is $85. B
ut the increased cash flow and lower monthly payments could have a huge benefit if it allows you to pay for other, more important needs, such as paying off higher interest debt, saving for retirement or college expenses, etc.
Which Lender Should You Use?
As mentioned earlier, you can use any VA Loan lender.
However, you may find it easier to deal with a company which specializes in these types of loans, such as any of the following:
Here are some additional lenders that may be able to offer attractive rates for your situation.
Remember, mortgages will vary based on many factors, so compare everything before deciding on the best lender for your needs.
Should You Do a VA Streamline Refinance?
If you already have a VA Loan and are considering a refinance, then you should definitely consider a VA Streamline Refinance.
The process is easier than a conventional mortgage or refinance.
However, be sure to consider all your options, including the total cost of the loan (all closing costs, fees, etc.), whether you should reduce the term of the loan from 30 to 15 years, and other factors.
Be careful not to roll too many closing costs into your new loan, as this may cost you more money in the long run.
You should also be aware that refinancing from an Adjustable Rate Mortgage (ARM) to a fixed-rate mortgage may increase your interest rate.
However, it would allow you to permanently lock in your rate, which offers stability in the event interest rates change.
There are always pros and cons, so make sure you understand your own situation entirely before undergoing any modification.
When Not to Use a VA Interest Rate Reduction Refinancing Loan
Remember, you can only use an IRRRL if you already have a VA Loan. You also can't do a cash-out refinance with a Streamline Refinance.
In some cases, the closing costs, origination fees, and other expenses can result in the loan amount being higher than the fair market value of the home.
In these circumstances, the benefit of refinancing may not be in your best interest. If the new loan's interest rate is not 1-2% lower than the original rate, it may not be worth the refinancing process as the initial loan may be in your best interest.
There will be lenders that try to add additional closing costs to the loan but know that the VA only requires one fee, the funding fee, for one-half of one percent of the loan amount.
The funding fee may be paid in cash from the borrowers or rolled into the loan.
Finally, you should also consider refinancing with a conventional loan if you can find a lower interest rate or better terms.
It is always worth it to shop around.
The decision to refinance is a personal one, and a solution that works for one person may not work for another. Shop around for lenders and compare loan terms before committing to a refinance.
USAA Disclosure: Use of the term "member" or "membership" refers to membership in USAA Membership Services and does not convey any legal or ownership rights in USAA. Restrictions apply and are subject to change. To join USAA, separated military personnel must have received a discharge type of "Honorable." Eligible former dependents of USAA members may join USAA. Bank products provided by USAA Federal Savings Bank, Member FDIC and Equal Housing Lender NMLS ID 401058.

Equal Housing Opportunity. The Department of Veterans Affairs affirmatively administers the VA Home Loan Program by assuring that all Veterans are given an equal opportunity to buy homes with VA assistance. Federal law requires all VA Home Loan Program participants – builders, brokers and lenders offering housing for sale with VA financing – must comply with Fair Housing Laws and may not discriminate based on the race, color, religion, sex, handicap, familial status, or national origin of the Veteran.