Note: The USAA Car Buying Service ended in 2020. Similar car buying programs are run through TrueCar and similar companies.
Table of Contents
Buying a car can be complicated and expensive. With so many different vehicles available from the various manufacturers, it can be difficult to narrow down a make and model, select your trim level, choose a color, and finally pick out your car. And all of that needs to happen before you start getting quotes! Then you need to look at whether or not you should pay cash or finance, consider trade-in values, and shop among the different dealership in your area. And last, but certainly not least, you need to consider the convoluted car buying negotiation process.
With so many variables, it can be difficult to know if you are getting a good deal on the new or used car you are looking to buy.
That's where the USAA Car Buying Service comes in.
Formerly known as USAA Auto Circle, the USAA Car Buying Service takes much of the guesswork out of the car-buying process. In fact, it makes it downright easy.
USAA Car Buying Service Review
Let's take an-depth look at the USAA Car Buying Service, including what the offer, how you can score a deal on your next car, how much you might be able to save, and even how you can sell your own car.
How the USAA Car Buying Service Works
First and foremost, the USAA Car Buying Service is only available to USAA members. Membership is free, but it is only available to current and former military members and their families. You can visit the USAA website to learn more about membership, or to become a member. (USAA also offers banking, investing, insurance policies, and many other valuable member benefits – read our USAA review for more info).
The USAA Car Buying Service is run through TrueCar, which is a car buying service that gives buyers a fixed, no-hassle quote from participating dealerships. This makes it easy to shop and compare car prices, print out a certificate, visit the dealership, and buy the car for the quoted price.
The process works like this:
You visit the USAA Car Buying site.
You search vehicles, including the make, model, and trim level.
Choose your new or used car.
A Certified Dealer gives you an upfront, discounted price including dealer fees and incentives.
You can view a price curve that shows you what others in your area paid for the same car.
If you choose to go forward, you print a certificate that guarantees the price on that specific car (or save it to your smartphone app).
Go to the dealership, present your certificate, and buy your car.
It's that simple!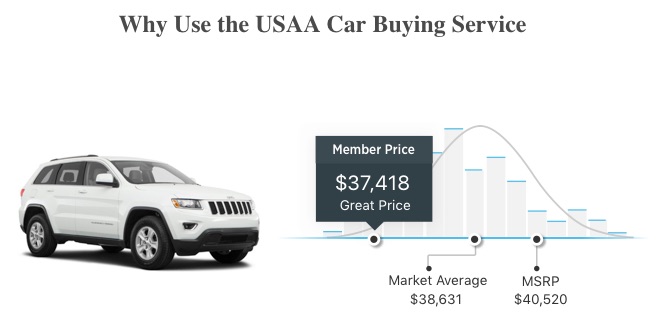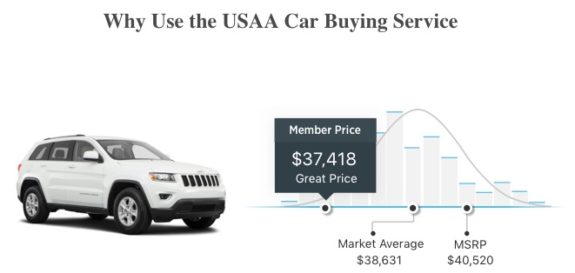 The above image shows an example of the price curve you will see on the USAA Car Buying Service website. The MSRP will be listed, along with the average market sale price over the most recent period. The Member Price is also listed. These are actual prices for real sales reported by dealerships.
This is a great visual to help you understand the current market, as well as the potential savings you can have if you purchase through the system.
How You Can Save Big on Your Next New or Used Car Purchase
There are three ways you can save with the USAA Car Buying program: (1) Savings off MSRP, (2) Exclusive USAA Member Bonus Cash Offers, and (3) Loan Rate Discount through USAA.
Let's look at each of these in more detail:
Savings off Manufacturer Suggested Retail Price (MSRP)
The MSRP is the suggested sticker price you see on new cars. It's important to understand the MSRP is just that – a "suggested price." Many cars end up selling for below the MSRP. But not all do. Many popular models sell right at the sticker price. (some high-demand or hard-to-find models can actually sell above MSRP, but this is rare).
The important thing here is that the USAA Car Buying Service will bring you a firm sale price without having to go through the negotiation process. If you like the offer, you take it. If not, you can use it as a starting point with a different dealer, or find a different car to buy. This reduces your stress and total amount of work, and can end up saving you money in the process.
How much can you save off MSRP? USAA members saved an average of $3,554 off MSRP on new vehicles during the 2017 calendar year (most recent data).
That's pretty substantial in my book!
From the USAA website:
Between 01/01/2017 and 12/31/2017, the average estimated savings off MSRP presented by TrueCar Certified Dealers to users of the USAA Car Buying Service, based on users who configured virtual vehicles and subsequently purchased a new vehicle of the same make and model listed on the certificate from Certified Dealers, was $3,554, including applicable vehicle specific manufacturer incentives.
Exclusive USAA Member Bonus Cash Offers
The bonus cash offers are offered through individual vehicle manufacturers. Not all manufacturers participate, and they can change from time to time. So it's a good idea to visit the USAA Ca Buying Service to see the most current list.
Which Manufacturers Offer Discounts through USAA?
As of 2018, the list of auto manufacturers that offer cash discounts include:
Alpha Romeo, BMW, Chrysler, Dodge, Fiat, Ford, Jeep, Mercedes, Mini, Nissan, Ram, Smart, and Vantage Mobility International, which sells wheelchair accessible vehicles.
Keep in mind this may change.
Loan Rate Discount through USAA
USAA offers members a discount auto loan rate when they buy a new or used vehicle through the USAA Car Buying Service. The current offer is a 0.50% discount on your USAA auto loan when you purchase a vehicle using the USAA Car Buying Service. (Note: terms apply, and this offer is subject to change, so use this bit of info to understand how the process works. You will need to check with USAA for specific information for your purchase).
Like all loans, you will still need to qualify based on your credit score, income, debt to income ratio, and other factors. Still, getting a 0.50% discount on your interest rate can save you a lot of money over time. So it's worth looking into.
Of course, many dealerships and manufacturers offer special car loan rates to get buyers in the door. So always compare the USAA interest rate to the one you can get through the dealership. The dealer may be able to offer a better interest rate. Then again, USAA may just come through as the best option.
How Much Can You Save with the USAA Car Buying Service?
This is a great question, and one that is virtually impossible to answer, since each car is different and many factors contribute to the final purchase price of any vehicle – new or used.
Some of the factors that come into play include the vehicle you buy (make, model, and trim level), vehicle demand, your region, your specific dealership, specific manufacturer incentives in place at the time of purchase, whether you are paying cash or financing, whether or not you have a trade-in, taxes, and other factors.
The USAA website shows that USAA members saved an average of $3,554 off MSRP on new vehicles during the 2017 calendar year. This includes applicable vehicle specific manufacturer incentives.
It's impossible to say you will save a comparable amount, since there are so many factors involved.
But in my opinion, it's never a bad idea to start the car buying process with USAA and see how it will turn out. You are not obligated to use their service if you decide you want to buy through a different dealership or you find a better deal elsewhere.
The USAA Car Buying Service is All About Convenience
USAA has several programs aimed at helping members save time and money. For example, they also offer USAA Home Circle, which is similar to the USAA Car Buying Service, but for housing. It's a cool feature and one worth checking out if you are moving.
The USAA auto program makes it easy to search for car prices, select a dealership, and set up a new or used car purchase right from your phone or tablet. In fact, you can do just about everything through the app, from finding your car, locking in a price, securing financing (if needed), and even buying a new car insurance policy.
Many members save money when switching to USAA auto insurance. Of course, insurance rates vary based on many factors, including driving history, age, gender, location, type of vehicle, and more. So it pays to shop around.
How does USAA Auto Insurance Compare? Check out our list of Military Car Insurance Providers for more information.
Should You Use the USAA Car Buying Service?
Like all things, it pays to compare. I used the USAA Car Buying Service to search for my last vehicle purchase. I looked at both new and used vehicles. When comparing new cars, the USAA Car Buying Service compared favorably to several other online car search tools.
The key, I believe, is to first determine the exact make and model you want to buy, then get multiple quotes from different locations. Use this information as your starting point for negotiations. Some dealerships may be willing to offer further discounts, while others may hold firm.
In the end, I purchased a used vehicle. I used the USAA Car Buying Service to look for used vehicles, but the dealership I purchased my car from did not participate in the program (not all dealerships participate). So I didn't buy my car though the USAA Car Buying Service.
But I like the idea of the hassle free price quote. That would have saved me quite a bit of time at the dealership when I was negotiating my used car purchase.
Will the USAA Car Buying Service Work for You?
I think it can. As I mentioned in a section above, I think using the USAA Car Buying Service as a starting point can save you a lot of time and money in the car buying and negotiating process. At minimum it should help you avoid a nightmare car buying experience.
At the end of the day, you may be able to save a little bit more by spending a lot of time negotiating. Or maybe you hit the dealership up at the end of the month when they need just a couple more sales to hit their sales targets and you can save a little extra.
But if time is of the essence, then I think it would be very easy to do worse if you tried to do it all on your own.
Note: This program is expected to remain in place through September, 2020.
About USAA. USAA provides insurance, banking, investment and retirement products and services to 12.4 million members of the U.S. military and their families. USAA membership is open to all who are serving or have honorably served our nation in the U.S. military – and their families. For more information about USAA, check out this USAA review.
About Post Author