Each year the DoD adjusts Basic Allowance for Housing Rates across the board. They use a host of information to calculate how much they should provide servicemembers. In some locations BAH Rates increase, and in others they decrease.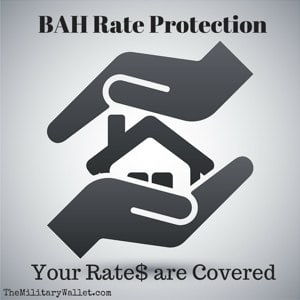 Thankfully, the BAH Rate Protection policy ensures your BAH rate won't decrease in the middle of your assignment, even if BAH Rates for your location decrease. This is important to know, with the recent news that the DoD is decreasing BAH to 99% of the expected cost of housing in your area.
Let's take a look at BAH Rates and how the BAH Rate Protection policy maintains your BAH rates, even if they decrease in your area.
How BAH Rates Are Calculated
Basic Allowance for Housing (BAH) is provided to servicemembers in lieu of military housing. Determining BAH Rates is actually a fairly complicated process, so we will simplify it to the basics here. You really need to know two things: how the data is collected, and how it is processed.
BAH data is based on rental prices and the cost of utilities. BAH Rate calculations formerly included the price of renter's insurance. This was removed in 2015. Rental costs are collected on apartments, townhouses/duplexes, and single-family rental units of varying bedroom sizes. This information is then mashed into a complex formula that is designed to give service members housing based on their pay grade and dependent status.
The process is a bit complicated and is repeated each year. Sometimes the BAH rates increase, other times they decrease.
You can learn more about BAH Rates in the DoD BAH Primer, a 13 page pdf which explains everything in detail.
BAH Rate Protection
The good news is you shouldn't see your BAH Rate drop during the middle of your assignment, even if the rates for your location decrease in any given year. There are certain exceptions to this rule, which we'll cover in just a moment.
Individual BAH Rate Protection: This prevents decreases in your housing allowance, as long as your status doesn't change. Servicemembers are entitled to the greater of the published BAH rate on January 1, or the BAH they were paid on December 31 of the previous year.
When BAH Rates Are No Longer Protected
BAH rate protection is in place from the time a servicemember arrives on an installation until the status of the servicemember changes due to:
Permanent Change of Station (PCS)
Reduction in Pay Grade
Change in Dependent Status
PCS Status Change: The term PCS is important because a servicemember can receive PCS orders and remain in the same house if it is within commuting distance to another Permanent Duty Station. There are multiple military bases within commuting distance of each other. So this is not an uncommon situation. Another common term is PCA – Permanent Change of Assignment. This is not the same a a PCS and your BAH Rates should be protected.
Reduction in Pay Grade: Being demoted will result in receiving the current BAH rate for your new pay grade, regardless of whether it is higher or lower than your current rate. On the other hand, receiving a promotion will never result in a lower BAH. If you are promoted in a given year, you should receive the BAH rate for your new pay grade if it is higher than your previous BAH rate. If BAH rates for your duty station have decreased and the BAH rate for your new pay grade is lower than the BAH rate for your previous pay grade, then you will continue to receive the higher protected BAH rate from your previous pay grade.
Change in Dependent Status: The Change in dependent status refers to a change in the "with dependents" or without dependents," status – not the number of dependents. So you won't see a BAH decrease if you have another child or if one of your children moves out of your home (provided you still have dependents).
Change in Duty Status / Title 10 / Title 32 Orders. One area that is often overlooked is a change in your orders. Members o the Guard or Reserves who move from Title 10 to Title 32 or vice versa may see a change in their BAH rates since this is not considered uninterrupted service. Visit your personnel, human resources, or finance office for more information.
Summing Up BAH Rate Protection
To sum it up, BAH Rate Protection ensures that servicemembers will receive published increases in BAH Rates, but not decreases, unless any of the 3 previously mentioned conditions apply. Decreased BAH Rates should only affect servicemembers who PCS into a new area, have a change in dependency status (change from with dependents to without, or vice-versa), or to those who receive a reduction in pay grade.
About Post Author