As veterans, we served for many reasons. Some of us were drafted, some of us joined an all-volunteer force. Regardless of your motives (or choice in the matter), you have earned the right to call yourself a veteran. There is a tremendous amount of respect and responsibility that comes with that title, and and instant membership into a select group of people who understand what it means to serve.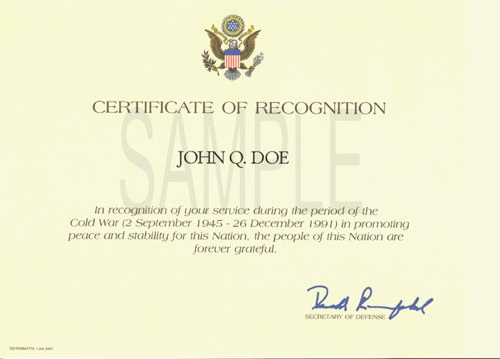 It's often easy to look back at some parts of our military careers without taking into account the greater picture of what we did, when and where we served, what we accomplished, and what was happening in our world at the time. It is with this in mind that the Cold War Recognition Certificate was created. The Cold War Recognition Certificate was created to honor those who served in the armed forces or as a federal government civilian during the Cold War Era, which is designated from September 2, 1945, through December 26, 1991. The award and issuance of this certificate was authorized by the Secretary of Defense under Section 1084 of the Fiscal Year 1998 National Defense Authorization Act.
How to get a Cold War Recognition Certificate
Eligibility. The Cold War Recognition Certificate is available to all former members of the armed forces and federal government civilian personnel who faithfully served the United States during the Cold War era, Sept. 2, 1945, to Dec. 26, 1991. Individuals must have served at least one day during this period to qualify for the certificate.
How to obtain a Cold War Recognition Certificate. To request a Cold War Recognition Certificate, you will need to visit the site to download the appropriate paperwork. Here are the instructions, and the FAQ Page. Then you will need to mail or fax supporting documents to the US Army Human Resources Command. The preferred application method is by using the following application form (the form is based on your mailing address and status as the member who is applying, or Next of Kin):
If you are applying as Next of Kin, you may wish to review the methods for obtaining a copy of military records regarding who is considered Next of Kin (generally a spouse, children, surviving parents, surviving siblings, in that order).
Print, sign, and confirm your application. You must send a copy of your application along with supporting documentation. Acceptable documentation includes includes any official government or military document that contains the recipient's name, Social Security Number or Military Service Number or Foreign Service Number, and a date showing at least one day of service during the Cold War era (2 September 1945 to 26 December 1991). Examples include your discharge paperwork, DD Form 214, military medals or awards, old pay stubs, or other documents. Here are instructions for getting a copy of your DD Form 214, or replacing your military awards.
(Note: Please do not send original documents as they will not be returned. Only send copies.).
Please send your application and documentation to:
USAHRC
Cold War Recognition Program
ATTN: AHRC-PDP-A, Dept 480
1600 Spearhead Division Avenue
Fort Knox, KY 40122-5408

FAX: 1-800-723-9262 or 502-613-9510
Alternate application method: Applicants can elect to hand write a letter if they are unable to print the forms mentioned above. If you are applying for the certificate with a hand-written letter, then it must be signed and dated, and you must include the following phrase in your letter, "I confirm my faithful and honorable service to the nation during the Cold War Era."
Applications without this phrase will be automatically rejected.
How long does it take? Response times vary, but expect it to take between 30-60 days to receive your Cold War Recognition Certificate. These certificates will be awarded on a first come, first served basis and will be awarded until the government runs out of them. (This award has been around since 1999, and they are still issuing it, so you likely still have time to receive your copy).
Important things to know
This award is only issued one time per person, and the government is not issuing replacement copies. It is recommended that you keep this somewhere in a safe place, such as a scrapbook, in a frame, or in a lockbox. This should not have any identifying personal information, such as your Social Security Number, so display it proudly!
About Post Author