Divorce is an emotionally and financially trying time for anyone, civilians and military members alike. However, if you are a military couple going through a divorce, there are laws and factors unique to a military divorce that can affect how you split your assets, including your pay and eventually, your retirement pay.
If you are a military member and you're seeking a divorce, it's important to understand how divorce will affect your pay. The following article will hopefully shed light on some of your questions as you move forward with divorce proceedings. Please keep in mind, divorce proceedings are held at the state level and laws vary by state. As such, divorce laws, especially as they pertain to the military, can be very complicated. This should be considered general information, and not taken as legal advice. Please seek legal council for specific questions about your situation.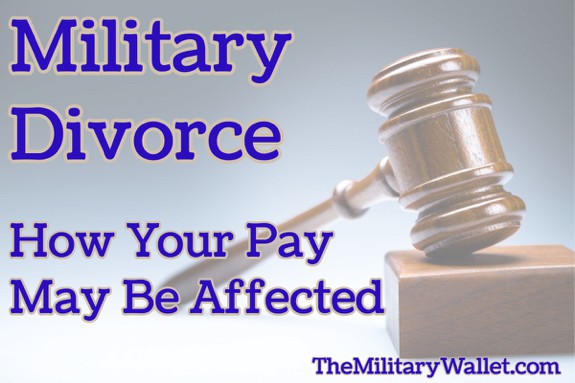 Understanding the USFSPA
Before you begin the divorce process, it's important for you to understand The Uniformed Services Former Spouses' Protection Act (USFSPA), 10 U.S.C. 1408. The USFSPA is a federal law which was enacted on September 8, 1982. It recognizes the right of state courts to distribute military retired pay to a former spouse.
Please note that the USFSPA does not automatically award a portion of a military's member's retired pay or pension. It simply provides a method of enforcing payment through the Department of Defense when court orders award a portion of a military member's retired pay to a former spouse. The USFSPA also helps enforce the payment of court-ordered child support or alimony.
In other words, the USFSPA makes it possible to provide former spouses with court ordered payments made directly from the servicemember's paycheck or retirement pay from Defense Finance and Accounting Service (DFAS).
Dividing Retirement Pay
Once a military member has served for 20 retirement pay eligible years of service, they can receive a retirement pension. Since the USFSPA law was passed, courts now treat that pay as property (not income), meaning that it can be divided as marital property during a divorce.
There is a false notion that the USFSPA enforces that a certain percentage of a military member's retirement pay goes to their spouse during a divorce after so many years of service. This isn't the case. Dividing retirement pay is completely negotiable, and the payment can be settled as either a fixed dollar amount or a percentage of your disposable retired pay. A division of a military pension is decided by the courts during divorce hearings. A spouse could theoretically be awarded up to 100% of service member's retirement pay. However, the USFSPA will only pay up to fifty percent of their pension to a divorced spouse. Any amount exceeding fifty percent must be paid by the military members themselves.
The 10/10 Rule
Many people mistakenly believe that under the USFSPA's 10/10 rule, former spouses are ineligible to receive any of the service member's pay unless they were married for 10 years. This isn't true.
The 10/10 rule simply states that a former spouse can receive their court-ordered portion of the divided military retirement pay directly from the Defense Finance and Accounting Service if they were married for 10 years or more during which the member performed at least 10 years of military service creditable towards retirement eligibility (the 10/10 rule = 10 years of marriage that overlaps 10 years of service creditable toward military retirement). The 10/10 rule only affects who sends a former military spouse a retirement check, not whether or not they're eligible to receive one.
Again, years of marriage and service have no bearing on the amount a spouse can receive from retirement pay. That number is settled in the courts. For example, a civilian spouse can ask for half of the military's spouse's pension even if they were married for less than ten years. They can also ask for less even if they were married for more than 10 years. Retirement pay is completely negotiable between the two parties in a divorce. Even if a spouse was married to a military member for 20 years, they might decide to ask for ownership of real estate instead of pursuing a portion of their military spouse's retirement pay.
Child Support Payments and Alimony
Each branch of the military has their own policies regarding child support and alimony in the absence of a mutual agreement or court-ordered payments. Bear in mind that a military commander has a limited legal authority to enforce child or spousal support payments, even without the presence of a court order.
If a former military spouse has been granted court-ordered child support or alimony payments, the USFSPA guarantees that they can receive direct payment from DFAS if they send DFAS an order from or court or child support enforcement agency that directs the government to pay support or alimony payments. A military member's pay can be garnished by DFAS to make these payments.
The Importance of Finding a Specialized Divorce Lawyer
If you're a military service member or spouse and currently going through a divorce, it's in your best interest to find a lawyer who specializes in military matters, especially divorces. The laws and statutes regarding divorce law vary from those undergoing a civilian divorce.
If your lawyer has never dealt with a military divorce, they may not be able to help you effectively. Find a lawyer with a long history and in-depth experience with divorce in military families. Interview them about their experience with military divorce and their understanding of how a military divorce could affect your pay. You don't want to find out after you have secured their services that they don't understand the laws as they pertain to military service members.
Try to Settle Outside of Court
There's no question that divorce can get ugly, but it doesn't have to be. If you and your spouse are able to split amicably, you'll have more wiggle room in your negotiations. As soon as a court order for payments or a split in property is involved, you have no choice but to comply or have your wages garnished. Keeping things friendly will help everyone involved, and if you're a service member, you will have more control over your pay.
About Post Author