Did you know that military bases offer many free classes to service members, dependents, and retirees? These classes are designed to give military families free resources to help with a variety of military life challenges—from PCSing and deployments to new babies or new jobs. If you could use help, or just want to brush up on skills, check out the classes offered on your base to take advantage of these free classes.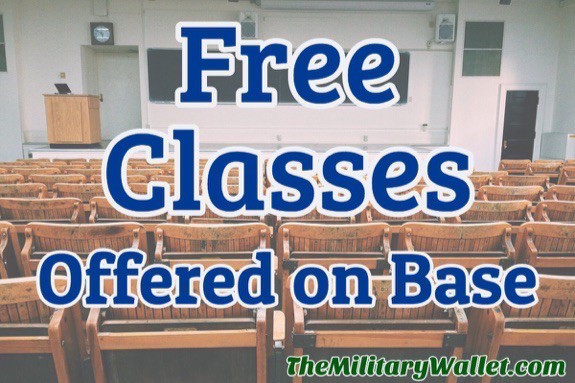 Note: these exact classes are not available at every military base. This is a sample of typical classes offered for free, but the names vary by branch, size of the installation, and the annual budget for training. For Army classes, go to the base Community Service Center or the Education Center. On Navy bases, contact the Fleet and Family Center for a complete list. On a Marine Corps base, look for the MCCS (Marine Corps Community Services) office. Air Force classes are held at the Airman & Family Readiness Center (AFRC) – most bases maintain their own AFRC website. Research the classes at the base nearest you.
Military Life Classes
Relocation Classes or Spouse Orientation: These classes can teach you about your new base, and provide worthwhile information about local resources. The Marine Corps version is called LINKS.
Transition Readiness: For those preparing to transition out of the military, this class should be taken at least a year before separation or retirement. It discusses options for employment, housing, and healthcare in your post-military life.
PCS Classes: Attend this free class before your next PCS, so you'll have all the information about moving yourself, reimbursement funds, and when to file paperwork with the transportation office.
Deployment and Homecoming Briefs: These seminars are designed to assist families before or during deployment. You will learn about base resources, communication options, and protocol for deployment and homecoming.
Disaster Preparedness: If your base is likely to suffer any type of natural disaster, like a hurricane, earthquake, or tornado, then it is wise for your family to have a disaster plan ahead of time. This class will discuss evacuation routes and what you should do to prepare.
Personal Development
Anger Management Skills: Some service members are required to take this class, but it is available to any family member who wishes to participate. You can learn some of your emotional triggers and techniques to help you stay calm.
Effective Communication: This class is useful for couples or individuals. You will learn different communication styles and how to be more effective with coworkers and loved ones.
Time Management Skills: Take this class to learn how to make the most of your time and accomplish the goals you set for yourself.
4 Lenses: Most people fall into 1 of 4 major personality groups. Learning more about the 'lens' each personality uses to view the world can help you work better with co-workers and family members.
LGBT Support/Education Group: As LGBT persons have become more welcome in the military community, base community centers are forming classes and support groups.
Babysitter Training/ CPR Certification: These classes are typically available to teenage dependents who want to babysit on base. Also, any childcare worker at the base CDC should be CPR certified.
FRG/Key Spouse/FRA Training: Each branch has a different name for their military spouses who communicate directly with unit leadership. Military spouses must complete training requirements before becoming an advisor or FRG.
Professional Development
Resume Writing: Military spouses can benefit from free resume reviews that bring them one step closer to a new job.
Boots 2 Business: This program helps veterans find work when transitioning out of the military.
Interview or Job Fair Techniques: You can get free one-on-one practice before your next interview or job fair.
Spouse Employment Development: There are a variety of programs and scholarships that help military spouses find employment. Learn about all the resources available at this class.
Budget and Financial Planning
Create a Budget: Whether you have never created a household budget, or recent expenses have changed your lifestyle, this class will walk you through the process of making a balanced budget.
Managing Money: Learn the basics of expenses, assets, and debt, so that you can make the most of your money.
Basic Investment: This class will review the basics of stocks, bonds, mutual funds, and military savings plans, so you can begin to plan for retirement.
Buying a Home: Before starting your home search, learn what questions to ask a Realtor, how to apply for a VA loan, and how much mortgage you can actually afford.
Parent Classes
Baby Boot Camp: This class is perfect for any new parent, whether mom or dad. Learn how to diaper and care for a baby, soothing techniques, and options to ease labor and delivery.
Budget for Baby: Not sure how to afford a growing family? After this class, you will have realistic ideas about the cost of diapers and baby food for the first year, plus resources to handle the expenses.
Parenting and Discipline: Military kids go through a variety of stress and frequent changes. That, combined with the challenges of solo parenting during deployment, can make discipline a difficult topic at home. This class provides realistic tools and discussions to help your family function better.
Marriage Improvement
CREDO Retreats: Chaplain offices offer these retreats. Each retreat is typically one weekend at a local hotel. The retreat is free, but childcare is not provided. You and your spouse will learn better communication and ways to strengthen your relationship.
5 Love Languages: Based on the book by Gary Chapman, this class demonstrates the 5 ways that people typically display love. You and your spouse may have different love languages, which can affect your marriage communication.
Which free classes are offered on your base?
About Post Author