If you're not sure how to apply for a VA loan, you're not alone. Many people are confused when it comes to applying for any type of loan, especially when dealing with the Department of Veterans Affairs.
Purchasing a home can be a daunting task, but there are certain things that every veteran can learn to help make the process quicker and easier.
And a VA loan is well worth the minimal amount of required learning. This guide will provide a quick overview of the steps needed to apply for a VA mortgage.
Why to Apply for a VA Loan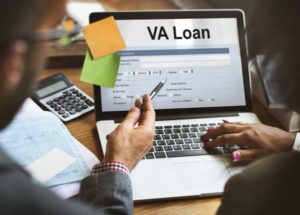 If you are a veteran or active-duty military member looking to finance a home, you should certainly consider applying for a VA home loan.
VA loans offer veterans unmatched benefits, affordability and ease. These loans have been offered to veterans for over half a century and differ from traditional home loans across several areas.
While private, VA-approved lenders source the loans, they are backed by the guarantee of the United States government. If you default on your house payments, the Department of Veterans Affairs could pay between 25% and 50% of the mortgage, depending on the size of your loan.
VA loans stand out from the rest because of their low interest rates. These rates are among the lowest you'll find on the market. Additionally, VA loans come with no monthly private mortgage insurance payments, saving you thousands of dollars over time.
Last but certainly not least, VA loans require no down payment. It is the only financing option out there which offers comprehensive financing.
With low interest rates, no down payment requirement and no monthly PMI, a VA loan can help you purchase the home of your dreams or refinance your current one. Below are some of the basics to help you apply and get approved for your VA home loan.
How to Find a VA-Approved Lender
As mentioned above, VA loans are issued through VA-approved lenders, like banks or mortgage companies, but are guaranteed through the Department of Veterans Affairs.
There are several ways to locate a VA-approved lender. Our tool below is a great resource to get matched with a specalized VA lender.
How to Prequalify for a VA Loan
Ideally, you should prequalify for a VA loan before you begin shopping around. Prequalification will allow you to make an offer, up front, on a home that you're interested in.
There are a couple of ways to prequalify. You can visit a VA-approved lender, or you can apply online.
It's important to note, however, that a prequalification is not the same thing as a preapproval. Once you're prequalified, your lender can start the preapproval process, which will tell you the amount of money you will have available to you once you officially apply for a loan.
It is also worth noting that the VA does have a few expectations regarding your income.
The VA does not have a minimum income requirement for borrowers. They do, however, require a steady income that implies you will be able to make your payments.
They will also look at your residual income, the amount of money you have left at the end of the month.
The criteria vary depending on the area in which you live, as well as how many people are in your household, so check with the VA to see what those requirements might be for you.
Verify VA Loan Eligibility
The first step to getting a VA Loan is determining if you are eligible. You must meet one of the following basic eligibility requirements:
You served 90 days of service during wartime.
You served 181 days during peacetime.
You completed six years of service in the Reserves or National Guard.
You are an active-duty military personnel.
You are the spouse of a veteran who died during their service or later because of it.
A military veteran's character of discharge or service must be under other than dishonorable conditions (e.g., honorable, under honorable conditions, general).
How to Obtain Your Certificate of Eligibility
In order to prequalify for your VA loan, you must successfully obtain a Certificate of Eligibility. The COE is a document distributed by the Department of Veterans Affairs that states you meet the minimum requirements for VA approval and can proceed with applying for a loan.
In addition to applying directly online with lenders as suggested above, you may also apply on the veteran's information portal or by mail.
In that case, you would need to print VA Form 26-1880 and mail it to the VA along with your DD-214 and any additional information required in the application.
You can also obtain this document by calling 888-244-6711.
Once you have obtained your Certificate of Eligibility, you may proceed to obtaining a home appraisal and finalizing your VA loan. The COE will highlight your service and the nature of your discharge, as well as an entitlement code.
The entitlement code, which rests on a scale between one and 11, describes both the time you served and the status of any previous VA loans you have acquired, the latter of which could impact the fees you are required to pay.
How to Get a VA Appraisal
A VA appraisal of the property you plan to purchase is required with all VA loans. Before your loan is finalized, your lender will request a VA appraisal via the Department of Veterans Affairs online, where you will be assigned a random appraiser.
This required appraisal's purpose is two-fold: First, your home appraisal will do the obvious, establishing how much the home's market value is. The second purpose of the VA appraisal is a bit more extensive.
The VA has a list of minimum property requirements to assess issues such as living space, safe and efficient heating, plumbing, and electrical systems, access to clean water, formidable construction and street access, among others.
While the VA appraisal should be completed within 10 days, it could take longer, and you should plan for extra time in case extenuating circumstances prevent that quick of a turnaround.
You should also note that you'll most likely have to pay for the appraisal before finalizing your loan. While the VA loan appraisal fee may differ depending on where you live as well as what type of home you are purchasing, you can expect to pay around $300 to $500.
While your VA appraisal does not equate to a home inspection, it can help point out any issues in your home that need repair and give you an accurate expert evaluation of your home's actual worth.
How to Finalize the VA Loan
Once your appraisal is finished and you're ready to finalize your loan, your lender will schedule the closing. Three days before you sign on your loan, you should receive what's called a closing disclosure, outlining any past and future payments.
At the closing, you'll sign all of loan paperwork. At that time, you'll also need to pay any closing costs you owe.
If you have any questions, you can contact your lender, who should be able to address your concerns.
Bottom Line
When you understand a VA loan better, you'll find that the entire process, from finding a lender to finalizing your loan, isn't as scary as you first thought.
And it's a highly rewarding experience that may land you in the home of your dreams. In a short matter of time, you could be closing on a home, down payment free, and working to build your future.

Equal Housing Opportunity. The Department of Veterans Affairs affirmatively administers the VA Home Loan Program by assuring that all Veterans are given an equal opportunity to buy homes with VA assistance. Federal law requires all VA Home Loan Program participants – builders, brokers, and lenders offering housing for sale with VA financing – must comply with Fair Housing Laws and may not discriminate based on the race, color, religion, sex, handicap, familial status, or national origin of the Veteran.
About Post Author