Quicken Loans is disrupting the mortgage industry.
The industry has a long history of being slow and paperwork intensive. Mortgage personnel are often difficult to get a hold of.
But Quicken Loans has moved the entire process online.
In doing so, they have streamlined the mortgage process, reduced the time needed to process loans, lowered the paperwork requirements, and made the entire process easier for borrowers.
If you need mortgage financing – particularly a VA loan – Quicken Loans is an excellent place to start.
About Quicken Loans
Headquartered in Detroit, Michigan, Quicken Loans began as Rock Financial in 1985 and remains a subsidiary of Rock Holdings, Inc.
But it has since grown to become the largest mortgage lender in America (as of January 2018). The company closed more than $400 billion in mortgage loans between 2013 and 2017. They offer mortgage loans in all 50 states.
The company launched Rocket Mortgage in 2016, as one of the first all-online mortgage lenders in the country. When you apply for a mortgage through Quicken Loans, you'll be completing the process through Rocket Mortgage.
What Quicken Loans Offers
In addition to providing mortgage loans, Quicken Loans is also a full-service mortgage resource. They provide educational information, as well as calculators and other tools to help you work through the mortgage process.
Some of those resources include:
Loans offered. Conventional, Jumbo, USDA loans, FHA, and VA mortgages. Loan are available in fixed-rate mortgages, adjustable-rate mortgages (ARMs), purchases, streamline refinances, and reverse mortgages.
Mortgage calculators. Quicken Loans offers a variety of mortgage calculators to help you determine the mortgage you can qualify for.
Calculators include:
Refinance mortgage calculator – calculate your new monthly payment based on different loan amounts and programs.
Purchase mortgage calculator – letting you know how much your mortgage payments will be.
Amortization calculator – not only shows you the split between principal and interest on your monthly payments but also shows you how you can save money by making extra payments.
Home affordability calculator – allows you to calculate the maximum home price you can afford to buy.
The Home Affordability calculator: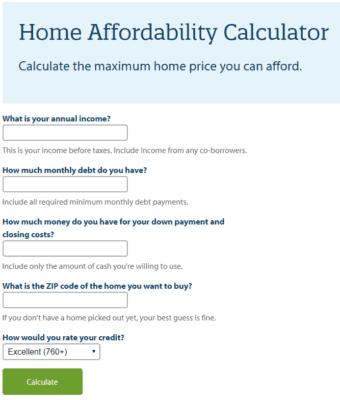 RateShield Approval. You can lock your interest rate for 90 days while you shop for a new home.
Here are some sample rates you can view, also, including rates from some of the top VA Loan providers in the country:
Other Quicken Loan Services
Customer service. Customer service is available by phone, online chat, or e-mail through the website. They also offer customer service in Spanish. Phone support is available Monday through Friday, 9:00 AM to midnight; Saturdays, 9:00 AM to 8:00 PM, and Sundays, 9:00 AM to 10:00 PM.
Live chat is available Monday through Friday, 7:00 AM to midnight, and Saturdays and Sundays, 9:00 AM to midnight. All times Eastern.
In-house mortgage loan servicing. If you've ever previously had a mortgage, you're probably accustomed to the loan being sold off to another service, either immediately, or later in the term. But Quicken Loans services 99% of their loans in-house. So not only will you be able to get your loan through Quicken Loans, but you'll also make your payments there as well. It's not a game-changer, but it does simplify the process.
Quicken Loans Personal Loans. One of the benefits of working with a large lender like Quicken Loans is that they do have other loan products that may be of interest to you. Their personal loans are an example. You can borrow money for debt consolidation, home improvement, buying or repairing a car, to cover medical expenses, make a large purchase, or even for business expenses.
Personal loans are fixed-rate installment loans, and completely unsecured.
You can borrow up to $35,000 with a term of 36 or 60 months. Interest rates are based on your credit history, income, and other factors, and currently range from 5.983% to 29.99% APR. Loans do require an origination fee of 1% to 6% of the loan amount, which is deducted from the loan proceeds.
Quicken Loans VA Mortgages
Quicken Loans offers VA mortgages for qualified veterans, current service members, and their spouses.
And just as is the case with the mortgage process for any type of loan at Quicken Loans, VA loans are completed entirely online.
You can begin the process either by applying online or by first talking to a mortgage expert.
VA loans have certain definite benefits for veterans and current service members. Those include:
100% financing – there is no need to have a down payment on most VA loan types.
You can often qualify with the lower credit score than you can with a conventional loan.
You can sometimes qualify with more debt, since VA loans use two debt qualification methods.
VA loans often have lower interest rates than other loan types.
There is no monthly mortgage insurance requirement on the VA loans.
Closing costs are frequently paid entirely by the seller.
You can usually include VA Loan funding fees into your mortgage, if you are required to pay them.
On a refinance, you can borrow up to 100% of the value of your home with a VA cash-out refinance. In some cases, you can refinance up to 120% of the property value.
Quicken Loans is a VA approved lender that processes a large number of VA loans. The company can work directly with the VA to get your Certificate of Eligibility and any other necessary documentation from the agency.
VA loan types available include 15, 20, 25, and 30-year fixed-rate mortgages, as well as the VA 5/1 adjustable-rate mortgage. They even provide jumbo VA loans for amounts up to $1.5 million. Note: Learn more about VA Loan limits by county.
And finally, since Quicken Loans provides all other mortgage types, you can also take advantage of those programs as necessary.
For example, VA loans can only be used for certain types of property. They aren't available for second homes or investment properties. You'll need a conventional loan to purchase either type of property, and Quicken Loans can make it happen.
The Quicken Loans Mortgage Application Process
You'll begin the process by applying online through Rocket Mortgage. You start by creating an account, and then you can begin completing the application.
That will require basic information, like your current address, and the address of the property you're purchasing. (Only your current address will be needed if you are applying for a refinance.)
The app will then fill in the details of the property, including the approximate property value and real estate taxes. They will be able to do this because there are a number of online valuation services available, as well as the fact that property taxes are public record.
This will, of course, save you time with the completion of the application.
But be aware this is just a preliminary step.
A formal appraisal will need to be performed on the subject property with most loan types later in the mortgage process.
Since you're entering your basic personal information, including your Social Security number, a credit report will be run on you, your spouse, or any other co-borrowers who will be on the loan. Because of this, they will be able to provide you with an offer of the rate you will qualify.
This is very different from the teaser rate that might be provided based on a self-assessment of your credit, which is more typical of online lenders.
Once the rate offer is provided, it will be subject to verification of all the information you've provided in your application. You'll then be able to lock in the interest rate, and an appraisal will be ordered.
A $500 fee will then be collected to continue the process. You'll then move on to the verification process, in which the lender will require that you furnish documentation supporting the information claimed in your application.
Upon full approval, you can print out in an approval letter.
TIP: If at any time during the application process you need assistance, you can hit the "Talk to Us" button, which is available on every page of the website.
The Quicken Loans Verification Process
As a fully online process, you'll be able to supply all documentation online, and even sign and submit the multitude of mortgage disclosures and waivers that are part of the mortgage process.
If you've ever applied for a mortgage before, you know the process is paperwork intensive.
Despite attempts by the industry to streamline the process, a substantial amount of documentation will still be required to verify everything on your application.
But Quicken Loans/Rocket Mortgage makes the process faster and easier for online submission.
Many times, the information in your application can be verified by online third-party sources.
For example, the company may be able to obtain income and asset information from those sources with a signature release from you.
For that reason, you'll have to supply complete information of each institution you work for or do business with. This will need to include exact names, addresses, account numbers, and sometimes contact persons within each organization where a verification will be requested.
But where the information isn't readily available, you'll have to be prepared to supply the paperwork.
This can include:
Your most recent paystubs.
W-2s for of the past one or two years.
Documentation of Social Security or pension income (typically award letters or IRS form 1099)
Income tax returns if you're self-employed, or have investment rental property.
Recent statements confirming bank account balances, investment brokerage accounts, or even retirement plans like IRAs or 401K's.
Copy of the purchase agreement for your new home.
A copy of your divorce decree, if you either pay or receive child support or alimony.
Evidence of the earnest money deposit made on the new home.
Generally, you'll be able to scan and upload most of these documents to the mortgage web site.
Other documents, such as the purchase agreement, may have been e-mailed to you, and could also be easily uploaded to the site.
With the application completed online, and all documentation supplied, your application will then go to a human mortgage underwriter. That person will review the documentation to make sure it supports what you've claimed in your application.
If there is any missing information, conditions may be issued which you will need to satisfy, either prior to application or before closing.
Quicken Loans Pros and Cons
Pros:
You can get a pre-approval in just minutes.
The use of third-party verification sources will eliminate at least some of the documentation requirements.
You can track your application online, so you'll know what's going on at every step of the process.
You'll know exactly what you need to supply, and how to provide it.
The uploading process eliminates the need to copy and mail documents, and pay for the postage required by traditional mail.
Customer service is available, and you'll have three ways to access it.
Quicken Loans is available in all 50 states.
Cons:
Quicken Loans has no physical branches, and they do not offer full-service banking; they focus only on lending.
They do not offer second mortgages or home equity lines of credit.
The document uploading process can be time-consuming and confusing if your information cannot be readily verified by online sources.
Loan fees are a bit higher on Quicken Loans compared to other lenders, but they emphasize speed in the process overpricing.
Once you get your preliminary approval, the process will be very much like traditional mortgage lending, where your application will be reviewed, and additional documentation will be requested.
Should You Get Your Mortgage from Quicken Loans?
If you're looking for a fast pre-approval, reduced loan documentation requirements, and complete transparency throughout the entire mortgage process, Quicken Loans is an outstanding source for mortgage financing.
This is particularly true for VA Loans since they can be a bit more confusing than other loan types, especially for current service members or those who have been recently discharged.
Quicken Loans – through Rocket Mortgage – provides fast pre-approvals so you can know from the very beginning that you'll be qualified. It will also help to have a pre-approval in hand when you're negotiating on a new home.
The documentation requirements are easier, due to the use of third-party verification sources. And you'll be kept in-the-loop of the progress of your application throughout the process.
This is a mortgage lender well worth working with, whether you are a first-time homebuyer, or you're buying your third or fourth property.
If you'd like more information, or if you'd like to apply for a mortgage, visit the Quicken Mortgage website.

Equal Housing Opportunity. The Department of Veterans Affairs affirmatively administers the VA Home Loan Program by assuring that all Veterans are given an equal opportunity to buy homes with VA assistance. Federal law requires all VA Home Loan Program participants – builders, brokers and lenders offering housing for sale with VA financing – must comply with Fair Housing Laws and may not discriminate based on the race, color, religion, sex, handicap, familial status, or national origin of the Veteran.

About Post Author