VA loans can save veterans and their families significant dollars over the life of a mortgage. They also honor the sacrifice made by those who served our country.
Created in 1944, the VA Loan Guaranty program provides guaranteed loans to qualified veterans, active-duty service members, and some surviving spouses.
Over the last several decades, this loan program has given over 18 million veterans the opportunity to buy a house, some of whom may not have been able to afford one without this offer.
These loans provide major financial benefits, including the ability to purchase a home with no money down. In today's real estate market, that's a highly prized commodity.
As incredible as the VA loan is, it is an offer many veterans and military personnel do not even realize is available to them. In this post, we will outline everything you need to know about the financial advantages of applying for a VA loan. There are quite a few!
Financial Benefits of a VA Loan
1. No Downpayment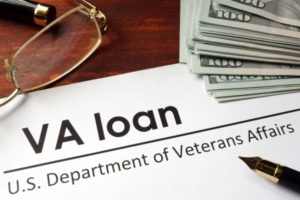 Perhaps the most financially appealing aspect of a VA home loan is the fact that it requires a whopping down payment amount of zero dollars. While other types of home loans may offer some waivers on down payments in extreme circumstances, the VA loan program is the only one that offers unrestricted access to total home financing.
That no down payment feature means that veterans can come to the table with less liquidity and cash on hand than most other buyers.
VA borrowers in most parts of the country can purchase a home worth up to $417,000 without putting down a single dollar.
The purchasing power of VA home loans is all but unmatched in the marketplace. But these flexible, low- and no-cost loans also provide other significant savings for veterans and their families, including:
2. No PMI
Private mortgage insurance is a monthly cost that conventional borrowers have to pay unless they put down at least 20 percent as a downpayment. PMI is another means of safeguarding lenders in case you default on your home loan.
The beauty of a VA loan is that there is no monthly private mortgage insurance. Period. The Office of Veterans Affairs guarantees your mortgage up to a percentage that renders the PMI unnecessary.
Thanks to this feature, veterans can funnel those hundreds and eventually thousands of dollars into home improvements or other purchases.
3. Sellers pay closing costs
Even if a down payment is eliminated from the process, traditional home buyers are still left to foot the bill for closing costs. That isn't necessarily so with a VA loan.
Veterans can avoid paying most, if not all, of the closing costs associated with a loan.
The VA allows sellers to pay up to 6 percent of closing costs and concessions. That means veterans don't need a pile of cash on hand to cover those final costs associated with their loan.
When you add this cost to the others you are avoiding with a VA loan, you begin to see just how monumental the savings can be.
4. Great Rates
VA loan rates are frequently lower than their conventional counterparts. While single digit changes between interest rates might seem insignificant at a glance, a slight difference in rates can make a big difference over the life of a 30-year mortgage loan.
For example, on a $300,000, 30-year fixed-rate mortgage at 5.0 percent, the monthly payment will be $1,610 without taxes, insurance, and other costs. At a rate of 5.5 percent, the monthly payment jumps to $1,703. Over the life of the loan, that extra $93 per month adds almost $34,000 to the cost of the loan.
In addition to being lower than conventional rates to begin with, VA loan rates can be fixed, meaning you don't have to worry about the rate increasing over the life of your mortgage.
You can check out our list of the top 10 VA loan companies here.
5. No Prepayment Penalty
Perhaps a lesser known feature of VA loans, there is no penalty for prepaying your VA loan. That means you can spend extra money each month paying down your principal, which will shave years and thousands of dollars off your mortgage.
While not all conventional lenders charge a penalty for early repayment, many popular providers do, which could end up costing you an unnecessary and steep fee.
6. Flexible Refinancing
When you refinance a VA loan, you have two main options, the first of which is the Interest Rate Reduction Refinance Loan (IRRL), typically referred to as a Streamline Refinance.
With the IRRL, you can refinance your loan with major savings by lowering your interest rates.
If savings isn't your main goal, but equity is, you can opt for a Cash-Out Refinance in which you get to tap into said equity and borrow from it.
7. Entitlement
People often assume that a VA loan is a one-time offer to veterans and military personnel. If you have served the appropriate amount of time in the military, whether you are active duty or were honorably discharged, you may take out multiple VA loans over the course of your life.
When you receive your Certificate of Eligibility, you will receive an entitlement code, which states how much you can borrow without a down payment. There is a basic entitlement level, but also a second bonus tier, the maximum you can take out.
You do not automatically lose your entitlement after your first home purchase. Even if you defaulted on a VA loan, you might still be able to qualify for one in the future, depending on the size of the loan and your location.
In some cases, you can have multiple VA loans at once.
8. Low Credit and Debt to Income Expectations
When a lender grants your request for a loan, they are taking a risk. As such, they will check your credit score and your debt to income ratio to assess your likelihood of repaying the amount you've borrowed.
Because your loan is backed by the VA, though, the requirements are far less strenuous. In other words, you do not have to have the same excellent credit to obtain a VA loan as you would for a conventional home loan.
VA lenders will take a holistic look at your DTI ration and your credit score rather than setting a concrete standard minimum or maximum requirement.
9. Affordable Appraisal
While you may not think of a required appraisal of the home you're looking to buy as a benefit, you should.
For only $300 to $500, you're getting a professional opinion on the safety, structure, and stability of your prospective house.
Whichever way the inspection goes, you get some peace of mind knowing you won't be moving into an unsafe home. You'll also get a fair market value estimate, assessing what your home is actually worth, which could help as you bargain for a good price.
10. VA Guarantee
Perhaps one of the greatest benefits of the VA loan program is the mission at its core. Unlike some other programs whose driving motivation is profit, the VA is dedicated to helping vets and military personnel get the home of their dreams and also to stay in it.
That's why they guarantee around one-fourth of the mortgage in case of default. While most VA loan recipients do not default on their payments and face foreclosure, it is comforting to know that you have the VA's support in a worst-case scenario.
Bottom Line
Those are just a handful of the big-time financial benefits of VA loans. These powerful lending tools have helped more than 18 million veterans become homeowners in the last seven decades.
All of the financial benefits in this list equate to savings and security you don't always find with loans.
For more information about VA Loans: Visit our VA Loan rates page for more information about applying for a VA Loan.

Equal Housing Opportunity. The Department of Veterans Affairs affirmatively administers the VA Home Loan Program by assuring that all Veterans are given an equal opportunity to buy homes with VA assistance. Federal law requires all VA Home Loan Program participants – builders, brokers and lenders offering housing for sale with VA financing – must comply with Fair Housing Laws and may not discriminate based on the race, color, religion, sex, handicap, familial status, or national origin of the Veteran.