Keeping good financial records is an important part of managing your household. It helps you keep track of which accounts you have, how much you have earned and spent, and how much you have paid in taxes. Organizing your financial records also makes it easier to file your tax each year. If your tax documents are organized, all you need to do is grab the file folder out of your filing cabinet and get started. No hunting around for documents, forms, and possible tax deductions. I'll go over my tax filing system later in this article (it saves me hours each year!).
Why Should You Keep Financial Records?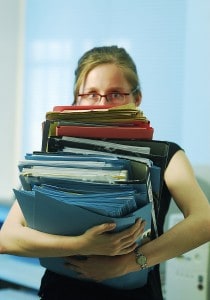 Many of us actually save too much financial paperwork. However, if you understand why you need to keep certain records in the first place, that will help you determine what to keep and what to toss.
Here are 6 reasons why you need to keep records:
1. Identify your sources of income. If you receive income from a variety of sources, having complete records will help you separate business income from non-business income or taxable from non-taxable income. This includes forms such as W-2s, 1099s, receipts, copies of expenses, and more.
2. Make an insurance claim. It's a good idea to keep receipts for large purchases—like jewelry, appliances, electronics, and sporting goods—in the event you need to prove the original purchase price to an insurer or to make a warranty claim. Here are additional tips for filing a homeowners insurance claim.
3. Get a loan. When you apply for a large loan to purchase a home or business, for instance, you must often produce several years' worth of income, banking records, and or other financial documents. Having these records organized and readily available will save you a lot of time and energy.
4. Keep track of your property basis. You need to keep records that show the basis, or cost, of your home so you know if there is a gain or loss when you sell it. The adjusted basis includes the original purchase price plus the cost of any improvements you've made to the property. You also need this information to figure depreciation if you rent out part of your home or use it for business purposes. See Publication 530, Tax Information for Homeowners and Publication 551, Basis of Assets for complete details.
5. Keep track of investment gains and losses. The same concept applies to selling stocks or other equities. You will need your cost basis to determine your capital gains or losses. You need to keep records that allow you to determine your basis in an investment (such as stocks, bonds, mutual funds, and exchange-traded funds), so you know if there is a gain or loss when you sell it. See Publication 550, Investment Income and Expenses for more information.
6. Support information you submit on your tax return. If you were ever audited by the IRS, you'd be very happy to have all the documents that back up the tax return in question. Taxpayers are responsible for what's submitted on their tax return—even if it was prepared by an accountant. Being able to quickly produce back up documents for income, tax deductions, and tax credits, can help you avoid having to pay additional tax and penalties.
Which Financial Records Should You Keep?
Now that you know the reasons why records are important, here's a list of basic financial documents you should keep related to your income, expenses, home, and investments:
Tax returns and related materials (income, expenses, Form W-2, Form 1099, Form K-1, etc.)
Receipts that document tax deductions or credits (such as charitable contributions, mortgage interest, real estate taxes, child care, and medical expenses—for a complete list refer to Publication 552, Recordkeeping for Individuals)
Credit card statements that contain tax-related transactions
Bank statements
Brokerage statements and investment records
Auto mileage logs
Real estate closing statements
Receipts that document substantial home improvements
Insurance records (home, auto, life, umbrella, etc.)
Retirement account information (IRAs, TSP, 401k, pensions, annuities, etc.)
Receipts or records of personal property
Legal documents (wills, estate documents. powers of attorney, living will, etc.)
Certificates: Birth, marriage, divorce, and death
Titles & Registration: home, auto, property, other vehicles
Loan statements
I recommend that you attach all tax-related paperwork to your tax return each year and file it away in a legal-size clasp envelope that's clearly labeled with the tax year.
Having tax returns on hand can help you (or your accountant) prepare future returns. Additionally, in the event of your death tax return copies would greatly assist the administrator of your estate.
How Long Should You Keep Financial Documents?
Knowing which bills and other documents to file away and when to get rid of useless material makes managing your finances much easier.  The first step is to know what you have; then you can begin categorizing different documents. Then, once your determine which financial documents you keep, you should consider how long to keep those financial documents.
How Long Should You Keep Tax Returns?
Since you can amend a tax return for up to 3 years or be audited for up to 6 years (in some cases), most people say that's enough time to hang on to them. However, I recommend you keep old tax returns forever and here's why: The IRS says, "You must keep your records as long as they may be needed for the administration of any provision of the Internal Revenue Code. "Any provision" of the IRC is pretty broad!
Additionally, the IRS recommends that you keep a copy of every W-2 you receive in your lifetime until you begin receiving Social Security retirement income. Those forms would be the only way to confirm your earnings in a particular year and reconcile an error in your benefits.
Instead of pulling out W-2 forms and keeping them in a separate file, it's just easier to save your entire tax return. Yes, it takes up more space in your filing cabinet or attic, but for me keeping the full backup is worth it. Of course, you can scan your tax return and keep a digital file. This takes up very little space on your hard drive and gives you a backup copy of anything should happen to your physical records.
Here is an overview of how I organize my tax documents, including the digital filing system I designed.
How Long Should You Keep Other Financial Records?
Titles and other ownership documents. You should keep all titles and real estate documents,such as a home title, the mortgage contact, property repair receipts, etc., for at least as long as you own the item. You may wish to keep the items longer if it may affect your taxes (for example, selling a home or other property for a profit). The same is true when you record personal property. More and more, insurers suggest taking photos of valuables to help protect your household assets in the event of a fire or theft.
Investments and similar documents. Investment documents such as annual statements, documents that prove cost basis for an investment, IRA/retirement statements, some checks like those used for home improvements, and related documents should be kept for as long as you own the investment.
Legal and personal documents. You should keep legal documents such as birth certificates, marriage certificates, death certificates, divorce certificates, legal documents (wills, powers of attorney, etc), military discharge paperwork, articles of incorporation or other legal business paperwork, and similar legal documents permanently, or until they are no longer needed (such as creating a revised will or power of attorney).
Bank and credit card statements. You won't need to keep most other bank statements, canceled checks, or credit card statements for more than a year or so. Be sure to review your statements for discrepancies when you receive them, then file them away for a year or so. With loan statements, you should just keep the statements that note you paid off the balance. It's alright to dispose of the rest.
Set up a Physical or Digital Filing System
The best way to handle these documents is to set up a simple filing system, with hanging folders, or notebooks so you can easily place these documents into a file for future reference, if needed. Of course, you may want to secure your sensitive documents in a safe or lockbox. If you hare more high tech, set up a simple digital portfolio where you can scan your documents and bills – then be sure to shred anything that you don't need a physical copy of. (for example, it's OK to scan your bank and credit card statements and shred the originals, but you should always keep the originals for legal documents such as wills, titles, licenses, etc.).