If I told you it was a good idea to spend money on something you may not ever use, you might think I was giving bad advice. While it seems like it might be bad advice, it is actually one of the best pieces of advice I can give you. I'm talking about insurance, which after your mortgage and auto/transportation expenses, is probably your largest monthly expense.
Insurance is one of the few products I will gladly buy, knowing full well I may never use it. Why? Because I know that if I need it, it's there, and it will hopefully prevent me from going broke.
Which types of insurance do you need?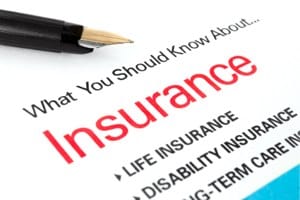 Health insurance. Health insurance is one of the most essential forms of insurance you can buy. Just one hospital trip can run thousands of dollars, and a major illness can run tens of thousands or higher, depending on the necessary treatments.
To save money on health insurance, consider your needs and find a plan that gives you the maximum coverage at the best price. Consider looking at Individual Health Insurance vs. Group Health Insurance, a Health Savings Account, or Self-Employed Health Insurance.
Auto insurance. If you own a car, then you are probably required to have a basic amount of car insurance, whether it be full coverage or liability only. To save money on car insurance, you should only have full coverage if your car is valuable or you still have a loan on it. You can also raise your deductible to save on auto insurance rates.
Homeowners or renters' insurance. Homeowners insurance is required if you have a mortgage on your property, as it protects the bank's investment in you. You can save money on homeowner's insurance premiums by increasing your deductible, combining other policies through the same provider, enhancing home security, and shopping for low rates.
Renter's insurance is an often overlooked, but is a necessary form of insurance. Most people don't realize they can purchase renter's insurance for just a few dollars per month. You can get a renters insurance policy from USAA for as low as $12 per month.
Life insurance. If you are single and don't have anyone relying on your income, then you may not need life insurance. But if you have a family or other financial dependents, then life insurance is essential! There are many methods to determine how much life insurance you need, so I won't cover that in this article. There are also several types of life insurance, including term life, whole life insurance, and variable life insurance policies.
Disability insurance or long term care insurance. These two forms of insurance are often overlooked, especially by younger individuals. But disability insurance can help you protect your most important asset – yourself. Many people also wonder if they need long term care insurance. Again, it comes down to many factors, but you should strongly consider it as you get older, especially if you have family history of health problems or are at high risk for certain health issues.
Specialized insurance. Consider your overall financial needs, and consider an umbrella policy or other special insurance program that can cover you in certain circumstances. You may also consider liability insurance if you own a business.
Types of insurance you don't need
Mortgage protection life insurance. Mortgage protection life insurance is similar to a term life insurance plan, but only pays out the balance of your mortgage in the event you die. Why is it a bad idea? Because you receive less coverage as you pay down your mortgage, but your premiums remain the same (essentially paying more each month for a lower payout).  Many people would be better off just buying a larger term life insurance plan.
Pet insurance, travel insurance, and others. Many additional forms of insurance are sold as add-on that are sold to people who haven't planned their needs and are caught off guard when the insurance is offered. As with all things, do your research so you know exactly what type of insurance you are receiving, how much it costs, and whether or not it is really necessary.