Military OneSource (MOS) offers you immediate information, support and answers to common questions. As our military community continues to grow and evolve, so too do our needs. Military OneSource was launched to help assuage some of the typical challenges of being part of our community — and some of the lesser-known difficulties as well. All services are entirely free, so there's no need to let financial burdens stand in the way of seeking the help you need.
Let's take a look at what Military OneSource offers and how you can make the most of this fantastic free resource.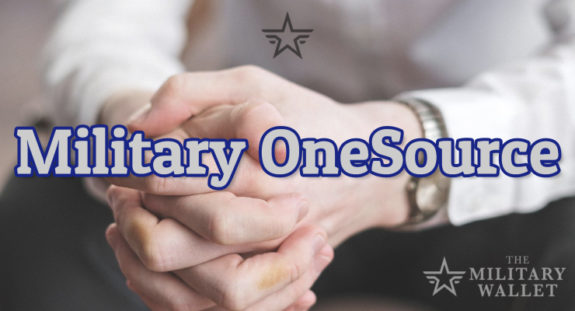 Eligibility Requirements
To qualify for the free services provided by Military OneSource, you need to belong to one of the following categories:
Active-duty service members and their families
Activated Coast Guard under Title 10, as well as their families
Coast Guard veterans and family for up to one year after their separation
Designated DoD civilians and immediate family
Honorably discharged service members and family for up to one year
Medically discharged service members
Military academy cadets
National Guard or Reserve service members and their families
Non-remarried Gold Star spouses and children of deceased active-duty, National Guard and Reserve service members
Veterans and their immediate family members for one year after the end of service
Building Strong Relationships
Recognizing that healthy relationships start at home, MOS offers consultations to help you work on making your meaningful connections even more reliable. The meeting provides personalized coaching sessions to help you stay on track and meet your personal goals.
Explore building strong relationships with your partner and child and how to stay connected while someone is gone for an extended period of time. This is especially helpful for those experiencing deployment for the first (or fifth time).
Are You Expecting a Baby?
New MilParent explores the specific set of challenges and circumstances that new military parents face. To help with these new milestones, MOS has a consulting staff of professionals who can help with everything from sleep issues to behavior challenges and more. Appointments are available by phone, chat or video.
Adoption and Foster Care
Military OneSource recognizes that not all families start the same way. If you're considering adoption, you probably have several questions, namely how to navigate the process as a military family. Adoption agencies are finally starting to realize that our community can provide the loving, supportive homes that many children need.
Military families have five adoption options, and Military OneSource has counselors on hand to help you explore this choice. Get answers to questions about expenses, non-chargeable leave and more.
Career Assistance
The Spouse Education and Career Opportunities program helps address one of the most pressing issues in our community: spouse unemployment. Military spouses can sign up for MySECO to get a free one-year LinkedIn premium upgrade.
Military OneSource knows that the best way to help military spouses find employment is to offer additional resources. That's why career coaches are on hand to talk through potential career exploration, along with discussing the types of education and training you might need to launch a new career.
Free Counseling
Frequent moves, deployments, extended temporary duty orders and a constant state of flux are just some of the challenges that we face in our community. Each of us has stressors that impact the way we view our lives. To help with that, the DoD offers confidential non-medical counseling free of charge for everyone in our community.
Military OneSource offers a wide array of support, including online one on one sessions, call-center services and language translation services to ensure we're all getting the help we need. Find out more here.
Special Needs
If you have a child or family member with special needs, you might feel like there aren't accessible resources for you. Military OneSource aims to change that. Special needs consultants are on hand to help you sort through your benefits and ensure your child or family member receives the right education and medical support. These consultants will help guide you through the Exceptional Family Member Program enrollment, as well as the Extended Health Care Options available through Tricare.
Travel
Partnered with American Forces Travel, Military OneSource recognizes that many military families are single income and, therefore, don't have a ton of disposable income to spend on travel and vacations. Your local Information, Tickets and Travel (ITT) office is a significant first step in helping you plan a trip that won't cost all your savings. Since many ITT personnel are also certified travel agents, you can rest easy knowing you're getting the best discounts available.
Check out this page for additional military travel discounts.
Health and Wellness
Because Military OneSource recognizes that taking command of your well-being starts with the right information, it offers health and wellness coaches access. These coaches can help you craft and tailor a plan to fit your needs and provide advice and information about fitness and nutrition. Stress management, moving, and other transitions can also be discussed with these coaches. Find out more here.
Make the Most of Your PCS
No matter how many times you've moved, each permanent change of station is a little different — and each comes with its own unique set of challenges. Consultants are available to help ensure your PCS goes as smoothly as possible and can help with common relocation issues, such as researching the cost of living at your new installation and providing support for your family.
Tax Consultations and Financial Support
Make informed financial decisions when you lean on the resources and expertise of financial consultants available through Military OneSource. Connect with accredited financial counselors to get support in evaluating savings plans and learn how to get out of debt. Come tax time, explore the free options available for you through MilTax.
Military OneSource Has Something for Everyone
The amazing thing about this behemoth of a site is that there are articles for everything you could ever need to get your life tracking the way you want. If you need help exploring your new installation or you're struggling to connect with your child, Military OneSource has the resources you need. The site might not be able to provide you with specific answers on how to throw a redeployment welcome home party, but these are tons of articles about how to connect with your spouse and engage in meaningful conversation. Find a complete list of their services here.
About Post Author