If you have left government or military service in recent years, then there is a good chance you still have a Thrift Savings Plan (TSP) account in your name. Personally, I'm a big fan of consolidating financial accounts to make financial planning and management easier to deal with. But the TSP is in a league of its own among other investment options, namely due to some of the lowest expense ratios you will find anywhere. So keeping your assets in the TSP may not be a bad option.
But sometimes it's best to simplify your financial life and roll your investments into fewer accounts. So let's take a look at doing a TSP rollover – the pros & cons, when it makes sense to do so, and when you should leave your money in the TSP. As with all major financial decisions, there is no one-size-fits-all approach. Each situation needs to be reviewed on a case by case basis.
While everyone has different perspectives and situations, there is one constant:
Any financial decision you make should be consistent with a financial plan that reflects your values and goals.
This article will discuss the pros and cons of rolling your TSP account into an IRA.  However, any decision you make should be consistent with the long-term plan or strategy you have in place.
What Should You Do with Your TSP After Military Service?
The first thing you will need to do is determine if your assets are eligible for distribution. The TSP has certain criteria, so contact customer service through the ThriftLine if in doubt.
Once you determine your funds are eligible for distribution, you need to decide what to do with those funds. We previously discussed options for the TSP when you leave the service in this article: what should you do with your TSP when you leave the military?
This article covers the main options, such as leaving your funds within your TSP account, rolling it into an IRA, roll your assets into a 401k plan at your new employer, withdraw your funds (watch out for early withdrawal penalties), and roll your funds into a qualified annuity.
Pros and Cons of Doing an TSP Rollover into an IRA
The TSP has some of the lowest expense ratios in the investment industry and you will be hard pressed to find mutual funds with expense ratios that low, even at low-cost mutual fund firms such as Vanguard or Fidelity. You almost certainly won't be able to find them in a 401k plan, as most 401k plans have funds with relatively high expense ratios.
An IRA, on the other hand, gives you better control over your investment options, including the ability to invest in a wide variety of stocks, bonds, funds, and other investments that you can't use with the Thrift Savings Plan or many 401k plans. You can also open an IRA at many locations, including banks, brokerages, mutual fund firms, etc.
Let's take a look at the reasons for doing a TSP rollover, and the reasons for leaving your money in the Thrift Savings Plan. Remember, there is no right or wrong for everyone, only right and wrong for your situation.
TSP Rollover: Reasons For
There are benefits to doing a TSP rollover.  Some of those benefits are listed in more detail below.
Account aggregation:
As people depart the military, they may find themselves trying to get their financial house in order.  Part of that process includes account consolidation.  If you've already been contributing to an IRA and you're departing the military, it might be convenient to transfer your TSP account into that IRA.
Investment choices:
Although you could argue that TSP has plenty of diversification for any investor, there are several situations in which TSP is not the right savings vehicle.  Two specific examples come to mind.
First, there are people who want to have a self-directed IRA to manage real estate or a closely-held business.  Due to the tax treatment of leveraged investments inside retirement accounts, both of these ventures would receive maximum benefit from a consolidation of retirement assets.  Since TSP doesn't allow for self-directed investments, an IRA is the only other logical investment vehicle.
Second, there are people who might benefit from purchasing a qualified longevity annuity contract (QLAC).  QLACs are for people who are approaching the age for required minimum distributions (RMDs), but do not need the income.  The benefit of a QLAC is that it allows the account owner to defer RMDs until a later date.  While this article won't discuss specifics, a QLAC can be an effective tax-planning tool and a long-term care planning tool.  While you can purchase a QLAC in an IRA, you cannot do so from TSP.
TSP Rollover: Reasons Against

There are also some cons with rolling TSP into an IRA.  Let's look into those as well.
Costs:
There's just no getting around this.  Although Vanguard is the lowest-cost IRA provider, it still costs more than TSP.  How much more?  Let's look at this hypothetical chart of 20-year returns.
This chart used the following numbers:
Stock market returns. Literally, numbers I pulled out of my head.  You can do this yourself with any set of numbers.  The focus should be on the comparison between TSP, Vanguard, and the industry average.
TSP: TSP's expense ratios equal 2.9 basis points, or .029%.
Vanguard: Vanguard's webpage cites that their average ETF fees are .12%, or 12 basis points.
Industry average: 53 basis points, or .53%, also according to Vanguard.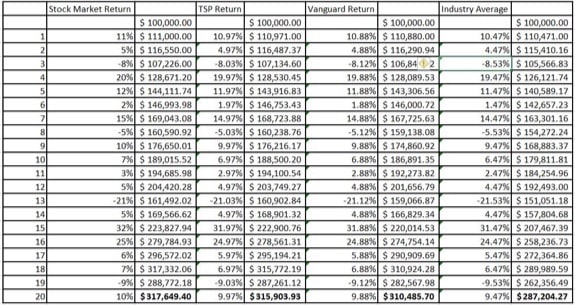 This chart indicates three things:
Not even TSP is an exact proxy for market returns. You can see that the 2.9 basis point annual fees take their toll over time.
However, TSP is closer to the pure stock market return than Vanguard.
Both TSP and Vanguard are pretty close to the pure market return. However, many people who aren't fee-conscious might see their returns eroded in the long-term.
Account aggregation:
Huh?  Wasn't this a positive consideration for moving your money into an IRA?  However, you can just as easily consolidate your IRA and other retirement plans under TSP.  This is a great idea for families who have multiple IRAs or 401(k) plans, but who see TSP as a cornerstone of their financial future.  You can find more information on rolling accounts into TSP on the TSP website.
Tax planning: Tax-Exempt Contributions Can Have a Major Impact
This is a tough one, so try to follow me here (and we have a full-length article that covers this section in greater detail, including step-by-step Rollover instructions).
For those who have significant amounts of contributions from tax exempt combat-zones, you're probably aware that the eventual distribution from those tax deferred contributions are tax-exempt, even though the earnings on those contributions are not.  This information is easily produced by TSP, and you can look on your account statements to know exactly where you stand. You can read more about tax-exempt TSP contributions and withdrawals in this article.
When you transfer this account to an IRA, most likely, your IRA custodian will have NO idea how to segregate your tax-free and taxable contributions.  Combat zone contributions are the only type of contributions that are tax free.  TSP is the only retirement plan that accounts for combat zone contributions.  Other plans are primarily focused on pre-tax and after-tax contributions, not tax-free.
What this means is that when you shift your TSP to an IRA account, your IRA custodian will likely treat your account in the following manner:
Traditional accounts will be considered pre-tax
Roth accounts will be considered after-tax
Your eventual distributions will have required withholdings by the IRA custodian.  This means that your tax-free distribution MAY have tax withholdings, even though they're tax-free.  You can eventually claw back the withheld money when you file your tax return.
However, the burden of proof is on you to clearly identify that the transferred money originally came from contributions that you made when you were in a combat zone.  This means you'll have to maintain records that clearly indicate:
If you're not familiar with IRS Notice 2014-54, it's a doozy.  In essence, it means that when you withdraw from a retirement account plan (such as a 401(k) or TSP), and you have both pre-tax and after-tax (or tax-free) contributions, then you MUST make your withdrawals in proportional amounts.
For example, let's say you have $100,000 in TSP ($80,000 in traditional and $20,000 in Roth).  When withdrawing from this account (or rolling over), you must withdraw equally from each account.  If you're rolling over the entire balance, there's no problem.  However, let's say you're only drawing out $20,000.  You cannot just cherry-pick $20,000 in Roth just to avoid paying taxes.
The IRS mandates that your $20,000 must be in equal proportions from each account.  In this case, you would take 80% from the traditional & 20% from the Roth account, or $16,000 and $4,000, respectively.  (BTW, TSP accounts for this and will distribute proceeds from your accounts in this manner).
Tired yet?  Just wait until you try to manage this on your own, without any assistance from TSP (who is no longer managing your account).  You might spend a lot of money to hire an accountant, enrolled agent, or fee-only financial planner to help you wade through this correctly, or even more time & frustration (and possibly money if done incorrectly) doing it on your own.  This might be a situation where you decide to leave your money in TSP. 
Note:  We haven't yet gotten to the point where there are a lot of TSP account holders who are managing distributions of combat zone contributions.  However, when we do, it will be quickly apparent that this will be a big deal for those people who rolled their TSP over into IRA accounts.  Perhaps the bigger IRA custodians will incorporate procedures to amend this gap.  However, since TSP rollovers count for such a small portion of the overall IRA rollover market ($443 billion for TSP vs. $4.8 trillion for 401(k)s), I wouldn't hold my breath.
More information on Tax-Exempt TSP Contributions: I encourage you to read the following guide, which explains this in greater detail, including how to roll over a TSP with tax-exempt contributions into a Traditional IRA (traditional contributions and earnings) and a Roth IRA (tax-exempt contributions): Thrift Savings Plan Rollover Guide – How to Transfer Your TSP into an IRA – with Instructions for Tax-Exempt Contributions. This guide can save you a lot of trouble when doing a rollover.
In Summary:
Here are the summarize pros and cons of rolling over your Thrift Savings Plan account into an IRA or 401k:
Advantages of rolling your TSP into an IRA:
Full control of investments
More investment options
Ability to control fees
Portability
Advantages of leaving your funds in the TSP:
There are two main advantages to leaving your funds in the TSP:
the low expense ratios, and
the possibility of tax free withdrawals if you made contributions with tax free funds.
This last advantage could apply if you contributed to your TSP plan while you were in a tax free combat zone. Finally, you won't be charged any additional fees to leave your funds in the Thrift Savings Plan (plan expenses still apply), and it won't affect any of your other investments, or ability to open other retirement accounts.
If You Decide to Rollover a TSP Account into an IRA
If you decide to roll your Thrift Savings Plan assets into an IRA, then you have a few options to consider. The first thing you will need to do is open an IRA if you don't already have one. Here is a list of places to help you get started.
Which Option is Best?
There is no right or wrong option. If you prefer a hands-off approach with low fees, or if you have a large amount of tax free contributions, then you may wish to keep your funds in the Thrift Savings Plan. If, however, you have a hands-on investing approach, or simply wish for more investment options, then rolling your TSP assets into an IRA may be a better option for you. Be sure to investigate your options thoroughly and make the best decision based on your investment needs and risk tolerance.
Regardless of your decision, it's important that you not make this decision too quickly.  The last thing that you want to do is jump from the frying pan into the fire.  Instead, the decision to roll your TSP into an IRA should be part of a methodical, long-term financial plan that is consistent with your values and financial goals.