Table of Contents
Tricare Select is the military-sponsored health plan that best suits those who prefer to manage their own care and are willing to pay a bit more for added flexibility and freedom of choice. If choosing your own care providers is an important feature, Tricare Select (including Select Overseas, Reserve Select, and Young Adult Select) might be the most logical choice for you.
What is Tricare Select?
Previously referred to as Tricare Standard until the official name change in 2018, Tricare Select is one of the core Tricare health coverage options that most closely resembles a self-managed, preferred-provider option. Essentially, beneficiaries can choose any authorized provider without consulting a Primary Care Manager (PCM) or obtaining referrals.
While out-of-pocket expenses are typically not as low as within the Tricare Prime plan, they can be minimized by seeing in-network providers. Beneficiaries can opt to visit a non-network provider, though charges must be paid up-front and require beneficiaries to file a claim requesting reimbursement.
Tricare Select Top Five Facts You Need to Know
Freedom of Choice: Tricare Select beneficiaries can actively choose their own providers from either in-network or out-of-network lists.
Available to All NON Active Duty Beneficiaries: While active duty servicemembers are restricted to Tricare Prime, all other beneficiaries (e.g. retirees, veterans, and family members) can choose to enroll in Tricare Select.
Higher Costs than Tricare Prime: Costs include enrollment fees, an annual deductible, and co-payments.
No Enrollment Fees for Active Duty Family Members: Family members of active duty servicemembers can choose Tricare Select without having to pay any enrollment fees, thereby improving its affordability.
Does Not Require PCM: Unlike Tricare Prime, a PCM is not required to issue referrals for specialist visits.
Tricare Select Eligibility & Costs
Am I Eligible for Tricare Select?
Tricare Select is available to all non active duty beneficiaries, including the family members of active duty servicemembers, retirees, and veterans. As previously discussed in our Tricare Prime overview, active duty servicemembers are automatically enrolled in Tricare Prime; however, all other beneficiaries can choose to enroll in Tricare Select.
Active duty retirees are eligible for Tricare Select until they reach age 65, at which point they must transition to Tricare for Life. Retired members of the Guard or Reserves should look into these health care options until they reach age 65 and are eligible for Tricare for Life.
Higher Costs for Greater Freedom of Choice
The greater flexibility afforded to beneficiaries in managing their own health care and choosing providers is associated with higher out-of-pocket costs, including enrollment fees, an annual deductible, catastrophic cap, and co-payments.
While active duty family members and beneficiaries whose servicemember entered active duty before 2018 (commonly referred to as Group A beneficiaries) pay no enrollment fees for Tricare Select, beneficiaries whose servicemember entered active duty during or after 2018 (or, Group B beneficiaries), must pay an annual enrollment fee of $471 for individual coverage, or $942 for family coverage.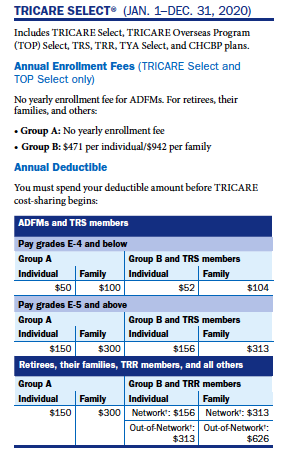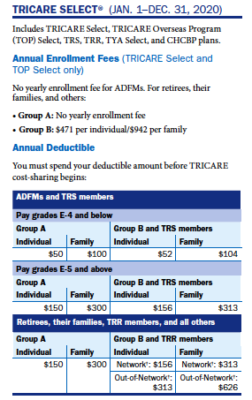 Unlike with Tricare Prime, there is a deductible — money that is paid out-of-pocket before Tricare assumes costs — with Tricare Select. Deductibles range from $50-$156 per individual and $100-$313 per family depending on status, rank, and eligibility group (Group A vs. Group B).
The catastrophic cap under Tricare Select, which is the maximum out-of-pocket amount that beneficiaries have to pay for Tricare-covered services, ranges from $1,000-$3,655 depending on status and eligibility group. This amount includes enrollment fees, deductibles, and co-payments.
Finally, co-payments are often required for visits to in-network and out-of-network providers. Co-pays for in-network primary care, specialist, or emergency services range from $22-$250 depending on the covered service, status (e.g. active duty vs. retiree), and eligibility group. One way to cut down on out-of-pocket expenses under Tricare Select is to choose from in-network providers, if possible. Lists of in-network providers can be found via Tricare's Find A Doctor portal.
Tricare Select Enrollment Basics
Non active duty beneficiaries (including active duty family members) who opt to enroll in Tricare Select must do so during Tricare Open Season or as part of a Qualifying Life Event. In short, this means that there are only specific times during the year when beneficiaries can enroll in or switch over to a different Tricare plan (Tricare 2020 Open Season is from November 9 – December 14).
Enrollment is fairly straightforward: beneficiaries can enroll online, via phone, or mail in all necessary enrollment forms. Once enrollment is processed, beneficiaries can begin to schedule appointments and receive care.
Please note that children of active duty servicemembers born abroad are automatically enrolled in Tricare Select regardless of the parents' existing plan. This means that parents must specifically request that their child be enrolled in a different plan during DEERS registration if they prefer a different Tricare option (e.g. Tricare Prime). According to the existing policy, parents have 90 days from the date of auto-enrollment to switch the child to Tricare Overseas Prime or Prime Remote, and in our case required a command-sponsored letter.
Tricare Select Enrollment Fees Now Required for Military Retirees
Note: Military retirees in Beneficiary Group A will be required to pay a monthly Tricare Select enrollment fee beginning in 2021. If you don't set up your payments by December 31, 2020, your coverage will lapse until you make up any missed payments. You will have up to 180 days to reestablish coverage.
Prior to 2021, there were no enrollment fees for Tricare Select. However, beginning in 2021, military retirees in Beneficiary Group A (those who entered military service prior to January 1, 2018) will be required to pay an enrollment fee to participate in Tricare Select.
Individual Plan: $150 per year ($12.50 per month)
Family Plan: $300 per year ($25.00 per month)
Note: You will not be required to pay a Tricare Select Enrollment Fee if you are in any of the following groups:
An active duty family member
A medically retired retiree or family member
A survivor of an active duty sponsor or medically retired retiree
How to Pay Your Enrollment Fees
The easiest way to pay your enrollment fees is by setting up an allotment from your retirement pay. Your payment will be automatically withdrawn from your retirement check each month. This is also the safest way to pay your fees, since there can be issues with credit card payments or bank drafts if your number changes or your account is overdrawn.
However, you may choose to make your monthly enrollment payments via a recurring monthly credit card or debit card transaction or a bank withdrawal (Electronic Funds Transfer, or EFT).
Enrollment Payment Deadlines
Military retirees who need to pay the enrollment fees should set this up as soon as possible. Failing to do so could cause a break in your coverage.
Through Dec. 31, 2020: You can set up your allotment or automatic payment and you will avoid any lapse in coverage. You may be required to pay one or two months up front, depending on when you set up your payment.
After Jan. 1. 2021: You will be disenrolled from Tricare if you don't set up your payment prior to the start of the new year. You will have up to 180 days to request reinstatement. Your Tricare Select coverage will be reinstated back to Jan. 1, 2021 after you pay your back enrollment fees.
Who to Contact to Set up Your Enrollment Payments
Tricare East: Humana Military
Telephone: 1-800-444-5445
Tricare West: Health Net
Telephone: 1-844-866-9378
Tricare Overseas: International SOS
Important Tricare Select Resources
The regional contractors:
Advantages & Disadvantages
As with all health insurance options, there are some clear-cut pros and cons of Tricare Select:
Tricare Select: Advantages
Pros
Greatest Freedom of Choice: The single greatest advantage of Tricare Select is the freedom of choice for beneficiaries to choose their own health care providers. This preferred-provider plan allows beneficiaries to self-manage their own health care, instead of relying on a PCM.
Not Restricted to Military Treatment Facilities: Unlike Tricare Prime, which largely restricts beneficiaries to receive services at designated military treatment facilities, Tricare Select allows beneficiaries to see providers at civilian facilities as well. This is often a more convenient option for those who live a distance from the closest base or installation. Also, this permits beneficiaries to individually research providers and schedule appointments with those who meet their individual criteria.
Easier Access to Specialists: Under Tricare Select, beneficiaries can directly schedule appointments with specialists (either in-network or out-of-network) instead of obtaining referrals from their PCM.
Tricare Select: Disadvantages
Cons
More Expensive Option: The greater flexibility promised by Tricare Select comes at a cost. Enrollment fees, an annual deductible, and co-payments are often required, making this option a less affordable one.
May Have to Submit Claims: If beneficiaries opt to receive treatment from non-network providers, they may have to pay up-front and subsequently file a claim for reimbursement.
More information:
Please visit our Tricare Reference Guide for more information on Tricare Prime and other Tricare programs, including reference information, contact numbers, and helpful links. And since many military members and retirees are eligible for both Tricare Prime and Tricare Select, is natural to compare them. This article has more in-depth coverage of Tricare Prime vs. Select.