Tricare can be either a blessing or a curse. Despite its quirks and idiosyncrasies, the healthcare coverage available to military men and women and their families is an invaluable benefit for life in the military.
The key to getting the most out of the benefit is to understand who to contact and how to contact them. Especially for people fresh into military life, new military spouses, or young military couples trying to add their newborn child into DEERS, Tricare can be confusing, frustrating, and exasperating.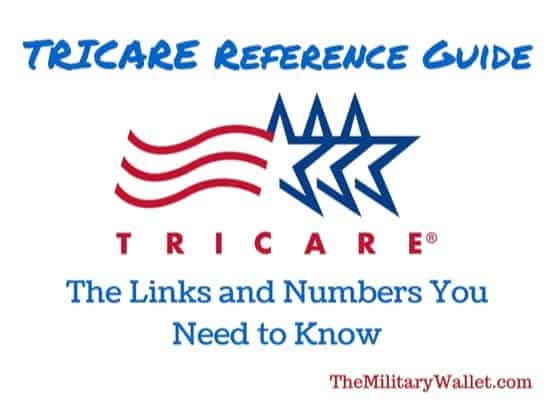 Use this post as a quick cheat sheet of Tricare links and numbers you need to know.
Please note that very few things in Tricare can be taken care of by one phone number because Tricare is broken up by policy type and by region. Make sure to know which region you're covered by as well as the type of Tricare policy you fall under.
How to Book Appointments with Tricare
With Tricare Prime:
Call your primary care manager (PCM) to book an appointment or get an appointment for a receiving a referral.
If you have Tricare Prime care but choose to either see a specialist without a referral or go to a different doctor other than your PCM, you're using the point-of-service option.
Understanding Point of Service Care for Appointments
With Point of Service care, you can visit any TRICARE-authorized provider, get routine or urgent care, and you don't need a referral.
However, with Point of Service care just know up front that you will pay substantially more out of pocket fees. You will have to pay point-of-service fees instead of your regular copayment, as well as any other fees charged by non-network providers, and those fees don't apply to your annual catastrophic cap.
If your PCM is at a military hospital or clinic you can also book some appointments online when you register on the TOL Secure Web Portal.
Booking Appointments with Tricare Select, Tricare Reserve, or Retired:
You don't need to call any specialized Tricare number to book an appointment. Just call the office you wish to be seen by and ask if they are a Tricare-authorized provider. Referrals aren't required, but some services may require prior authorization. You can also get care at military hospitals or clinics on a space-available basis.
Tricare Select patients don't need a referral for any type of care except Applied Behavioral Analysis and other services that may require prior authorization.
Scheduling an Appointment with Tricare for Life:
Tricare for Life operates with the same appointment guidelines as Tricare Select, Tricare Reserve Select, or Tricare Reserve Select Retired coverage. However, all care is coordinated through your designated provider, and you won't get care at military hospitals or clinics or other Tricare-authorized providers.
Not sure if you need an appointment?
Call the Nurse Advice Line at 1-800-TRICARE (Option 1) and speak to a registered nurse day or night. Ask questions, get health care advice or find out if you should get care.
Tricare Online
TRICARE Online is a tool unique only for DoD beneficiaries and their families who are receiving care through a military hospital or clinic (Active duty and Tricare prime only).
Tricare Online provides secure online access for you to:
Make, change, cancel, and review appointments for yourself or your authorized family members.
Opt to receive email and text message appointment reminders
Refill and check the status of your prescriptions at your military hospital or clinic
Review, print, or download your personal health data from your military electronic health record (EHR)
Access your patient-centered medical home site to communicate with your health care team
Access online health risk assessments
Get information and services when separating from active duty or reserves
To access these features available through Tricare Online, you need to log in using your CAC, DS Logon Premium (Level 2), or DFAS MyPay account. To learn more about DS Logon or obtain a DS Logon account, visit the DEERS DoD Self-Service Access Center.
Understanding DEERS
Adding a spouse or child to your plan
If you were recently married or have a newborn that needs to be added to Tricare coverage, you need to update your information in DEERS, the Defense Enrollment Eligibility Reporting System. DEERS can only be updated in person at your local military ID card office. You can walk in and wait at most ID offices, but you will have far less time twiddling your thumbs if you set up an appointment.
Children are covered by Tricare Prime for 60 days (120 days overseas) after birth or adoption as long as one other family member is enrolled. Please note that Tricare enrollment is neither mandatory nor automatic for family members. This means that after 60 days have passed without enrollment in DEERS your child will not have coverage until and unless you update them in the DEERS system.
Deers is also used for updating your personal information
If you ever have a change in address, phone number, email, or family history (divorce, death, birth, etc) you need to update your information in DEERS. If you have already registered in person at an ID office, you will be able to update your information either online or over the phone. These are your DEERS updating options:
Call1-800-538-9552 FREE (TTY/TDD: 1-866-363-2883 FREE)
Fax updates to 1-831-655-8317
Mail updates to:

Defense Manpower Data Center Support Office
Attn: COA
400 Gigling Road
Seaside, CA 93955-6771
Note: Addresses must be a physical address; P.O. boxes can't be used.
Questions About Tricare Coverage and Cost
If you have questions about coverage or to learn more about how to contest charges or to learn more about health plan costs, or special needs care go to the covered services page at Tricare.mil.
Enrolling in Tricare Prime by Phone
Military servicemembers often PCS several times in their careers. Relocating is never easy, but thankfully Tricare makes it easier to transfer your TricarePrime enrollment when you PCS. Now, all you need to do is make a simple phone call and your Tricare Prime enrollment will be transferred. This eliminates much of the work in the old process, which required enrollment forms, processing, and sometimes waiting for the records to be updated.
Active duty service members who are moving simply need to call their current regional health care contractor to transfer their entire family's enrollment. When making the phone call, be sure to include your e-mail address and cell phone number (or another form of contact). The active duty service member will receive a phone call from their new regional contractor within five business days of their relocation to finalize the transfer of their Tricare Prime enrollment.
When the Tricare Prime enrollment is complete, the service member should have a new Primary Care Manager (PCM) who is best suited to the servicemember's needs (based on region, location, and anticipated medical needs). Coverage is continuous during this process and service members and their families can continue to be seen while they are in the process of PCSing. Once the service member arrives at his/her new location, the service member can confirm coverage by visiting the Beneficiary Web Enrollment (BWE) website.
Military members can still transfer their Tricare Prime enrollment when in-processing at their new base, in person and a local Tricare Service Center, online through the BWE, or by mail by downloading, completing and sending in an enrollment application form (DD Form 2876 – visit www.tricare.mil/forms to download this form). For more information on transferring Prime enrollment, go to: www.tricare.mil/moving.
You can also change from Tricare Prime to Tricare Select, however, you can generally only make the change when you have a qualifying life event or during Tricare Open Season.
How to Contact Tricare
If you feel more comfortable talking to an individual instead of going online, you can always call Tricare customer service.
The U.S. regional contractors provide customer service for all plans except Tricare For Life and the US Family Health Plan. The overseas contractor provides customer service for all overseas plans. If you aren't sure which region you're in, visit the Regions Page of Tricare's website to learn more.
Here are the contacts for all of the Tricare regions:
North Regional Contractor: Health Net Federal Services, LLC
1-877-TRICARE (1-877-874-2273)
South Regional Contractor: Humana Military, a division of Humana Government Business
West Regional Contractor: UnitedHealthcare Military & Veterans
1-877-988-WEST (1-877-988-9378)
Also please note that email is not an efficient way to get information from Tricare. It can take them up to 30 days to respond to any question you have regarding your care or benefits.
If you have a specific question, try searching the Frequently Asked Questions web page for answers to many commonly asked questions or contact the appropriate Contractor for an immediate answer.
If you have questions about Tricare eligibility contact the Defense Manpower Data Center Support Office (DSO) at 1-800-538-9552 or go to milConnect.
For most questions or concerns you will most likely be able to find the answer at Tricare's website. If you have any questions you're not having luck finding the answer to, then contact the Tricare customer service line. They should be able to point you in the right direction.
About Post Author