Note Regarding USAA Credit Monitoring Service: All Credit Monitoring & ID Protection plans moved to Experian®. You can still monitor your credit score for free through several different services. We explain the importance of this and show you how in this article.
Do you keep track of your credit score? If not, you probably should. It is used by many agencies as an indicator of your trustworthiness. This includes banks and lending institutions, but it can also be used by landlords, cell phone companies, by potential employers, and even for your security clearance.
Your credit score also determines whether or not a bank will extend a loan, and the terms they will offer. Generally the better your score, the lower your risk, and the lower the interest rate you may qualify for.
For all of the above reasons, you want to make sure your credit score is accurate. And you can do this through credit monitoring. Monitoring your credit profile will help ensure that only accurate information is presented to potential lenders or those who are looking at your credit profile. It can also alert you to any changes that occur. If you notice something out of the ordinary, it may be an indicator that your identity has been stolen. This can be catastrophic. And if you are in the military, you have most likely been exposed to identity theft.
Thankfully, there are many ways you can monitor your credit history and credit score for free. You can visit annualcreditreport.com to get your credit history, but they don't offer your credit score. But you can monitor your credit for free through several different websites, such as Credit Karma, Credit Sesame, Experian, and even through many banking and credit card websites. In fact, several banks recently began offering a free credit monitoring service for their customers.
CreditCheck® from Experian® – Free Credit Scores
USAA previously offered credit scores and monitoring through CreditCheck, by Experian. Experian is one of the three main credit bureaus. The service has now migrated to Experian where you can open your own free account.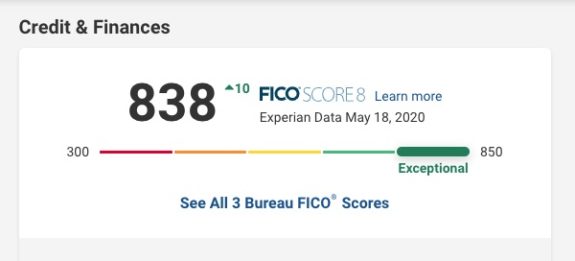 The credit score offered through this service is calculated on the FicoScore8 model. This credit score model is used by some lenders, but not all. Many use the FICO credit score system and others may use the VantageScore, which has a different scale and slightly different algorithm used to determine scores and credit risk. Regardless of which scoring system used, they should give a fairly accurate representation of your credit profile, provided they have accurate information – which is all the more reason to verify the information is accurate!
Here are the offers from Experian:
CreditCheck (Experian)
FREE
You can access your Experian credit report, score, and receive alerts to key changes for free.
Keep in mind Experian offers other services—you do not need to upgrade to one of the paid services to take advantage of the free credit scores.
CreditCheck & ID Monitor (Experian)
$7.95 per mo.
Daily Experian credit monitoring, plus identity monitoring.
CreditCheck & ID Monitor (Experian, Equifax®, TransUnion®)
$12.95 per mo.
All three credit bureaus' reports, scores, and identity monitoring alerts.
You DO NOT need to purchase a plan to benefit. Just knowing your credit score and what is on your report can help you with improving your credit score, reducing your overall risk, and ensuring there have been no inaccurate changes to your profile. Here is more information about understanding your credit score. Frequent monitoring can also help you catch identity theft early in the process.
You can also use some of the other resources previously mentioned, including annualcreditreport.com for your credit history, or other sites that offer free credit scores, such as Credit Karma, Credit Sesame, etc.
All Three Plans Offer These Features
Daily Credit Monitoring. Checks your Experian credit report daily and notifies you by email with the option of text messages when key changes are detected.
Updates and Alerts. Alerts are provided when your score goes up or down, a change in risk level, or reaches a target value.
Credit Score & Tracking. Receive your credit score and track your credit changes.
Credit Score Planner. A resource that allows you to explore the impact of your credit score by taking certain actions. For example, the score modeling tool helps members find out how much their credit score can change as they pay down credit or add new credit.
More About Becoming a USAA Member
This offer was previously available free to USAA members. However, the program has now transitioned to Experian. But it is still worth looking into becoming a USAA member if you are looking for a new bank, insurance policy, mortgage, loan, investing product, or another service they provide.
We also rank USAA among the best military financial institutions.
You can learn more at USAA – Insurance, Banking, and Credit Cards for military members and their eligible family members. Visit USAA.
Credit Monitoring Alternatives
If the information and monitoring from the USAA packages are not enough, these are some of the top companies.