You filed a claim for disability compensation with your Regional Office (RO) of Veterans Affairs.
You logged on to the eBenefits website relentlessly for months (if not years), tracking the progress of your disability claim. Then you receive the packet in the mail stating, that after all of that frustration and waiting, your claim has been denied. Now what?
You know that you need and deserve disability compensation, otherwise you wouldn't have applied for it in the first place. You're most likely angry and wondering how they just dismiss the evidence, your service, and the cost it has taken on your daily life. Know that you're not alone in your frustration.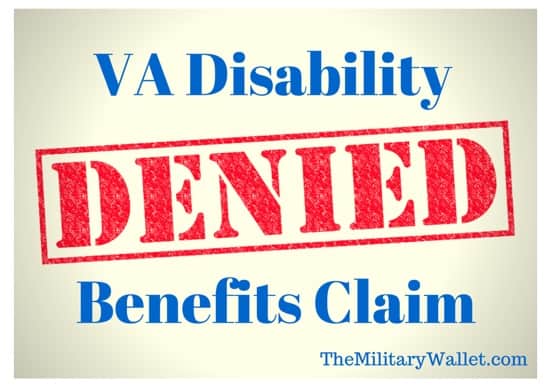 So what do you do? After the VA has denied your claim, it can be frustrating to hear that the only way to fight for your disability compensation is with one bureaucratically pushed paper at a time. It's true though. If you want to receive the compensation you need and deserve, you'll need to navigate your way through the VA's bureaucratic process in order to file an appeal and hopefully get a favorable end result.
Don't let anger cloud your vision
A denial of your claim does not mean that you are not eligible, so don't believe that you will never be successful in pursuing your disability benefits. Data has shown that certain Veteran Affairs Regional Offices (VARO) have denied as many as 71% of their claims simply because of errors in processing.
Keep duplicate records and copies of everything
When dealing with the appeals process especially, only use certified mail, keep your receipts, and make sure that the paperwork that is sent to your VARO has to be signed upon receipt. This not only allows you know that the paperwork physically made it into someone's hands, but you will also have proof that you met the filing deadline required for the paperwork in question.
Don't expect it to go fast
Go into your appeal process knowing that it could take as long as 18 months or more. Receiving disability compensation is a long, slow process, especially when working from an appeal. Unfortunately, due to a massive backlog and rampant understaffing, "The oldest of these appeals was at the regional office for more than 4 years with no action by regional office staff to resolve the veteran's appeal," according to a May 2012 VA Audit done of 8 VARO locations. Managers at all of these audited locations claim that they don't have sufficient staffing to process appeals in a timely manner.
Step 1: File a Notice of Disagreement (NOD)
The only way that you can start an appeal of your claim is by filing a notice of disagreement form (NOD) with your Regional Office (RO). Without this NOD form (pdf) you won't be able to start the appeals process.
The NOD states that you disagree with the decision you received regarding your claim for disability compensation. The NOD form is the only way to begin your appeal process when you disagree with VA's decision on your claim for disability compensation.
Step 2: Choose a type of review
The next step in the process is deciding whether or not you want to have a decision review officer (DRO) or a traditional review. Read the fine print of your denial letter, and take action immediately. Current VARO procedures allow veterans 60 days to decide whether they want a Direct Review Officer assigned to their appeal or a traditional review of their appeal. After those 60 days you lose all choice in the process.
So which should you choose? A traditional review of your appeal requires a rating staff member to analyze your claim file for completeness, accuracy, and any errors. They will review all of your evidence and paperwork. They are the one reviewing your file, but they do not have the authority to change the decision unless regional office staff made a clear and unmistakable error, or they identify new material evidence.
Step 3: VARO Review of your claim
If you choose a DRO, they will conduct a "de novo review" of your claim, meaning that they will completely review every bit of evidence, arguments, and paperwork in your file. All DROs are a senior claims examiners who have the authority to reverse, uphold, or make a different decision on your claim.
If you choose a traditional review, your claim will be reviewed either by a DRO or a rating veterans service representative, who will only be allowed to reverse a decision if there is a clear and unmistakable error. It is their job to prepare a rating decision after they review your appeal.
Step 4: They make a decision
If the appeals staff deny that there are any issues with their original decision and claim that any new evidence submitted has no bearing on their decision, they will then prepare and issue a Statement of the Case (SOC), which essentially tells you why they have rejected the reasons behind your NOD claim for an appeal.
Step 5: VA Form 9
The SOC will also provide you with a VA Form 9 which is an Appeal to the Board of Veterans' Appeal. If you still disagree with the ruling on your disability benefits, then you have to submit the VA Form 9 for further consideration by the VARO staff. You should use this form to explain why you still disagree and also to offer further support or evidence of your case.
Note: The appeals process has a continuous open record, meaning that you may submit new supporting evidence or additional information for the appeals staff to review for the case at any time. Any new evidence will lengthen the time spent before a decision is made though, since each piece of evidence requires a new Supplement Statement of the Case (SSOC) decision, which sends your appeal back in line in the process. So try to submit all supporting evidence of your case early and altogether. If you condition worsens though, or new evidence presents itself, then always submit new medical records and diagnoses to support your claim.
Step 6: Board of Veterans Appeals
If the appeals staff still cannot decide in your favor, then they will certify that your appeal has been sent to the Board of Veterans Appeals (BVA) for their review of your claim. The BVA will either grant your request, deny your claim, or remand your claim, saying that additional time or work is necessary before they are able to make a decision. Here are some tips for appealing a VA decision, but it is also recommended that you seek help from someone with appeals experience. Here is a list of Veterans Service Organizations you can turn to for benefits claims help.
Step 7: Formal Hearing with a Board Veterans Law Judge
25% of Veterans whose appeals reach the Board request a formal hearing before a law judge. The Veterans Law judge will discuss their appeal and review any new evidence. The Board Veterans Law Judges will make a final decision on your appeal.
The only option after a final decision is to take your appeal to federal circuit court.
This is listed as 7 steps just as a way to break apart the process. The VA appeals process for disability claims is a non-linear, continuous open record, process which is based in law that has accumulated for more than 80 years. This whole, multi-level of review process will take at least 3-4 years.
Accept the process or work to change it
If you want to have a better chance at a successful outcome, file your paperwork on time (one year deadline to appeal), submit all records yourself (don't expect the VA to find them for you), and keep on top of the process. You may even want to consider hiring an attorney who is well-versed with VA appeals process. Until and unless they are able to successfully change the laws that bind the VA disability claim appeals process, you have no choice but to follow the bureaucratic paper trail.
If you want to try to make a change, contact your state representative and ask that they work towards an effective change in the process for appealing a decision on a veteran's disability claim.