Table of Contents
If you're looking for ways to save money on your monthly bills, your cell phone plan is a great place to start. Data plans can get expensive, especially if you want unlimited data or streaming services.
Thankfully, wireless carriers across the nation offer promotions on their phones and data plans, with the most popular carriers offering special rates to military personnel and veterans.
Verizon offers military discounts to current military members, veterans, and their family members when the veteran is the primary account holder.
Verizon offers these discounts on their Verizon Wireless cell phone plans, as well as Verizon Fios, which is their Internet, cable, and home phone line service.
Verizon Military Discount Eligibility

If you have ever researched military discounts, you know that offers vary from company to company, especially with regards to eligibility requirements.
In some cases, military discounts do not extend to family members. In other cases, you might find discounts limited to active duty military personnel. Verizon is not one of those companies.
Verizon offers the Military and Veteran Discount Program to all active military members, veterans, and their family members.
Family members are eligible for the discount as long as the military member or veteran is the primary account holder.
Verizon lists the following groups of military personnel (and their immediate families) as eligible: Air Force, Army, Marines. Navy, Coast Guard, commissioned officers of the National Oceanic and Atmospheric Administration, commissioned officers of the United States Public Health Service, all military reserves and National Guard, and veterans of all branches.
In order to gain access to Verizon's military or veterans discount, you will be required to present proof of military service. This can be done in person at a store, or online.
Active military members:
Military-issued email
Military pay stub (LES)
SCRA Status Report
Veterans:
Military Retiree Account Statement
Note: If you currently have a plan with Verizon and are eligible to receive the military or veterans discount, you can begin receiving the discount with one of the proofs listed above.
To register your existing account, click the "Existing Customers link" in the menu on the Verizon website and enter your Verizon mobile number in the My Verizon User ID or mobile number field to start.
Verizon Wireless Military Discounts
Verizon's military discount is a flexible one that can be applied differently to your plan depending on how many lines you have and when your plan was activated.
Here's how Verizon Military Discount applies to the following plans:
Start Unlimited, Play More Unlimited, Do More Unlimited, Get More Unlimited
1 Line: $10/mo discount
2-3 Lines: $25/mo discount
4+ Lines: $20/mo discount.
Autopay and paper-free billing required.
Other Eligible Plans: Not on one of the plans above? No worries. You can get a 15% discount off other eligible plan's monthly account service fee.
Accessories: You can get up to a 25% discount off select accessories when purchased online through My Verizon.
Proof of military service required.
If you're wondering whether your particular plan is eligible for Verizon's Military discount, you can check with your local Verizon store or visit the Verizon Wireless website for current offers and additional information.
Verizon Fios Military Discounts
Comparable to its competitors, Verizon offers discounts to those veterans and military members looking to bundle home phone, TV, and internet (or all three!).
While you should always shop around for the best rates, bundling your technological services can ease your monthly payment process, and save you money.
Verizon offers three bundling options, which can save you anywhere from $60 to $120 when you choose Verizon Fios as your internet provider.
The Verizon Military and Veteran Discount includes the following Fios features:
$5 off/month on 200 Mbps + Disney+ for 12 months ($6.99/mo afterward)
$10 off/month on 400 Mbps + Disney+ for 12 months ($6.99/mo afterward) & Hulu for 6 months ($5.99/mo afterward)
$15 off/month on Gigabit Connection + Disney+ for 12 months ($6.99/mo afterward) & digital download of Marvel Avengers standard edition game and Exclusive Hero Outfits. Router rental included.
This offer expires on October 28, 2020.
How Does the Verizon Military Discount Compare to Other Cell Phone Provider Discounts?
The Verizon military discount plan offers its military customers up to $40 off on unlimited plans with 4 lines or 15% off of other eligible plans. But how do those numbers stack up against the competition?
You may be able to save more overall with T-Mobile or AT&T, but Verizon's discounts still compete and their coverage is expansive.
To give you an idea of what Verizon's competitors have to offer, below are the other military discounts offered by major cell phone carriers:
AT&T Military Discount:
Discount: 25%
Eligible Plans: AT&T Unlimited & More Plan
Eligibility: Active Duty, Guard, Reserve, Retirees, Veterans, Family Members (when the military member is the sponsor)
Learn More: AT&T Military Discount
Sprint Military Discount:
Discount: 50% off Family Lines
Eligible Plans: Sprint Unlimited Military Plan (comparable to Sprint Unlimited Basic plan)
Eligibility: Active Duty, Guard, Reserve, Retirees, Veterans, Family Members (when the military member is the sponsor)
Learn More: Sprint Military Discount
T-Mobile Military Discount:
Discount: 20% on first line; 50% on each additional line
Eligible Plans: T-Mobile Military One Plan (comparable to T-Mobile ONE Plan)
Eligibility: Active Duty, Guard, Reserve, Retirees, Veterans, Family Members (when the military member is the sponsor)
Learn More: T-Mobile Military Discount
How Verizon Gives Back to Veterans
Verizon demonstrates dedication to serving its military and veteran customers and employees in more ways than providing them with discounts. The company is committed to hiring veterans, with over 11,000 employed today. It has been named a Top 10 Military employer by Military Time.
Verizon has also won the 2020 Military Friendly Award, and it was 2020's number 1 Military Friendly employer. Military Times also named Verizon the #6 Best for Vets Employer of 2018.
Verizon also partners with Hirepurpose, Hiring Our Heroes, Military Spouse Employment Partnership, and Wounded Warrior Project. By partnering with these organizations, Verizon works to thank members of the military for their service to our nation.
Bottom Line
Verizon is one company that thanks veterans by offering them discounts, but also by giving to organizations that support the members of our military.
With Verizon, you can get stellar coverage, competitive prices, and an additional military discount for you and your family's phone plan.
You can also bundle your data with other services you love and use regularly, saving even more.
Take a look at Verizon's plans today and consider taking advantage of their generous military discount. Find more military discounts on our discount list.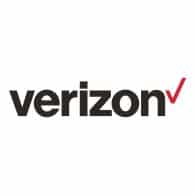 Get the Verizon Military Discount
Verizon Military Discount
Available for Current and Former Military Members and their families!
Active Duty, Guard, Reserves, Retirees, Veterans, and Federal Employees
Add up to 5 lines on your account
About Post Author