Sprint is the fourth largest cell phone network in the US, by number of subscribers. Like the other major cell phone providers, they offer discounts to a variety of customers, including those who work for large corporations, universities, affinity groups, and to those who are serving, or who have served in, the US armed forces. The Sprint Military Discount is available to those who are currently serving in the military, as well as those who have served honorably.
Let's take a look at the Sprint military discount, who is eligible, savings, and whether or not it is worth switching carriers to take advantage of the savings Sprint offers.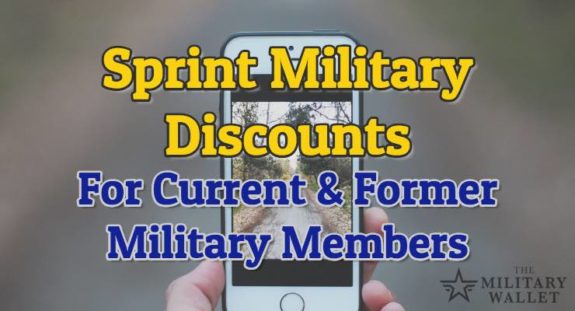 Sprint Military Discount Eligibility
The Sprint Unlimited Military Plan is available to all current and former military members, including active duty, National Guard, Reserves, veterans, and their family members (when the military member or veteran is the primary account holder).
Sprint verifies eligibility via an application form on their website.
The discount is managed through the Sprint WorksSM Program, which is the same program Sprint uses to manage group discounts and special offers to employees, students, universities, and other organizations.
How Sprint Verifies Your Military Discount Eligibility:
Sprint can use one of several methods to verify your eligibility. These can include your .mil email address (easiest, since it is handled digitally) or via a records match in a third party database.
You can also submit documents verifying your military service (either in person at a Sprint store, or by uploading them to your Sprint account, or faxing them to Sprint).
Eligible Proof of Military Service includes Military ID Card, Military Orders, Veterans ID Card, or Department of Defense Form 214. You can also use a W-2, or Military Retiree Account Statement to prove your military service and military discount eligibility.
Note: Sprint recommends that individuals block out or delete personal information on your supporting documents, such as SSN, account numbers, date of birth, and other confidential information.
Sprint Unlimited Military Plan Features:
The Unlimited Military Plan essentially amounts to a Sprint military discount on the Sprint Unlimited Basic plan.
This plan includes the following features:
Unlimited data, talk and text nationwide
TV, with Hulu
500 MB mobile hotspot
DVD-quality streaming
Global roaming in more than 185 worldwide locations
Unlimited talk and text in Mexico and Canada
and 5GB of 4G LTE data.
Free Hulu Subscription included with monthly Unlimited Military Plan – 1 Hulu Limited Commercials plan is included per eligible Sprint account. This offers a monthly value of  $7.99. (Note, the Sprint offer may be an answer to the T-Mobile Military Discount, which includes a Netflix subscription).
There are some restrictions for heavy data users. Also note that Mobile Hot Spot speeds are reduced to 3G speeds after 500MB/mo. See the Sprint website for full details.
Visit the Sprint website to see full plan features, costs, and additional information.
Sprint Unlimited Military Plan – 50% Off Family Lines
The Sprint Unlimited Military Plan offers a 50% discount on family lines. You will need to pay the full price for the first line, then the savings kick in at 50% off each additional line. (The previous Sprint Military Discount was 15% off, so this offer can be better if you add more lines).
The Sprint military discount also requires the member sign up for Sprint AutoPay.
Here is the current pricing for the Unlimited Military Plan:
Line 1: $60
Line 2: $20
Lines 3-6: $10 each
The Sprint Unlimited Basic plan without the discount on the family lines would cost $60 for the first line, $40 for the second line, and $20 each additional line. So the savings is more substantial as you add more lines to your account.
You should see the discount on your Sprint billing invoice within 1 to 2 billing cycles.
Note: These are the base prices and don't include taxes, fees, or overages. The Unlimited Military Plan may not be combined with other offers.
How to Get the Sprint Military Discount:
Visit the Sprint website, and fill out the pre-registration form. The form requests your name, military branch, email, and current phone number. If you are currently in the military, then you can use your .mil email address to verify your eligibility. Otherwise, you may be required to submit additional proof of service.
You can also sign up at a Sprint Store, or over the phone (additional verification of military service required).
You will receive an email with a offer code once your application and military status has been verified.
Be sure to sign up for Sprint AutoPay to receive the full discount.
Should You Switch to Sprint?
I am currently a Sprint customer, and have been for nearly 10 years. I have been happy with the service and my phones in the time I have been a Sprint customer, and have no reservations recommending them to family or friends – provided Sprint meets your needs.
Here are several factors to consider before switching to Sprint:
How is the Sprint network in your area – are there any coverage gaps?
How does the monthly cost of the Sprint Unlimited Military Plan compare to your current plan?
Other potential cost savings (Hulu subscription, being able to use your phone as a mobile hotspot, unlimited talk, text, and data, etc.)
Additional features – unlimited talk and text in Mexico and Canada, Global Roaming
Whether or not you would need to buy new phones
How does Sprint Coverage Compare?
Each of the major cell phone providers has coverage gaps (as much as they would like you to believe otherwise). So I would check with others in your area who have Sprint, just to make sure their coverage in your area is good.
How does the savings compare?
This is quick and easy – just look at your current bill and the number of lines you have and apply it to the Sprint Unlimited Military Plan. See which one comes out ahead. While some cell phone providers offer a discount as a flat percentage, the Sprint savings adds up more quickly the more lines you add.
(Be sure to deduct the Hulu subscription price if that is something you will use, or are already subscribing to and can cancel).
Would you need new phones?
There are two major cell phone networks in the US: the GSM Network (AT&T and T-Mobile) and the CDMA Network (Verizon and Sprint). You wouldn't need a new phone if you already have a phone on the Sprint or Verizon network.
You can visit the Sprint website to learn more about the Sprint Unlimited Military Plan.
Sprint Military Discount Program Sprint Military Discount - Available for Current and Former Military Members, including National Guard and Reserves!
Full Disclosure: We earn a commission if you click this link and make a purchase, at no additional cost to you.