If you are like me, you probably don't like being stuck in a cell phone contract, even if you do have a military discount for your cell phone plan. Unfortunately, canceling your cell phone contract often comes with an Early Termination Fee (ETF) that can run as high as $200 (or more)!
The good news is there are ways to get out of your contract without paying any fees. If you are a military member, there are a few extra clauses that allow you to cancel your cell phone contract without paying any early termination fees.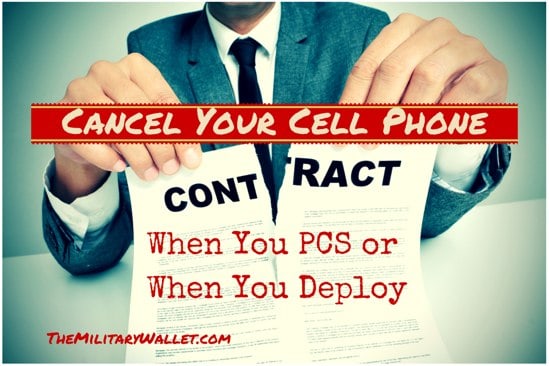 Cancel Your Cell Phone Contract When You PCS
One way to cancel your cell phone contract without early termination fees is when you PCS. You won't be able to do this every time, but you should be able to cancel your contract if you PCS to a location where your current cell phone provider doesn't have service, or if you PCS overseas.
For example, some regional cell phone providers like U.S. Cellular or Cricket Wireless may not offer cell phone service if you move outside of their region. Even some of the major mobile phone services, such as AT&T and Verizon, may not offer reliable service in every location in the United States.
Be sure to show the cell phone provider a copy of your military ID card and a copy of your orders.
I've read about some cell phone providers trying to force military members to continue paying their contracts even when the PCS overseas, but you should insist that they allow you out of the contract.
It's the Law:
A servicemember may terminate a contract described in subsection (b) at any time after the date the servicemember receives military orders to relocate for a period of not less than 90 days to a location that does not support the contract. (source: 50 U.S. Code § 3956 – Termination of telephone service contracts).
Contact your base legal office or JAG for assistance if your cell phone provider won't allow you out of your contract. They should be able to draft a legal letter on your behalf stating you will be moving overseas. Many cell phone company employees may not be aware of the laws that protect servicemembers. Bringing this to their attention nicely can go a long way toward getting your cell phone contract canceled.
Cancel or Suspend Your Cell Phone Contract When You Deploy
Deployments are not always a guaranteed way to get out of your cell phone contract without paying early termination fees, but you may be able to do it. Be sure to take a copy of your military ID and orders with you, or you may be able to fax in a copy.
Again, the law referenced above requires cell phone companies to let you out of your contract if you are sent to a location for more than 90 days that does not support the service.
Another option is to place your cell phone on vacation status, which places your contract on hold until you return. You will be able to keep your phone number and will still remain on contract when you return from overseas. In most cases, your contract will pick up where it left off. So you would still have the same amount of time remaining on your contact.
Note about vacation status: Many servicemembers have mentioned having problems with this in the past. Be patient with the company and see if there is anything you can do to cancel your contract, put your phone in vacation mode, or perhaps decrease your service level to the minimum.
Keep your phone number: The law allows servicemembers to keep their phone number when they cancel their contract for military orders. See below for more info:
(c) Retention of telephone number

In the case of a contract terminated under subsection (a) by a servicemember whose period of relocation is for a period of three years or less, the service provider under the contract shall, notwithstanding any other provision of law, allow the servicemember to keep the telephone number the servicemember has under the contract if the servicemember re-subscribes to the service during the 90-day period beginning on the last day of such period of relocation. (source: 50 U.S. Code § 3956 – Termination of telephone service contracts).
Get it in writing! As always – get your new arrangement in writing! Don't take a verbal agreement at face value. Make sure you have a written copy of your new contract or proof that your contract was placed on hold. You don't want to come back from your deployment to find out that your cell phone provider has been charging you for several months. That can result in a large debt, and possibly having your information turned over to debt collectors.
Sell or Transfer Your Cell Phone Contract
If canceling your contract doesn't work, you may be able to sell or transfer your cell phone contract and avoid early termination fees. You may be able to find a friend or relative willing to take over your contract.
All you need to do is call the cell phone provider and do an assumption of liability transfer, which legally transfers your contract to another person – that way you won't get stuck holding the bill.
If you need help finding someone interested in taking over your contract, you can try posting your phone on Craig's List, or using a free service like Trade My Cellular, who will match you up with people around the US. You can also try Cell Trade USA which provides a similar service for a $20 fee, but also seems to have more options.
The downside to transferring your cell phone contract: You lose your phone number. You need to do something else if you want to keep your phone number.
Go to a Cell Provider That Will Pay Your ETF
The cell phone industry is incredibly competitive right now, and some cell phone service providers are even going as far as offering to pay your Early Termination Fee if you switch to their service.
One such company is T-Mobile, which currently has an offer that will allow you to transfer up to 10 lines, and they will pay the Early Termination Fee for each line! (Sprint has offered similar deals in the past).
T-Mobile also offers a strong military discount, as well as an unlimited plan with no contracts. So you won't have to worry about breaking a contract again.
Here's how the T-Mobile discount works:
Transfer your current phone number to T-Mobile
Process your trade-in within 14 days of your new phone purchase (T-Mobile will offer you credit based on the market value for your eligible device).
After entering your order number and T-Mobile phone number, print the postage-paid shipping label and send in your device.
Submit your final bill. When you receive your current carrier's final bill with your Early Termination Fees (ETFs), submit the bill to T-Mobile electronically within 2 calendar months of your number transfer to T-Mobile for reimbursement (up to 12 lines).
Get up to $650 per line based on the Early Termination Fees (ETFs) on your carrier's final bill.
Eligible device trade-in, device purchase, qualifying plan, and port-in required.
Trade-in credit applied to T-Mobile bill.
Allow 8 weeks for processing.
One offer per line up to 12 lines.
Servicemembers Civil Relief Act
Another possible way out of your contract is through protections provided by the Servicemembers Civil Relief Act, which gives military members certain legal protections based on the military service. Please me be sure to read more about this act and the benefits it provides before taking action on it. The SCRA won't apply to every situation.
You have enough to worry about when you serve our country. Hopefully, your cell phone contract isn't one of them.
About Post Author