Every penny saved counts when you're working toward your financial goals. You may already take advantage of credit card rewards, use coupons and ask for a military discount wherever possible.
Cashback apps can help you further your savings on essential and discretionary purchases.
But with so many options, choosing the best one can seem overwhelming – especially if you're trying to find multiple apps to stack your savings on the same purchases.
That's where we come in. We downloaded and evaluated 12 of the most popular cashback apps to answer three main questions:
How Does It Work?
Does It Work on Base?
Can I Use It While Stationed Overseas?
Here's what you need to know about the best cashback apps in 2023.
Table of Contents
What Is a Cashback App?
Numerous mobile apps and browser extensions can help you earn rewards for online and in-store purchases. These include rebate and coupon applications – some of which pay cash back.
They're free for users and don't require new lines of credit or commitments.
Each cashback app is different, but the main idea is that they reward you for shopping at a particular retailer, buying a product, watching a video or scanning a receipt. Once your cashback balance reaches a predetermined threshold, you can deposit it into your bank account or redeem it for gift cards.
You can use some cashback apps with others, multiplying your potential rewards from a single purchase.
How Cashback Apps Work
Cashback apps operate using one of three basic models.
Referral fee payouts: These apps make money by advertising products. Brands and stores pay the app for the referral when you buy an advertised product. Then, the app gives you a percentage of that commission in the form of cashback. Referral cashback apps might also pay you to watch a video or complete a survey.
Marketing: These apps make money by aggregating and selling market data, like buying trends among your demographic. Then they pay back a percentage of your purchase to compensate you for providing the information.
Gift card sales: These programs sell you gift cards they get at a discount for the exact amount of your purchase price. At the point of sale, you pay with their gift card, and the app company pays you a portion of the difference between the face value and the discounted gift card rate.
How much cashback can you expect from these apps? It varies.
Many pay a percentage of your purchase. For example, if you received 3% cash back on a $100 purchase, the cashback app would pay $3 to your account.
Once you meet a certain threshold – usually around $20 – you can deposit your cash reward to a bank or PayPal account or put it on a gift card.
Top Cashback Apps for Military Families
Here are the best cashback apps for military members that we found.
Ibotta: Best for Military Members and Veterans
Overall, Ibotta is the best cashback app for military families.
The Ibotta app's flexibility and its military exchange and commissary rebate coupons maximize savings for military service members, veterans and their families.
How Ibotta Works
According to its website, Ibotta gets referral fees when you purchase a product or watch a promotional video within its app. The app uses part of these proceeds to give you a cashback rebate on select purchases.
You can earn rewards by uploading receipts to the Ibotta mobile app or linking store rewards accounts for automatic redemption. Or, Ibotta's Chrome extension will automatically apply cashback rebates if you prefer to shop online.
The Ibotta app is transparent about how much cash you can earn back on in-store grocery and household purchases, including alcohol. It lists rebate opportunities for 97 retail partners, including Buffalo Wild Wings, Lowe's, eBay, Nike and Ulta.
When we tested it, these rebates ranged from 1% to 22%, though most offered around 2-3% cash back. Rebates for shopping at grocery stores and other in-person stores vary by product; they're comparable to manufacturer coupons.
Make sure you don't let your Ibotta account lapse into inactivity for more than six months, or they will withdraw $3.99 from your monthly balance.
Ibotta also has some seasonal offers that can offset the total cost of select items. For example, in recent years, one of its most popular events covered the total cost of many Thanksgiving meal staples.
After you save up $20 in Ibotta earnings, you can deposit your money directly into your bank account.
Does Ibotta Work on Military Bases?
You can use Ibotta at military exchanges and commissaries for select household items and groceries, including various alcohol brands. Some on-base commercial vendors might also accept Ibotta if they process payments through the Army and Air Force Exchange Service (AAFES), or the Navy, Marine Corps or Coast Guard Exchange.
Check here to see Ibotta's current cashback offers for base exchanges.
Does Ibotta Work Overseas?
Ibotta only works within the United States, so you can't use it while stationed overseas unless you're shopping at a military exchange or commissary.
To use the Ibotta app at overseas bases, you'll need a U.S.-based phone number to transfer and withdraw your earnings.
If you've got that, you use a VPN to connect to a U.S.-based IP address, according to the instructions on Ibotta's website.
---
Checkout 51: Best for Military to Use with Other Offers
The Checkout 51 app pays cashback rebates when you upload receipts and proof of purchase.
Checkout 51 and Ibotta are the perfect match for military members and veterans because you can use them together to maximize the savings at stores worldwide, including military base exchanges and commissaries.
How Checkout 51 Works
The Checkout 51 app updates with new offers every Thursday. Once you finish your shopping trip, just snap a photo of your receipt and upload it into the app.
Its website says you can use Checkout 51 rebates with other apps unless the offer specifically prohibits it.
Checkout 51 will deduct an inactivity fee of up to $3.99 from your reward balance if you go six months without redeeming any offers.
So, if you decide to stop using Checkout 51, transfer your cash balance and close your account instead of letting it go inactive.

When your checkout 51 balance reaches $20, you can request a check or send it to your PayPal. You should receive your earnings within five to 15 days.
Does Checkout 51 Work On Military Bases?
Checkout 51 is available at military base exchanges. You can find special Checkout 51 deals for military commissaries here.
Does Checkout 51 Work Overseas?
Checkout 51 works throughout the United States (including Puerto Rico) and Canada and at all military base commissaries and exchanges, wherever you live.
---
StormX: Best for Cryptocurrency Rewards
StormX is a cashback app with a twist: you earn rewards in your choice of cryptocurrency instead of U.S. dollars.
How StormX Works
To get started with StormX, you'll need to connect a digital wallet to the app.
Your digital wallet must include some STMX tokens to get cashback through the StormX rewards program. You can find a list of crypto exchanges that sell STMX here.
How much money you get back from qualifying transactions depends on your membership level, and the number of STMX tokens in your wallet determines your StormX membership level.
According to the StormX website, there are six membership levels, ranging from purple to diamond. Purple membership pays the advertised rebate amount, while a diamond account pays up to 3.5 times the advertised rebate. You can only qualify for a diamond account if you have more than 6.2 million STMX (approximately $440,000) in your connected digital wallet.
According to StormX's website, the combination of the rebates and your membership level can net you up to 87.5% cryptocurrency cashback, making it one of the highest-paying reward apps – as long as you don't mind receiving rewards in crypto.
While you must have STMX in your digital wallet, you can receive your payout in a variety of other digital currencies, including:
ETH (Ethereum)
DAI (KeeperDAO)
LTC (Litecoin)
YFI (Yearn.finance)
Does StormX Work on Military Bases?
StormX does not work at military commissaries or exchange stores.
Does StormX Work Overseas?
StormX works overseas as long as you shop online. It's available at over 1,000 online stores worldwide, including eBay, Nike, Adidas and Lego.
New to crypto? Here's what you need to know.
The Beginner's Guide to Cryptocurrency
---
Dosh: Best for Hotel Rewards
Dosh is another app that makes money by referring you to retailers, but instead of scanning receipts, Dosh verifies your transactions by linking to your payment methods.
How Dosh Works
You can connect your credit cards to the app and earn cash back automatically as you shop. This makes Dosh one of the more passive cashback programs, but you can also use the app to search out deals.
Dosh's website advertises cashback offers at over 10,000 brands, including popular stores like Walmart, Instacart, Pizza Hut, Disney+, GNC, Sephora, Finish Line and Thrive Market.
Dosh also offers up to 40% cash back at over 600 hotels when you use its site. In our test, we found a $396 rebate for four nights (at $458 per night) in a luxury New York City hotel.
Dosh said it does not store your credit or banking information. Instead, it processes these transactions through Braintree, a global payment service owned by PayPal.
Once you reach $25 in cash back, you can arrange for a bank transfer or payout through PayPal or Venmo.
Does Dosh Work on Military Bases?
Dosh does not feature offers for military commissary or exchange stores.
Does Dosh Work Overseas?
While Dosh limits its retail offers to the United States, you can use the app to find discounts at hotels worldwide.
---
Fetch Rewards: Best for Stacking Rewards
Fetch Rewards users earn cash back by uploading receipts from any store or restaurant.
Every receipt you upload to the app will earn a minimum of 25 points, even if the vendor or brand doesn't have any current deals with Fetch Rewards, making it one of the best cashback apps for receipts.
You get more rewards when you purchase from a Fetch-partnered brand. Those receipts earn a minimum of 35 points each.
How Fetch Rewards Works
But how can Fetch get you cash back on every purchase, even when they don't receive a referral fee?
Fetch also makes money from selling market research. The data on your receipt helps Fetch Rewards learn about purchase patterns among your demographic.
Fletch Rewards does not have a cash redemption option, but you can exchange your reward points for gift cards from many vendors, including Amazon, AMC, Homegoods, Nordstrom and Marshall's. You can also apply your rewards to prepaid visa cards.
You need a minimum of 3,000 points to redeem most rewards. Rewards vary by vendor, but in most cases, one point equals 1/10 of a cent. So 3,000 points earn you about $3.00.
Does Fetch Rewards Work on Military Bases?
You can upload receipts from U.S.- based military exchange stores and your base commissary.
Does Fetch Rewards Work Overseas?
No, at this time, Fetch Rewards only works in the United States.
---
Upside: Best for Essential Purchases
Upside (née "GetUpside" until April 2022) is another app that allows you to earn cash back on purchases, including gas, groceries and restaurant purchases.
How Upside Works
You can sign up for Upside by entering your smartphone number into Upside's website for a link or download it directly from your app store.
When you install Upside, the app shows deals near you. Once you activate a deal, you have a limited time to take advantage of it – usually four hours for gas stations and 24 hours for grocery stores.
Instead of scanning your receipts, Upside verifies you purchased the apps through partial credit card numbers that you enter into the app. You can redeem your earned cash through PayPal, a check or gift cards.
You can stack Upside with some other cashback apps, including Fetch Rewards.
Does Upside Work on Military Bases?
Upside does not yet have any specific deals with military base commissaries or exchanges in the United States.
In an email, Upside spokeswoman Alexcia Chambers said the app does not provide additional military discounts or promotions.
But, the app still offers significant savings.
"All users can earn up to 25 cents cash back at the pump and up to 45% cash back at grocery stores and restaurants," Chambers wrote.
Does Upside Work Overseas?
The Upside app only works in the United States. You can't use it at overseas bases or international retailers.
Because of its local supermarket deals, Upside is one of the best cashback apps for groceries. Its extensive gas station partnerships make it one of the top cashback apps for gas too.
---
Rakuten: Best for OCONUS Assignments
Rakuten gives you cash back from various vendors, including more than 3,500 clothing, travel, electronics, auto and pet stores. You can use the app to shop online or in person.
Rakuten lists its participating stores on its website, so you can browse for your favorites without signing up for the app.
How Rakuten Works
Download the app or a browser extension from Rakuten's website to use Rakuten. Make sure you purchase products through Rakuten's interface or a Rakuten link to apply cashback offers to your transactions.
Rakuten's website says you can get cash back from Rakuten via PayPal or a paper check.
As long as you have more than $5 in your account, Rakuten will send you a check about six weeks after the end of every quarter. For example, Rakuten initiates payment on May 15 for the three months ending on March 31.
Rakuten also lets you donate part of your payment to three nonprofits, which are Direct Relief, Eat.Learn.Play and Girls, Inc., of Alameda County. If you enable this "Cash Back for Change" option, Rakuten splits your donation three ways, allocating one-third to each nonprofit.
Does Rakuten Work on Military Bases?
When we checked, Rakuten had no deals available at military bases or commissaries.
Rakuten does let users search for military discounts at its partner retailers. When you shop at one of these brands, you can use the app to get cash back on top of your military discount.
For example, you can get a 40% military discount on new shoe purchases from Asics, plus an additional 3% cash back through the Rakuten app.
Does Rakuten Work Overseas?
You can use Rakuten online and at participating retail stores in the United States, Japan, France, Germany, the United Kingdom and Spain.
Rakuten's military discount compatibility and availability in multiple countries – including some online stores – makes it one of the best cashback apps for military deployment.
---
Receipt Hog: Best for Everyday Items
Like Fetch Rewards, Receipt Hog makes money by turning your receipts into market research data.
How Receipt Hog Works
Receipt Hog gives you cash back on purchases when you upload a receipt.
While you can earn rewards on basically anything – including surveys – reward amounts for individual transactions are unclear.
This is one reason we preferred Fetch Rewards. However, you can scan the same receipts into both apps and double your cashback reward possibilities.
You can earn coins for spending at grocery stores, discount stores, pharmacies, liquor stores, pet stores and convenience stores.
According to its website, you'll receive 20 coins for purchases over $100. It takes 1,000 coins to make $5, which equals 0.1% cash back.
You can earn "spins" instead of coins at home improvement, office supply, electronics and sports stores. When you visit these retail stores, you can spin a digital wheel for variable coin rewards.
Finally, you can scan each gasoline, restaurant, bar, bakery and café receipt into the app to receive a monthly 5,000 coin sweepstakes entry.
When you have at least 1,000 points banked ($5), you can transfer your Receipt Hog rewards to your PayPal or load them onto an Amazon or Visa gift card.
For each receipt, make sure the following is clearly visible:
Store name
List of purchased items with prices
Transaction total
Date of transaction
You can link some store cards and loyalty programs to get cash back. However, Receipt Hog doesn't accept ticket stubs, credit card slips or foreign receipts or receipts from secondhand stores.
Does Receipt Hog Work on Military Bases?
Receipt Hog accepts military commissary and exchange store receipts within the United States and Canada.
Does Receipt Hog Work Overseas?
The app only works in the United States and Canada.
---
Honey: Best for Easy Cashback Rewards
PayPal's Honey is another excellent way to earn cash back on everyday purchases.
Honey works as a background extension on Chrome and most other browsers, including Firefox, Opera, Safari and Edge.
How Honey Works
Honey searches for relevant promo and coupon codes while you shop online, making it one of the best cashback apps for online shopping.
You can also earn Honey "gold" from purchases at participating retailers. Its website says It takes 1,000 Honey gold to equal $10, which is the minimum for transferring to a PayPal account or gift card.
Does Honey Work on Military Bases?
As an online cashback rebate company, Honey has no specific offers for military base commissaries or exchanges. However, you can still use Honey to find military discounts that qualify for Honey gold. Enter "military" or "veteran" into the Honey search bar to see what's available.
Does Honey Work Overseas?
Honey is expanding internationally. So far, it's available in the U.S., Canada, Australia and the United Kingdom. If the military stations you overseas, you may be able to use Honey in conjunction with a U.S. IP address through your VPN.
---
Fluz: Best for Referral Rewards
To earn cash back from Fluz, you pay them for a gift card for your purchase or redeem referral vouchers, which can help you save up to 35% on items you were going to buy anyway.
How Fluz Works
When you're checking out online, you'll pay Fluz for a gift card in the exact amount of your purchase. Then, you'll enter the gift card as your payment method on the store website.
Fluz pays you cash back when you use its gift card service because it purchases them at a discount. The app also rewards users for referring other customers.
The Fluz website says you can cash out to PayPal, Venmo or your bank account once your balance reaches at least $26.
Does Fluz Work On Military Bases?
Fluz does not currently offer military exchange or commissary gift cards.
Does Fluz Work Overseas?
Most of Fluz's gift cards only work in the U.S.. You can read about where you can use a particular gift card in each offer's terms and conditions. Fluz does have some international gift cards, which you can use overseas.
If your military base is overseas, you might be able to use some of Fluz's international gift cards at certain retail locations in that country.
---
Slide: Best for Program Simplicity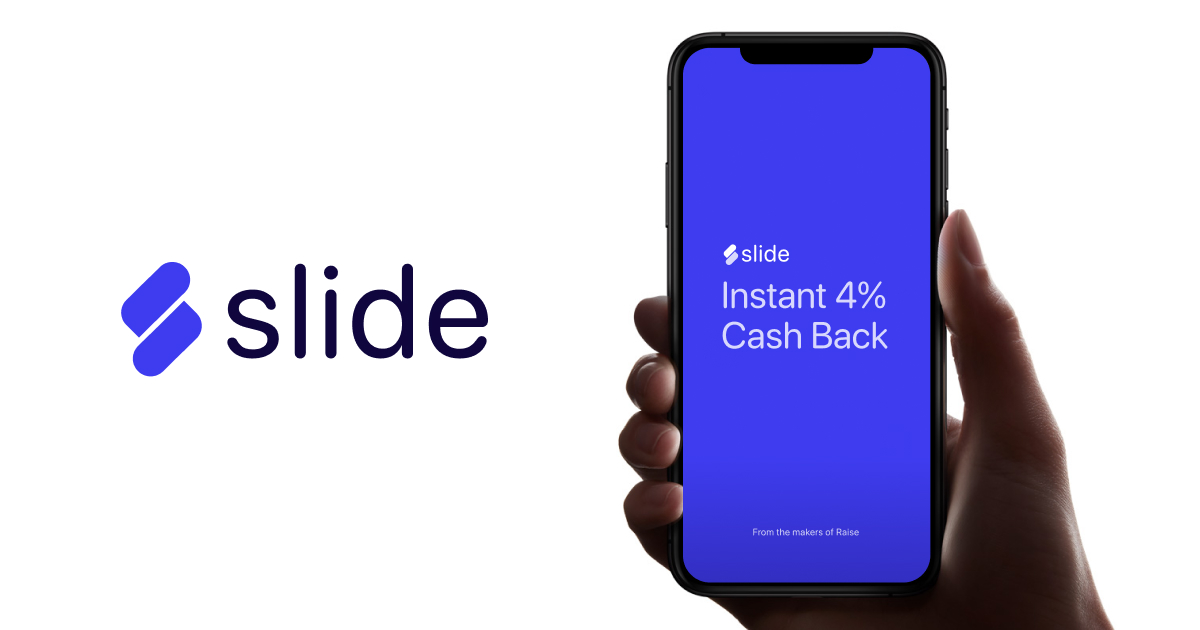 If there were an award for cashback program simplicity, Slide would win it. Out of all the cashback apps we reviewed, Slide had the most straightforward program. Instead of variable rewards that change by vendor, you get a straight 4% back on all transactions that you make through its network.
How Slide Works
Like Fluz, you'll pay Slide for a gift card for your exact purchase amount, then present that gift card at the point of sale in place of your credit card.
Slide's advantage is its consistency, though Fluz may pay more on certain transactions.
You can use Slide at a variety of retailers, including restaurants, travel companies, grocery, apparel and pet retailers.
Slide also has one of the lower minimum cash out amounts. According to its website, you can transfer your balance to your Venmo or PayPal account once you accrue at least $15.
Does Slide Work on Military Bases?

Slide doesn't offer gift cards for at military commissary or exchange stores.
Does Slide Work Overseas?
While some offers may be available internationally, most of Slide's offers are only available in the U.S.
---
My Points: Best for Amazon
My Points is a referral service that offers reward points per dollar.
How My Points Works
Once you accrue 1,750 points, you can redeem them for a gift card or a $10 payment to your PayPal account, so each point is worth a little more than half a cent.
According to the My Points website, Amazon purchases earn eight points or more per dollar – a respectable 4% – making it one of the best cashback apps for Amazon and other online marketplaces.
You can get an additional 5% back by shopping with the Chase Prime Rewards Visa Signature card or the Amazon Visa store card for up to 9% total cashback on all your Amazon purchases.
Want more cash back on Amazon?
Apply for a Chase Prime Rewards Visa Signature card today!
My Points' other retail partners include Walmart, eBay, Kohl's, and Best Buy.
You can also make money with MyPoints by filling out surveys, viewing promotional material, using the MyPoints search engine and referring other customers.
When ready to cash out, you can transfer your rewards to PayPal or load them onto a gift certificate.
Does My Points Work on Military Bases?
My Points does not offer military commissary or exchange store deals at this time.
Does My Points Work Overseas?
My Points is only available in the United States.
---
About Post Author