Using your GI Bill benefits to earn a degree or professional certification can change your life. However, veterans need to proceed with caution. For-profit schools have a history of stretching the truth to persuade veterans to enroll in their programs and waste their GI Bill benefits on bogus programs and useless degrees.
The government has scrutinized for-profit schools ever since it came to light that more than one-third of all dispersed GI Bill funds were going to for-profit colleges, and the veterans enrolling in these programs ended up deep in student-loan debt for degrees that many employers considered inferior to state schools or other nonprofit institutions.
Certain websites, like GIBill.com, were intentionally targeting and misleading veterans in what was essentially a money-making scheme, which eventually resulted in a lawsuit.
Since the lawsuit against the GIBill.com website was settled, the VA now manages the website, "to promote the GI Bill program and educate service members about the benefits available to them under the program." The term GI Bill is a registered trademark of the United States Department of Veterans Affairs, and all respective social media handles with the term now belong to the VA as well. Along with ownership of the term GI Bill, President Barack Obama's April 2012 executive order puts more rigorous protections in place for veterans and their families who use their GI Bill benefits.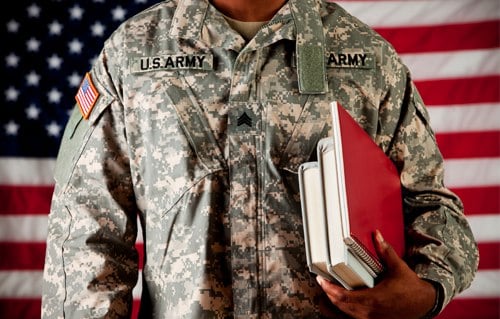 Unfortunately, for-profit schools and swindling programs still exist, so veterans and their families need to tread carefully when deciding to sign on the dotted line and hand over their GI Bill benefits. Fortunately, as a result of the government's crackdown, it is more difficult for institutions and programs to intentionally mislead veterans or cause them to misuse their GI Bill benefits.
The VA, in collaboration with the executive order, has helped make many more VA and government resources available to veterans. Use these tools and links to help you choose a reputable school or training program for your GI Bill benefits.
Tools for Choosing a School for Your GI Bill Benefits
Because there are so many factors to consider, the VA published a guide to choosing a school. Use this resource as a checklist, or create an outline of all of the things that you're looking for in a program, before signing on to use your GI Bill benefits.
You can also use the VA's WEAMS Institution Search tool, which helps you find colleges, universities, flight schools, apprenticeship programs, vocational institutions and other educational facilities whose programs are approved for VA benefits. To use the school locating tool, enter your desired search terms, then click on the map to see the available results by state.
The Federal Trade Commission has also published a guide to choosing a vocational school, which can be a little different than attending a traditional college or university. Not all on-the-job training and apprenticeship programs qualify for GI Bill benefits, so do your homework before signing up and realizing you have to pay out of pocket.
Questions to Ask When Choosing a School
Make sure to utilize the Federal Trade Commission's brochure, which guides you with questions to ask an institution before signing any paperwork. Some of these questions include:
Is the school committed to helping veterans?
What's the total cost of the program from start to finish?
Do I pay per course, per semester or all at once for the whole program?
Are there fees for switching classes?
Will federal loans cover the costs of books, equipment, uniforms, lab fees or graduation fees?
Will this school's program align with my career goals?
Will I earn the credentials I want with this program?
Can I transfer the credit I earn at this school to other schools?
What percentage of students graduate?
What percentage of recent graduates is late in paying back their loans?
Ask college representatives these questions, and don't just take their word for it. Ask for them to provide the proof behind their promises. Look for statistics and figures on the history of that program's retention and graduation rates. Try to find a program that has an established history of working with veterans and their GI Bill benefits. If the administrative office doesn't know how to get you started with using your benefits, then you'll definitely want to choose a different program.
How to Check if an Institution is Legitimate
Always be on the lookout for diploma mills. Stay away from programs that offer flat fees for a concrete amount of time with little to no coursework. Also, any programs that advertise no exams and no classroom interaction are most likely part of a diploma mill. All legitimate programs with valid degrees take at least some time (usually no less than two years for a bachelor's degree) and substantial coursework.
There are a few options to check into the legitimacy of an institution. You can use the U.S. Department of Education's database of accredited postsecondary institutions and programs, https://ope.ed.gov/dapip/#/home, or the Council for Higher Education Accreditation's database, https://www.chea.org/search-institutions. Just because a certain program is not listed in the databases does not mean it's not wholly reputable, though. Some institutions have chosen not to pursue accreditation. If the school or program you wish to attend isn't listed as an accredited institution, call the school and speak to someone in the admissions office. Ask them why the school doesn't have accreditation before making any decisions.
Principles of Excellence Program
A good bet for getting the most out of your GI Bill would be to pick one of the roughly 3,600 institutions that have agreed to follow the guidelines of the Department of Veterans Affairs Principles of Excellence program.
Schools within this program have a designated point of contact specifically for veterans to offer financial and academic counseling. Principles of Excellence programs will provide potential veteran students with an education plan and an accurate total cost of the program. They will ensure accreditation of all new programs prior to enrolling a veteran as a new student. These programs also accommodate active service members and reservists who may need to defer their classes due to service requirements.
Use the GI Bill benefits comparison tool to see if the school you are interested in attending participates in the Principles of Excellence program and to determine what your GI Bill benefits would be while attending that school or program. To use the tool, input your military status, which GI Bill benefits you're thinking about using, the cumulative term of your military service, and then input a city or school.
Choose a VA-Approved School to Get the Most Out of Your Benefits
If possible, enroll in a program that follows the Principles of Excellence. If you can't find a participating school near you or one that has the degree or program you wish to take, do your research before enrolling in a school that isn't necessarily approved by the VA.
Never commit to any college, institution or training program unless you have fully done your research into the reputation and requirements of that program. Always ask questions, and ask for proof to back up their answers. Don't sign away your GI Bill benefits for a program that doesn't align with your career goals and won't get you to where you want to go.
Remember that you can report any institution to the Department of Education if you feel that that program or institution hasn't honored its promises or doesn't seem aboveboard. To file a complaint, send an email to [email protected].
About Post Author