Update – The Offices Will Retain Their Pensions
A group of Army O-3s will finally be paid the pensions they've earned. However, their story is also a cautionary example of why you should be saving and investing for financial independence.
In December 2014, the Army announced dozens of officers keep their pensions.
The press release doesn't specifically mention the role this site played in these events. It doesn't mention the New York Times journalist or the Congressional inquiries or the Armed Services Committee discussions either. But that started here through e-mails with servicemembers and spouses just like many of you readers.
In early 2014 the Army conducted an "Officer Separation Board". Several prior enlisted officers selected for separation sent me e-mails after they were informed that they'd have to revert to enlisted rank and lose over a third of their pensions. Others were being separated just short of their eligibility for the 15-year early-retirement program. A few were already over 18 years of service but thought they were threatened with early retirement instead of a 20-year pension guaranteed by federal law.
After researching the situation and diving into the Title 10 U.S. Code that applies to most military retirements, I wrote the article that appears after the section heading "What Law Allows An Officer To Be Retired On Enlisted Pay?"
When that post went live, I heard from a few more officers. Along with their financial and career options, we also discussed writing letters to their elected representatives and going to the media.
Shortly after that, the media got interested: Dave Philipps of the NYT contacted me to interview the officers. I e-mailed several introductions and he wrote his article. Some of the officers had already written their elected representatives, and Dave's article inspired a few more Congressional inquiries. A month later the Army announced that officers would keep their officer pensions and that others would be extended to retirement eligibility. Ironically Mr. Philipps' follow-up article ran in the NYT's "Politics" section.
It's nice to see the Army (finally) do the right thing. I wonder, though, if it would have happened without those officers asking me to write about it. As nice as it is to see the good guys win one, I just wish we didn't have to keep telling the authorities who their good guys are.
What follows is the original article that got the ball rolling.
What Law Allows An Officer To Be Retired On Enlisted Pay?
A reader writes:
I was selected by the latest reduction in force board with a mandatory retirement date when I will have seven years of service as an officer and 13 prior enlisted years. (I was commissioned from the rank of E-7.) According to the latest release message, officers who serve eight years can retire as an officer. I will be 12 months short of that requirement because my service is forcing me to retire. Not only I am not being afforded the chance to fulfill the eight years, but according to my base retirement services they will reduce me to my last enlisted grade and retire me at that pay scale.

After a follow up with my base retirement office it was confirmed that the pension will be based on E-7 pay, as I will have to resign my commission. My pension's pay base will be calculated from the last 36 months at E-7 base pay, despite the fact that I actually earned O-3E pay during that time.

Our base lawyer won't help. Can you refer me to a civilian lawyer?
As the reader said, my first suggestion in these situations is to contact a military lawyer at the base legal service office. If that lawyer isn't a good fit (or doesn't want to help) then ask for a referral to a civilian lawyer who has experience with military retirement litigation. The LSO usually keeps a list of lawyers who have agreed to work with military clients, and the staff just recommends the next name in rotation on that list.
This retirement doesn't appear to comply with the law, and I'd like to ask you readers for help. Can you refer me to a federal law, a DoD policy, or a service's instruction that allows this reduction in rank?
I'm surprised that the military would forcibly retire an officer at an enlisted paygrade. In this case, the officer was commissioned at a time when the service desperately needed experienced officers. Federal law Title 10 U.S. Code section 1370 says that an officer will "be retired in the highest grade in which he served on active duty satisfactorily, as determined by the Secretary of the military department concerned, for not less than six months." Officers in the rank of O-4 and above have additional requirements for time in grade, but this officer is an O-3.
The federal law of Title 10 U.S. Code section 3911 goes on to say that "the Secretary of the Army may, upon the officer's request, retire a regular or reserve commissioned officer of the Army who has at least 20 years of service computed under section 3926 of this title, at least 10 years of which have been active service as a commissioned officer."
That law was recently amended from 10 years to eight years. (Equivalent laws for the other services are in section 8323 and section 8911.) If Congress has amended the law to eight years for a drawdown, it seems reasonable for them to reduce it to seven years for special situations– like a tailored reduction in force at a particular rank. Another option would be for the service to continue this officer on active duty for another year to meet the eight-year minimum.
The service asked this officer to step up and make a commitment. It seems grossly unfair to change the rules before the servicemember has the opportunity to comply with all the terms of the commitment.
Let me make this clear: the officer is not just being reduced to the enlisted rank of E-7 on their retirement certificate. They're also being forced to retire at the enlisted rank's pay base.
The military's High Three pension is based on the highest 36 months of pay received during at least 20 years of service. That's in Title 10 U.S. Code section 1407(c):
"… the total amount of monthly basic pay to which the member was entitled for the 36 months (whether or not consecutive) out of all the months of active service of the member for which the monthly basic pay to which the member was entitled was the highest, divided by […] 36."
This O-3 has been serving as an officer for over six years and has a solid 36 months of O-3E pay. (The O-3E pay scale gives a higher base pay than O-3 to reward over four years of previous enlisted service. Otherwise an E-7 commissioning to O-1 would actually take a pay cut.) However, this officer didn't meet the minimum eight years of service to retire as an officer, so the day before they retired they're considered to have resigned their commission and will retire as an E-7.
Then Title 10 U.S. Code section 1407(e) says:
"Limitation for Enlisted Members Retiring With Less Than 30 Years' Service.— In the case of a member who is retired under section 3914 or 8914 of this title or who is transferred to the Fleet Reserve or Fleet Marine Corps Reserve under section 6330 of this title, the member's high-36 average shall be computed using only rates of basic pay applicable to months of active duty of the member as an enlisted member."
In other words, the base retirement seems to be claiming that if the O-3 has to retire as an E-7, then all those years of officer pay never really happened. The servicemember's pension is calculated from the highest three years of E-7 pay, not the O-3E pay that they've actually earned.
What's the Pension Difference?
This officer's retirement pay calculation is based on their pay earned during 2012 through 2014, but we can make a quick percentage estimate of the difference from the Defense Finance and Accounting Service military pay tables.
The actual amount of the pension can be calculated manually from the DoD Financial Management Regulation at this post or using the retirement calculator on your service's website (the non-public site behind the login). I can't link to those non-public service retirement calculators from here, and the outdated public DoD military compensation High-36 calculator still uses the 2010 pay tables to project an estimate. (It's not even worth the effort.) The pay tables give the most accurate answer for readers who can't login behind their service's firewall.
From 2014 the pay tables, an O-3E with over 18 years of service in 2014 is paid $6726.00 per month. An E-7 with over 18 years of service is paid $4323.90/month. The complete High-Three pension calculations are more complicated than these two numbers, but this estimate is close enough: the officer is being told that they're going to lose 35% of their pension.
That may be legal according to the narrow interpretation of two separate sections of federal law, but the whole process just seems wrong. If that's the military's policy (ethical or not) then it appears to lack the "covenant leadership" required from both sides of a commitment.
What Happens Next?
This O-3's service has decided that all those years of officer pay were just a "bonus" and not actually a retirement benefit. That's according to their interpretation of the law, but this situation is not explicitly covered in the law. The fact is that the O-3 earned over three years of O-3 pay and should earn a pension based on that pay, no matter what rank is printed on their retirement certificate. A creative interpretation of the law should not be permitted to change the facts.
I'm not a lawyer, but I think that the law needs to be changed to address what happens if an officer is not permitted to reach the full length of service required to retire at that rank.
I'm not holding my breath for that change.
What can this O-3 do while the retirement process is grinding away?
First, they can apply for a waiver of the eight years. They're being forced to retire by their service, so they can request that their service obtain Congressional approval to waive the federal law requiring a minimum of eight years. In other words, the DoD would need to ask Congress to approve a waiver for the officers subject to this issue. I don't think the officer should count on that, but they have to request it.
Second, they can apply for continuation on active duty for the additional year needed to reach eight years of commissioned service. Their service wants them out of uniform to meet their manpower limit by the end of the next fiscal year, but in this situation they're actually punishing the officer with a seemingly arbitrary deadline. Simply extending the officer's retirement date past the fiscal year deadline by only six months will give the officer a total of eight years of commissioned service and an O-3 retirement. Does DoD really need to hammer a servicemember's pension by 35% just to meet an arbitrary personnel headcount deadline? More importantly, do they want to read about this on the front pages of Military.com or Military Times?
This isn't just an isolated incident. This O-3 is being forced to leave active duty because the Army is drawing down 1100 captains. This O-3 just happens to have enough years of service to file for retirement, but the linked article includes a quote from the Army's Vice Chief of Staff:
"Just think, if you're a young captain… you've been in the army four to eight years, you could be a company commander who commanded in combat, and now somebody's going to come up and say, 'Hey, thanks for your service,' " he said. "It's going to be a shock."
The article continues on:
Most of the captains who receive notice this week will receive separation pay, while a few have accumulated enough time in the service to qualify for early retirement.

The Army hopes to move many into the Army Reserve ranks.

"We think about two-thirds of those who are selected would be great candidates to go into the Reserve component," said [the] director of Army personnel management. "The Reserve component shortages are actually captains and midgrade NCOs, so it would improve readiness in the Reserve forces."
Maybe a third option would be for this officer to apply (for yet another waiver) to transfer to the Reserve forces for a year. They'd no longer be part of the active-duty forces, so they would not count against fiscal year end strength. When they've reached their eight years of commissioned service, they could apply to retire as an O-3, with an O-3 pension calculated on O-3E pay.
I've never heard of that happening. But then I've never heard of the military cutting a servicemember's pension by 35% before either– so this third option sounds just as achievable, and a lot more equitable.
The Army is separating 1100 captains because of the drawdown. Nobody has collected the data on how many of these officers are facing pension cuts, but this is not an isolated incident– this is potentially a class-action lawsuit.
Again, let me ask the readers: Can you refer me to a federal law, or a DoD policy, or a service's instruction that would allow this officer to keep their high-three pension based on the O-3E pay that they've actually earned?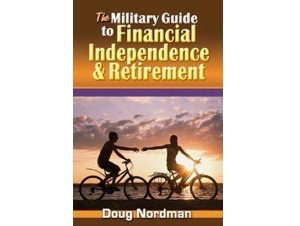 View on Amazon
Military Guide to Financial Independence
This book provides servicemembers, veterans, and their families with a critical roadmap for becoming financially independent. Topics include:
Military pension
TSP
Tricare Health System
& More
About Post Author