Table of Contents
Education and training are among the most cherished military benefits. The most well-known program, of course, is the GI Bill, which most military members in good standing qualify to receive after serving a short period on active duty. But the GI Bill is actually more valuable to most service members after they separate from the military.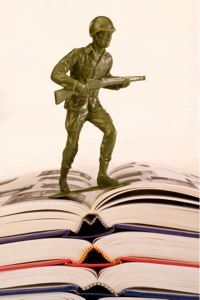 The good news is each service offers Tuition Assistance benefits to their active duty members. And the benefits are quite good—I used tuition assistance benefits to take classes on active duty while I was in the US Air Force.
Between Tuition Assistance and testing out of classes, I achieved my degree in less time than I could have if I had taken classes at a traditional college.
The US Marine Corps offers similar Tuition Assistance (TA) benefits as the Air Force. However, there may be some slight differences on the administrative side.
For example, the Air Force just made a few changes to their TA program, as Airmen are now required to receive official permission from their supervisor to take classes. Let's take a look at the current Tuition Assistance benefits for Marines.
US Marine Corps Tuition Assistance Benefits
The US Marine Corps Tuition Assistance Program, also known as the Marine Corps Lifelong Learning Program, has similar limits per semester or quarter hour of credit per fiscal year as the Tuition Assistance Programs in the other service branches.
Here is the maximum amount paid for Marine Corps Tuition Assistance: 100% Tuition and Fees, not to exceed:
$250 per Semester Credit Hour, or
$166 per Quarter Credit Hour, and
$4,500 per Fiscal Year
You may also be eligible to use Tuition Assistance funds to help cover these expenses:
Tuition Costs & Enrollment Fees
Computer & Technology Fees
Lab Fees
Other Required Fees
Tuition Assistance does not cover other fees or expenses, such as:
Books
Equipment fees
Supplies
Exams
Costs associated with distance learning
Does your Tuition Exceed your Tuition Assistance Limits?
You still have options. The numbers above only reflect the limits TA will pay. You can often find ways to make it work with the school or by using partial GI Bill benefits as payment.
For example, here are some ways you can make TA pay for all your tuition and fees:
Many schools will reduce tuition costs to match the maximum Tuition Assistance benefit for active duty military members. This is more common for colleges and universities in military communities and usually only for undergrad work.
Many military members can qualify for military scholarships, scholarships through the school, or a scholarship through a military service organization.
Grants may be available to some service members, including the Pell Grant, which the federal government offers.
You can use the GI Bill to pay for any difference in tuition costs. Using the GI Bill in conjunction with Tuition Assistance usually only takes up a partial month of GI Bill benefits, as you only use it to "Top Up" your TA to pay the difference.
Marine Corps Tuition Assistance Eligibility
Each military branch has different eligibility requirements. As noted above, the Air Force requires Airmen to receive their supervisor's permission before signing up for TA benefits (along with a few other eligibility rules). The Marine Corps has similar requirements for Marines. Here is the latest list, from the US Marines' website:
1. Purpose. In conjunction with reference (a), this MARADMIN consolidates reference (b) (c) and (d), outlines where specific Tuition Assistance (TA) guidance is located, and provides guidance for Marines who have completed an initial master's degree at Command and Staff through Marine Corps University.

2. Commanders shall ensure Marines meet all eligibility criteria. All TA eligibility criteria, funding amounts, guidelines, policies, and procedures can be obtained on the Marine Corps Community Services (MCCS) website: https:(slash)(slash)usmc-mccs.org/TAGuide/, or through the installation Voluntary Education (VOLED) Center, in conjunction with reference (a). Attendance at a TA Orientation brief provided through the VOLED Center, replaces the Higher Education Preparation online training on Joint Knowledge Online (JKO) as a first-time TA applicant requirement.

3. Marines who have completed an initial master's degree through the Military Studies program at Command and Staff, Marine Corps University, will be eligible for TA funding toward a second master's degree at the same TA rates. All current Marine Corps TA policies and criteria will be in effect, including all incurred time-in-service obligations.

4. Marine Warrant Officers who have not completed a Baccalaureate degree, must have an EAS date at least 60 days beyond the end date of the course to receive TA funding. Warrant Officers who currently hold a Baccalaureate degree must have an EAS date at least 24 months beyond the end date of the TA-funded course.

5. TA funding authorization is contingent upon responsible stewardship of available funds by the installation's Education Services Officer (ESO) and VOLED Center personnel. The ESO retains the discretion to treat each TA application solely on the merits of the individual case.

6. This message has been approved for release by LtGen David A. Ottignon, Deputy Commandant for Manpower and Reserve Affairs.//

FY21 TA MARADMIN
Additional Marine Corps Tuition Assistance Rules
Marines who wish to apply for Tuition Assistance benefits must follow these rules:
Complete a College 101 Brief (10-15 minutes online PowerPoint presentation)
Submit a Statement of Understanding
Submit a current, up-to-date TA application (with a statement of fees from the school when requested by the Ed Office).
Reservists must submit a copy of activation or mobilization orders
Officers must agree to remain on active duty for at least two years upon completion of a TA course
Evaluated Degree Plan or a SOCMAR is required
FIRST-TIME TA USERS – must have completed the Financial Mgmt MCI – (Course IDMCIZ3420GZ).
The following resources will be helpful:
Passing Grades Required – Or You May Have to Reimburse the Marine Corps
Each military branch requires its members to successfully complete courses paid for using Tuition Assistance funds. Successful course completion is defined as a grade of "C" or higher for undergraduate courses, a "B" or higher for graduate courses, and a "Pass" for "Pass/Fail" courses.
Reimbursement will also be required for students who receive an "I" grade not completed within 6 months or the educational institution's deadline.
Contact your Tuition Assistance administrator regarding what happens if you receive a "W" for Withdrawal from the course. Each branch handles these differently. (Some branches will provide a waiver if the member is forced to withdraw from the course due to a mobilization or other military assignment).
Thoughts on Marine Corps TA Eligibility and Restrictions
The Marine Corps has some rigid restrictions on Tuition Assistance eligibility, but it's important to remember why TA is there in the first place.
Yes, it's a great benefit for active duty Marines and an excellent recruiting tool. But at the end of the day, the main reason is to make the Marines a better fighting force. Education is a great way to enhance the total education of the Corps and, in doing so, improve total force capability.
Most of the restrictions in place are there to ensure the limited Tuition assistance dollars go where the Marine Corps can best see the benefits of their investments in their troops. (Remember, it wasn't long ago when the Sequestration forced most military branches to pause TA benefits).
The limited funds are why Marines need 24 months time in service before they are eligible to participate in the Tuition Assistance program. Similarly, the Marine Corps wants to ensure their Marines are focused on upgrade training, which explains why Marines aren't eligible for TA when they are currently in military training (you will find this in each branch).
Finally, The Marines and other services limit Tuition Assistance benefits to one of each type of degree unless it meets mission requirements.
Overall, there are some limitations to the program, but none that are difficult to achieve if you are in good standing and none that are unreasonable. If you are in the Marines, I encourage you to consider this benefit. This is one of the best deals going.
About Post Author