Education and training rate among the most cherished military benefits. The most well-known program, of course, is the GI Bill, which most military members in good standing qualify to receive after serving a short period on active duty. But the GI Bill is actually more valuable to most service members after they separate from the military.
The good news is each service offers Tuition Assistance benefits to their active duty members. And the benefits are quite good—I used tuition assistance benefits to take classes on active duty while I was in the US Air Force.
Between Tuition Assistance and testing out of classes, I was able to achieve my degree in less time than I could have if I would have taken classes at a traditional college.
The US Marine Corps offers similar Tuition Assistance (TA) benefits as the Air Force (which I used when I was on active duty). However, there may be some slight differences on the administrative side.
For example, the Air Force just made a few changes to their TA program, as Airmen are now required to receive official permission from their supervisor to take classes. Let's take a look at the current Tuition Assistance benefits for Marines.
US Marine Corps Tuition Assistance Benefits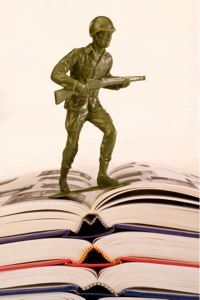 The US Marine Corps Tuition Assistance Program, also known as the Marine Corps Lifelong Learning Program, has similar limits per semester or quarter hour of credit, and per fiscal year as the Tuition Assistance Programs in the other branches of service.
Here is the maximum amount paid for Marine Corps Tuition Assistance: 100% Tuition and Fees, not to exceed:
$250 per Semester Credit Hour, or
$166 per Quarter Credit Hour, and
$4,500 per Fiscal Year
You may also be eligible to use Tuition Assistance funds to help cover these expenses:
Tuition Costs & Enrollment Fees
Computer & Technology Fees
Lab Fees
Other Required Fees
Tuition Assistance does not cover other fees or expenses, such as:
Books
Equipment fees
Supplies
Exams
Costs associated with distance learning
Does your Tuition Exceed your Tuition Assistance Limits?
You still have options. The numbers above only reflect the limits TA will pay. You can often find ways to make it work with the school, or by using partial GI Bill benefits as payment.
For example, here are some ways you can make TA pay for all your tuition and fees:
Many schools will reduce tuition costs to match the maximum Tuition Assistance benefit for active duty military members. This is more common for colleges and universities in military communities, and usually only for undergrad work.
Many military members can qualify for military scholarships, scholarships through the school, or a scholarship through a military service organization.
Grants may be available to some service members, including the Pell Grant, which is offered by the federal government.
You can use the GI Bill to pay for any difference in tuition costs. Using the GI Bill in conjunction with Tuition Assistance usually only takes up a partial month of GI Bill benefits, as you are only using it to "Top Up" your TA to pay the difference.
Marine Corps Tuition Assistance Eligibility
Each military branch has different eligibility requirements. As noted above, the Air Force requires Airmen to receive their supervisor's permission before signing up for TA benefits (along with a few other eligibility rules). The Marine Corps has similar requirements for Marines. Here is the latest list, from the US Marines' website:
2.  Additional TA eligibility criteria is listed in reference (a).  Command approval of TA is contingent upon the command's anticipated mission requirements.  TA is authorized only for Marines who meet the standards and eligibility criteria contained herein and in references (a) and (b).  Initial usage of TA and continued usage of TA is at the Commanders discretion.  Commanders shall ensure Marines meet all eligibility criteria:
(a)  Marines shall be eligible for promotion per references (b) and (c).
(b)  Prior to TA approval, first-time applicants shall complete the Marine Corps Institute Personal Financial Management Course (Course IDMCIZ3420GZ).
(c)  TA shall be authorized for first-time TA applicants for only one course, unless documentation is provided that the Marine has at least an associate's degree or at least sixty (60) academic credits and a minimum grade point average (GPA) of 2.5.
(d)  Marines may not be actively participating in more than two TA-funded classes simultaneously.
(e)  TA funds for approved involuntary withdrawal waivers and failed courses will count toward individual fiscal year ceilings.
(f)  TA shall be authorized for only one course in the next academic term in the event that (1) overall undergraduate or graduate GPA falls between 2.0 and 2.5, (2) a grade of "D" or "F" is received in any course during the previous term, or (3) a voluntary withdrawal occurred from any course during the previous term.
(g)  Marines using TA must maintain a cumulative GPA of 2.0 or higher after completing 15 semester hours, or equivalent, in undergraduate studies, or a GPA of 3.0 or higher after completing six semester hours, or equivalent, in graduate studies, on a 4.0 grading scale.  If the GPA for TA-funded courses falls below these minimum GPA limits, TA will not be authorized.
(h)  TA is authorized only for tuition charges per reference (d).  Marines are responsible for non-tuition fees including but not limited to costs associated with room, board, distance learning, equipment, supplies, books/materials, exams, insurance, parking, transportation, admissions, registration, or fines.
(i)  Career and technical education certificate programs must be accredited by an accrediting body recognized by the Department of Education, be approved by the Department of Veterans Affairs, and have a signed Department of Defense (DoD) Memorandum of Understanding in order to receive tuition assistance.  Per reference (a), all Marines are eligible to obtain one TA funded certificate during their career.
(j)  Marines who fail to successfully complete a course will be required to reimburse received TA funds.  For the purpose of reimbursement, successful course completion is defined as a grade of "C" or higher for undergraduate courses, a "B" or higher for graduate courses, and a "pass" for "pass/fail" grades for courses using that criteria.  TA funds will be recouped from Marines for "D" and "F" grades, unresolved incomplete "I", or courses from which the Marine voluntarily withdrew, resulting in a "W" grade per reference (k).  Recoupment for withdrawals related to duty, medical, or emergency circumstances may be waived.  Waiver requirements and processes are contained in reference (a).  Recoupment for undergraduate grades of "D" or below and graduate grades of "C" and below will not be waived.
(l)  Open issues in Marines' TA accounts, including incomplete courses, reimbursement issues, and waivers, must be resolved and posted to the student record prior to approval of future TA requests.
(m)  TA is not authorized for fees related to certifications, license exams, or credentials.
(n)  In addition to the requirements for officers in reference (a), Reserve Component officers on active duty orders/mobilization must have an End of Active Service (EAS) date of two years beyond the completion date of the requested class in order to be approved for TA.
(o)  Enlisted Marines must have an EAS of 60 days beyond the completion date of the course in order to be approved for TA.
(p)  TA is not authorized for non-credit courses, training programs, or programs under continuing education or workforce development.
(q)  Marines assigned to Military Occupational Specialty (MOS) school or residential Professional Military Education (PME) (i.e., Command and Staff college, Corporals Course, Sergeants Course, Career Course, etc.)are not authorized recipients of TA until they return to their regular or permanent duty.
(r)  Marines attending vocational/technical certification programs with more than one class or module will only be approved TA for a maximum of two classes or modules at a time.
(s)  TA is not authorized for graduate studies beyond the master's degree level.
3.  TA requests can only be submitted within 60 days of the start date of the class.
Additional Marine Corps Tuition Assistance Rules
Marines who wish to apply for Tuition Assistance benefits must follow these rules:
Complete a College 101 Brief (10-15 minutes online PowerPoint presentation)
Submit a Statement of Understanding
Submit a current up-to-date TA application (with statement of fees from school when requested by Ed Office)
Reservists must submit a copy of activation or mobilization orders
Officers must agree to remain on active duty for at least two years upon completion of a TA course
Evaluated Degree Plan or a SOCMAR is required
FIRST TIME TA USERS – must have completed the Financial Mgmt MCI – (Course IDMCIZ3420GZ).
The following resources will be helpful:
Passing Grades Required – Or You May Have to Reimburse the Marine Corps
Each branch of the military requires its members to successfully complete courses paid for using Tuition Assistance funds. Successful course completion is defined as a grade of "C" or higher for undergraduate courses, a "B" or higher for graduate courses, and a "Pass" for "Pass/Fail" courses.
Reimbursement will also be required for students who receive an "I" grade that is not completed within 6 months or the educational institution's deadline.
Contact your Tuition Assistance administrator regarding what happens if you receive a "W" for Withdrawal from the course. Each branch handles these differently. (Some branches will provide a waiver if the member is forced to withdraw from the course due to a mobilization or other military assignment).
Thoughts on Marine Corps TA Eligibility and Restrictions
The Marine Corps has some rigid restrictions on Tuition Assistance eligibility, but it's important to remember why TA is there in the first place.
Yes, it's a great benefit for active duty Marines, and it's an excellent recruiting tool. But at the end of the day, the main reason is to make the Marines a better fighting force. Education is a great way to enhance the total education of the Corps, and in doing so, improve total force capability.
Most of the restrictions that are in place are there to ensure the limited Tuition assistance dollars go where the Marine Corps can best see the benefits of their investments in their troops. (Remember, it wasn't long ago when the Sequestration forced most military branches to pause TA benefits).
The limited funds are why Marines need 24-months time in service before they are eligible to participate in the Tuition Assistance program. Similarly, the Marine Corps wants to ensure their Marines are focused on upgrade training, which explains why Marines aren't eligible for TA when they are currently in military training (you will find this in each branch).
Finally, The Marines and other services limit Tuition Assistance benefits to one of each type of degree, unless it meets mission requirements.
Overall, there are some limitations to the program, but none that are difficult to achieve if you are in good standing, and none that are unreasonable. If you are in the Marines, I encourage you to look into this benefit. This is one of the best deals going.