In early August, President Trump signed a presidential memorandum that deferred payroll tax collection from September 1, 2020, through December 31, 2020. This is a big change that impacts all military members as well as many government employees and civilian workers. However, this is only a temporary change. It is not permanent and it did not change the tax laws—only Congress can do that.
So let's dive in and discuss what the payroll tax deferral is, what it covers, and how it will be repaid in 2021.
What is the Payroll Tax Deferral?
Congress and the Trump administration have been looking at ways to bolster the economy due to the Covid-19 pandemic. One method the Trump administration has looked at using is a payroll tax holiday, which would put more money in people's pockets with the intent of them spending the additional money. This in turn could help bolster the economy.
However, only Congress can change the tax code, and so far, they haven't voted this into law. While President Trump does not have the power to change the tax laws, he does have the ability to draft a presidential memorandum to temporarily defer when those taxes are paid. This is what he did last month when he signed the Memorandum on Deferring Payroll Tax Obligations in Light of the Ongoing COVID-19 Disaster to create the payroll tax holiday.
Instead of making this a permanent payroll tax waiver, it is only a temporary deferral, meaning those who do not have their payroll taxes withheld may be required to repay those taxes in the future. We'll get back to this in a moment.
How Do Payroll Taxes Work?
First, we need to understand how payroll taxes work. I'll give you the quick and dirty so we can explain how this impacts military pay during the upcoming period of Sep. 1 – Dec. 31, 2020.
Payroll taxes are collected by employers with each paycheck before you even see it. If you look at your military Leave and Earnings Statement, you will see a section for withholdings that includes Federal Tax, FICA-SOC SECURITY, FICA-MEDICARE, and other withholdings. (The Marine Corps LES simply states Social Security, while civilian the LES labels it OASDI).
The term FICA stands for Federal Insurance Contributions Act taxes. These include Social Security and Medicare taxes that are withheld from your payroll and used to fund these national insurance programs. Social Security taxes are also referred to as Old Age, Survivors, and Disability Insurance (OASDI).
Here are the normal withholding amounts:
FICA Social Security – 6.2% of your first $137,700 in earnings; no withholding above these income levels.
FICA Medicare – 1.45% with no income limits. Those who earn over $200,000 will have a 0.9% Additional Medicare Tax withheld from their employer.
Employers also pay the same taxes in an equal amount to the employees. Those who are self-employed, such as myself, pay both portions of the payroll taxes.
Who Does the Payroll Tax Deferral Apply To?
This is the interesting part – the presidential memorandum is not a change in the law. So this is a voluntary measure on the part of employers. It also only applies to those who earn $104,000 or less per year (defined by the memorandum and the IRS as $4,000 per bi-weekly pay period, of which there are 52 per year). $104,000 per year equates to a monthly rate of $8,666.66.
So this means the payroll tax waiver only applies to you if you earn less than $104,000 per year AND if your employer participates in this program.
The military and many federal government organizations are participating in the program. However, many non-governmental civilian companies are not participating in this program due to the complexity and uncertainties surrounding it. We'll come back to the uncertainties in a moment.
Finally, the payroll tax waiver only impacts the FICA Social Security tax, which is 6.2% of your base pay.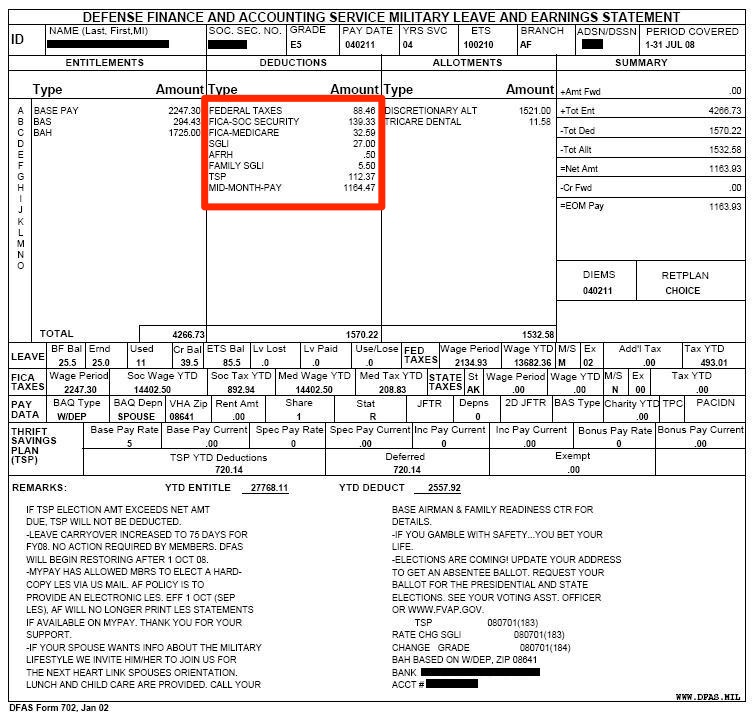 How Does the Payroll Tax Deferral Impact the Military and Civil Service Communities?
The IRS has released guidance (IRS Notice 2020-65) on how the payroll tax deferral works. DFAS also has an informational page.
In short, participating employers are not required to withhold the FICA Social Security Tax, which is 6.2% of your pay. Again, this is subject to the income eligibility limit of $4,000 per bi-weekly pay period, or $8,666.66 per month.
In general, this would apply to most military members below the pay grades of W-5 and O-5.
Starting in your next paycheck, you should see a 6.2% increase in your take-home pay, since the FICA Social Security taxes will not be withheld as they normally would.
However, don't spend it right away! (you may have to pay it back next year).
Repaying the Payroll Tax Deferral
The Consolidated Appropriations Act, 2021 was approved by Congress and signed by President Trump on Dec. 27, 2020. The law extends the period for collecting deferred 2020 Social Security taxes.
That means the repayment of those four months of deferred taxes will now be collected over the next 12 months of 2021. This is a change, as the taxes were originally supposed to be repaid by April 30, 2021.
What does this mean for me?
Active Duty Military Members – Active duty servicemembers will notice a change beginning with their mid-month January LES and paychecks. The deferred Social Security taxes will be collected in 24 installments, bimonthly, between January 1 and December 30, 2021.
Reservists and Guardsmen – According to DFAS, the amount collected may not be the same for every pay period. DFAS will collect 2% of net available from weekly, mid-month, and end-of-month pay until the total deferred taxes are repaid.
Payroll Tax Deferral FAQs:
Here are some questions that you may have:
Can I opt-out of the payroll tax deferral?
No, this is automatic. The Office of Management and Budget (OMB) directed all Executive Branch Agencies to implement the tax deferral. There is nothing you can do to prevent the payroll taxes from being deferred.
What happens if I separate from the military or retire during the 2020 calendar year?
You are still on the hook for the Social Security taxes that were not withheld. DFAS will pass further guidance on this at a later date.
However, it's possible they may withhold it all as a lump sum from your final paycheck. This will be the case for Coast Guard members who separate prior to 2021.
Another possibility is that you may receive a statement with the amount due that you will need to pay to the federal government. We will update this article when we have more information.
Will this impact my tax return?
It shouldn't. Your payroll taxes and income taxes are two different things. Payroll taxes are generally automatically withheld by your employer, and because of this, you generally never see the money or have to deal with it. If all goes well, the money that wasn't withheld will either be forgiven or will be withheld during the first four months of 2021.
However, you may be on the hook for the balance if you leave your employer, retire, or are otherwise unable to have the money withheld by your employer at the beginning of 2021. If this happens, then you should seek further guidance (which has not yet been released) or work with a tax professional.
Which paygrades are impacted by the payroll tax deferral?
Servicemembers in the following paygrades will be impacted by the payroll tax deferral:
Enlisted service members will have their Social Security taxes deferred.
Officers at the grade O1-O4, the grade of O5 with less than 16 years of service, and the grade of O6 with less than 14 years of service will have their Social Security taxes deferred.
All officers at the grade of O5 with 16 or more years of service, grade of O6 with 14 or more years of service, and all O7s through O10s will not have their Social Security taxes deferred.
All warrant officers will have their Social Security taxes deferred except those at a grade of W5 with 24 or more years of service.
How much will be withheld from my future paycheck?
The amount of money that is not withheld from your paychecks will be what is called a "deferred tax liability." In short, this just means that you will have to pay the government the exact amount you should have paid, but that was not withheld. This comes to 6.2% of your base pay during the period that the payroll tax was not withheld.
However, your employer will begin withholding those funds at the beginning of 2021, when we will have the 2021 pay charts in effect, and many people will have been promoted or received raises for time in grade. The deferred tax liability should only require the repayment of the amount deferred. So in future months, you would have the normal 6.2% Social Security tax withholding, along with the amount necessary to pay the taxes that would have normally been withheld.
Most websites are saying you will have 12.4% withheld, and I used that number above for simplicity's sake. However, due to potential promotions, time in grade pay raises, and the COLA adjustment on your 2021 base pay, the number may be slightly lower than that.
DFAS will provide more guidance on this in a future release. And this is, of course, if this isn't forgiven by Congress.
What happens if I get promoted or get a time in grade pay raise?
See the above question and answer.
Does this payroll tax waiver apply to combat pay, special and incentive pay, or allowances?
No. This only applies to base pay. DFAS does not withhold FICA taxes from combat pay, hazardous pay, imminent danger pay, BAS, BAH, and similar allowances.
Does this apply to reenlistment bonuses?
No. Enlistment and reenlistment bonuses are classified as "special and incentive pay, along with other forms of compensation, such as flight pay, sea pay, and similar forms of pay.
Special and incentive pay is subject to income taxes but is not subject to FICA tax. More info here.
How does this impact me if I am deployed?
Military members who are deployed to a tax-free combat zone still pay FICA taxes. Only federal taxes and most state taxes are exempt. So you should not see any specific differences due to your deployment.
Does this affect military retirees or retirees from the Federal Employees Retirement Systems (FERS)?
No. This only impacts income earned through payroll. You do not have FICA or payroll taxes withheld from your military retirement pay or FERS pensions.
Where can I get more information?
DFAS has an announcement page and an FAQ page. We will also update this page with additional information as we come across it.