My six years on active duty were filled with travel. It's part of the military lifestyle. Looking back at my service records, I was surprised to see that I was either deployed, TDY, or attending formal military training for over half my time on active duty service. This is a fairly high rate of travel, as not everyone goes TDY or deploys that frequently. But this is also not uncommon. Some servicemembers travel far more frequently than I did. This can be especially common for flight crews, special ops, security forces, MP's, operators, and other high tempo career fields.
Regardless of your military specialty, it's very likely you will either go on a Temporary Duty Assignment (TDY) or deploy at least a few times in your career. These trips can range anywhere from a couple of weeks, up to a year. Most short trips are easy to plan for and don't require too much advance work. Longer trips require more planning, especially when you have a family or home to take care of while you are away.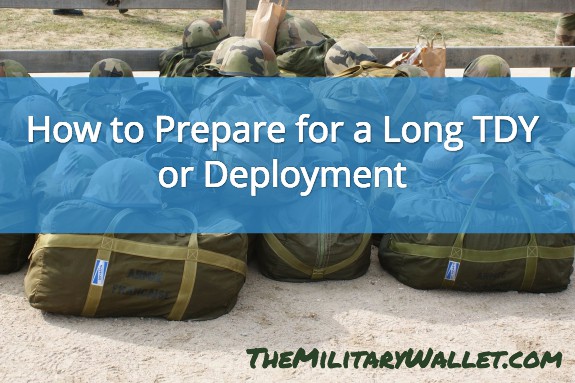 10 Tips to Prepare for Your Next Long TDY or Deployment
Every situation is unique, so use these tips to get started and modify as needed. Keep in mind that some of these tips may or may not apply to your situation, depending on where you are going and how long you will be gone. For example, a two-month training TDY will be very different than a year-long deployment. As always, take advantage of base resources when possible. There are many on-base agencies and organizations that will help you if you seek them out!
1. Have a Family Care Plan in Place
Your family should always come first, and this is no exception. Having a family care plan is a smart step to take, and maybe a requirement if you are a single parent or in a dual military spouse relationship. Take the time to map things out with your family and have a backup plan to care for your children, if you have any.
At a minimum, you should have a trusted family member or friend who can serve as a guardian or caretaker for your children. Be sure to speak with your local personnel office to take care of any administrative needs (ID cards, base access, etc.), and speak with a member base legal office to determine if there are any legal requirements.
Don't forget to have a plan in place to care for any pets you may have.
2. Schedule Time to Communicate with Your Family
Your family is your lifeline and they will need you as much as you need them. Thankfully, technology makes it easier than ever to stay in touch. You may find Internet bandwidth more limited if you are deployed to an austere location. But you may find that even some deployed locations offer computer and wi-fi access.
Access to reliable communication usually isn't a problem if your TDY location is in the mainland US, or on some of the larger overseas military bases. But there may be limitations on when and how you can communicate, and time differences may also make things more difficult. Make sure your family is aware of any potential limitations so expectations can be kept in check.
Common ways to keep in touch include phone, email, Skype, FaceTime, and even the old-fashioned handwritten letter. Don't knock the last one – everyone loves mail!
3. Check in with Base Legal
Part of taking care of your family is making sure they have everything they need to take care of themselves while you are away. This can include getting a Power of Attorney so they can make certain legal decisions or actions on your behalf.
Your base legal office can help you draft a power of attorney and explain the different types of POAs, which is best for your situation, and to whom you should grant a Power of Attorney (hint: don't give it to just anyone!). Just be sure to schedule an appointment with enough time before you leave. The base legal office often gets backed up before a large deployment cycle.
The other thing you need is a will. I know, no one likes to talk about wills. But it's important to have one, just in case the unthinkable happens. Don't let your estate go into probate – that can cause your survivors hours of legal hassles and grief. Instead, take the time to set up an appointment with an estate planner or with your base legal office. Completing a basic will is usually a fairly easy process. However, each situation is different and more complex estates may take more time.
Finally, ask about the Servicemembers Civil Relief Act. Depending on our situation, the SCRA may give you certain legal protections and allow you to decrease the interest rates you pay on loans, allow you to break a lease, and more. Note: this will not apply to everyone. This generally applies to those who are deploying over a certain amount of time. This is why it's a good idea to speak with someone in the base legal office to learn more about the protections and whether or not they apply to you.
4. Visit Your Human Resources or Personnel Office
It's a good idea to schedule an appointment with your Human Resources (HR) or personnel office before you go TDY or deploy. They can help you make sure your Dependents ID cards are up to date, you can change your life insurance elections, and get base access for caregivers or others who may need to help you take care of your children or home.
5. Get Your Finances in Order
Your finances should come right after your family. I have worked hard over the last couple years to automate my finances as much as possible. It all starts with setting up automatic deposit for paychecks (which everyone in the military already has). But it's easy to take things further and automate fixed payments such as your mortgage or rent, car payments, credit card bills, student loans, and more.
Many utilities make it easy to receive your bills and pay them online. The more you can automate, the less you have to worry about making mistakes or missing payments. These mistakes can be easy to make while you are TDY or deployed, and it can be an expensive lesson to learn!
Be sure to include your spouse, significant other, or whoever is helping you manage things at home. I handle most of the finances in my family, but my wife is up to speed on the process and can take over at a moment's notice if she needs to. Having a simplified and well-documented process makes this easier.
6. Make Sure You Have Access to Funds
As for spending, I like to carry cash for emergencies. But I use my credit cards for most purchases and automatically pay them in full each month. Using credit cards offers additional consumer protections, makes it easy to track spending, and you can earn cash rewards. It's also a good idea to have a credit card that doesn't charge foreign transaction fees if you will be traveling overseas. Here are some recommended credit cards for military members.
Note: I only recommend credit cards if you can pay the bill in full each month!
Choose Your Bank Wisely! Not all banks are created equal. It's important to choose a bank that offers a variety of products and services. Another feature to look for is a bank that offers a wide branch or ATM network so you can have easy access to your money while you are away from home. We have a list of the top military banks and credit unions to help you compare options.
7. Have a Plan to Take Care of Your Home or Apartment
Your home will most likely be fine if you leave it unattended for a week or two. Anything longer than that, and you may need to have someone check in on it. I never had any issues with deployments when I was single and living in an apartment. I just cleared out my fridge and trash before leaving, turned off the AC/heat, mailed in my rent checks, and came home when I was done.
But my situation is different now that I have a family and a house. My wife is capable of handling most things around the house. But I would hire a lawn care or snow removal service if I had to leave. That would give her one less thing to worry about so she can focus her time and energy on caring for our daughters. There is an added expense, of course. But that is what Family Separation Pay is for. You earn it for a reason – don't be afraid to spend it if it improves your quality of life.
8. Have a List of On- and Off-Base Resources
This is especially important if you have a family back at home. Check with your Family Readiness Center (or branch equivalent) to see if they have a checklist you can have. Most bases will have a list that includes helpful resources, including contact numbers for base resources, Family Support Advisers, Ombudsmen, Family Readiness Advisor, or other base support services.
Other helpful ideas include:
Emergency contact numbers
Unit contact information to get updates or pass along information
Doctors office (if not using on-base Medical Treatment Facilities)
Child Care / Schools
Trusted auto repair shops
Lawn maintenance / handyman service
Anything specific to your situation
9. Turn Off, Suspend, Cancel, and Unsubscribe When Possible
Many people choose to suspend or cancel services when they go on long TDYs or deployments. This can be a good way to save money by not paying for a service you won't be using. Just be smart about what you turn off. Common things to turn off or put in vacation mode include things like:
Cable TV / Internet
Magazine Subscriptions
Streaming Media Services (Netflix, Hulu, Spotify, etc.) – this only applies if you will be in a region where you can't use the service
Gym memberships (not as common for active duty, but very common for Guard and Reserve members)
Other items specific to your situation.
Keep in mind some services may have a cancellation or early termination fee, so be sure to review your contract and weigh your options. It may not be worth canceling if you won't be gone long. Also, be sure to review your rights under the Servicemembers Civil Relief Act, as this may apply to some members who are deploying.
Pro tip: Don't go so far as to turn off electricity or shut off gas or water in your home or apartment. Keeping these utilities turned on is a smart move, and is usually the safer course of action. You will also avoid the expensive service calls to turn your service on and off. It's better to pay a minimum monthly fee to keep things running than to deal with the hassles of scheduling appointments to turn things back on when you return.
10. Put Your Vehicle in Insurance in Vacation Mode
Many insurance companies allow you to put your auto insurance in vacation status if you will not be driving your car while you are gone. This can potentially save you a substantial amount of money, while also maintaining continuous coverage on your vehicle.
This is important because your vehicle will still be covered against loss or damage, and maintaining continuous coverage makes it simple to reactivate your insurance upon return. Canceling your insurance outright can leave your vehicle vulnerable to damage and leave you with a gap in coverage, which may make it more difficult or more expensive to obtain a new insurance policy upon your return.
Check with your insurance company for specific details and requirements. On my last deployment, I was able to put my vehicle in vacation mode as long as it was parked at my home, the base, or a long-term parking lot.
More ways to save on military auto insurance.
Bonus Tip – Have Fun & Stay Safe!
Travel is one of the benefits of military service. You don't always get to pick where you go, or who you go with. But it's almost always an adventure. Take advantage of every opportunity you have to travel and enjoy it while you can. And it almost goes without saying, but be safe out there!
About Post Author