Every military member is faced with at least two major decisions in their career: the decision to join the military, and the decision to leave. Both decisions are life altering. It's very easy for every military member and veteran to mentally separate their lives into periods such as life before the military, life in the military, and life after the military.
So that brings us to today's article:
How do you know when it's time to get out of the military and separate from active duty?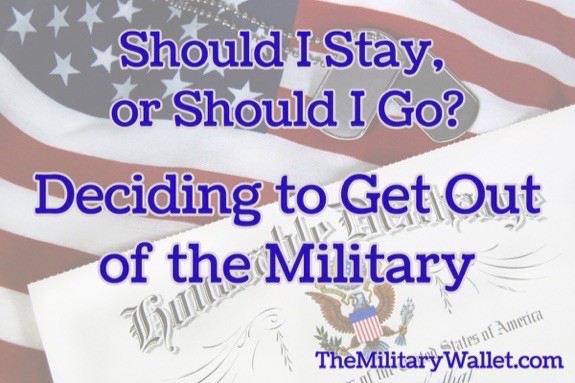 Sometimes you just know. Other times, it's forced upon you, through retirement, involuntary separation, high year of tenure, or injuries and physical limitations.
There's not much we can do about the latter reasons for leaving active duty. So today we're going to look at voluntary separation and how to know when it's time to call it quits.
Common Reasons Many People Choose to Leave the Military
There is no one-size-fits-all reason people leave the military. What follows are some common reasons people choose to get out of the military. This is not an all-inclusive list. Nor is it intended to be. It's only intended to make you think about what is important to you. The decision should be between you and your family.
Family Reasons
The military comes first. At least that's how it feels much of the time. But your family should always come first in your life. Above everything else, take care of your family.
I had already separated from active duty when my wife and I were married. But she was still on active duty. My wife deployed 2 ½ weeks after our wedding. When she returned, she said never again. She put in her separation paperwork and was out of the military a few months later. Finding the right balance can be difficult. My wife made her decision and I supported her 100%.
Work / Life Balance (or a Lack of it!)
This is one of the most common reasons people separate from the military. Work / Life balance and the item listed in the next section were what convinced me it was time to leave active duty. I served 6 ½ years on active duty. My service included:
A one year special duty assignment where I lived out of a suitcase and traveled around the world.
5 deployments,
Tech school,
7-level school,
Airman Leadership School,
and several other TDYs.
I was away from my duty station more than I was there. It was fun, but it was not conducive to starting a family. Nor were the long duty hours, working nights and weekends, and other factors. Work / life balance is important. Find yours, and if you can't, then certainly consider looking for a different career opportunity.
Stuck in Your Career Field
This was another major factor for me. I traveled so frequently because I was an aircraft mechanic in the post-9/11 days. It was an adventure and I loved the people I worked with. I still have fond memories when I see a C-130 or smell jet fuel. But I wanted a professional change, and that isn't always easy to do. It becomes more difficult the longer you have been in the military. In some cases, your career field won't allow anyone to leave unless they separate from the military, earn a commission, or take a special duty assignment.
I knew many people who loved serving, but were stuck in a job they hated. I enjoyed my job for the most part. But I wanted a change, and it wasn't available to me. Quality of life is important and life is too short to hate your job.
Bad Duty Assignments
We can't always choose our assignments. And it can be difficult to slug through a terrible assignment when you watch your peers move on to one choice assignment after another. It gets worse when you get stuck in multiple bad duty assignments.
But I'm a big believer in the saying that "an assignment is what you make of it." I encourage everyone to make the most of their time. Take classes while your still on active duty. Travel. Pick up a hobby. Do anything you can to make this a great assignment.
That said, there may come a time when enough is enough and you have to make that difficult decision. I wouldn't encourage anyone to get out after one bad assignment. In many cases, it's worth pushing through another 2-4 years either in the hopes of getting orders, or because you will be eligible for retirement benefits. But it may not be worth it in every situation.
Passed Over for Promotion
Again, this is tough. But unless you are running up on high-year tenure rules, you may not need to leave the military. You may be able to transition into a special duty assignment, cross-train into a new career field, apply for orders, volunteer for a deployment, or otherwise work on improving your odds of promotion in the next cycle.
That said, sometimes this is completely out of your hands. A good friend of mine retired from the Marine Corps after having been passed over for promotion several years running. Unfortunately, his career field didn't promote anyone during his last few years of service. It's hard to earn a promotion when there aren't any to be had!
Grass is Greener Syndrome
This is very common. Sometimes the grass is greener, sometimes it isn't. Make sure you know for certain before you assume. Also keep in mind that comparing civilian salaries to your military salary may not tell the full story due to how certain non-taxable military benefits that aren't included in your base pay. Be sure to compare actual compensation after accounting for taxes, cost of living, health care after leaving the military, and other factors.
This goes beyond compensation. Be sure to compare other benefits, your commute, career opportunities, and other factors.
It's Just Not Fun Anymore
I still remember my first ride on a military aircraft. My squadron went TDY to Las Vegas for a Red Flag exercise. We hitched a ride on a C-5 Galaxy. The C-5 is one of the world's largest aircraft and it's massive! I still remember walking up to it, shuffling up the ramp, climbing the stairs to the second level, and settling in for a long flight across the pond.
A few months later I went on my first deployment. Then the September 11th terror attacks occurred and life changed for everyone. By the time my enlistment ended after 6 ½ years of active duty service, I had been on 5 deployments and multiple TDY's and training courses. And I had been on dozens of military aircraft. The C-5, C-17, C-130, KC-135, KC-10. It was an amazing experience. But I was burned out. I needed a break. And that is common for many people.
Of course, my story is a little different, because I joined the Air National Guard 8 ½ years after leaving active duty. But that's another story!
Other Reasons
It's impossible to list everything. Just make sure you are being as objective as possible with your situation, and when possible, solicit advice from mentors, family members, and people you trust. There is no right or wrong answer – only what is right for you.
Should You Get Out of the Military?
I can't answer this for you. And I don't think you want me to. If you're still reading this, it's because you are asking yourself some deep questions. And those are questions only you can answer. But we're happy to be a sounding board. Please feel free to leave questions or comments below. We'll do our best to help.
Note: This is a decision you want to get right the first time. The military is currently reducing their end force, and it can be extremely difficult, if not impossible, to go back on active duty after separating. However, you may be able to join the Guard or Reserves if you wish to continue serving. We will follow this article up later with reasons to remain on active duty instead of getting out.
Have you already separated from the military? If so, what was the primary reason you decided to leave active duty?
About Post Author