Podcast: Play in new window | Download
Subscribe: Apple Podcasts | Google Podcasts | RSS

When I separated from active duty, I was burned out. I served for 6.5 years, completing five deployments and a year-long special duty assignment with no fixed base (I lived out of a suitcase for a full year). During my career, I literally spent more time away from home station than at home station. I needed a break, and joining the Guard or Reserves was the last thing on my mind.
Several years after leaving the military, I came around to the idea of serving again. Earlier this summer, after an 8.5-year break in service, I joined the Air National Guard. And I love it. And I've learned that joining after a long break in service isn't that uncommon.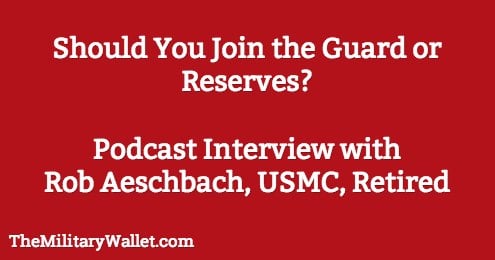 In today's podcast, we discuss joining the National Guard or Reserves. Joining the Guard or Reserves certainly isn't for everyone. But there are many benefits to joining, including pay, access to affordable health care, education benefits, working toward a retirement pension, and one of the most important for me – being part of the military mission again.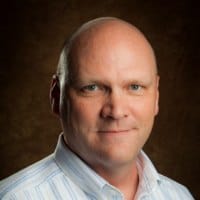 Joining us in our podcast is a special guest, Rob Aeschbach. He is a retired Marine officer (12 years on active duty, and 10 years in the Reserves). Rob is a financial planner in the VA area. His financial planning practice focuses on helping military members and their families.
Rob was also our guest for podcast #3
Should You Join the Guard or Reserves?
I'll start this off by saying this podcast and article aren't trying to recruit you. I'm excited about the Guard and Reserves because I recently joined the Guard. But I'm also excited because I had many misconceptions about the Guard and Reserves. And to be honest, I think many active duty members do. Our goal is to help you look at the option of joining the Guard or Reserves in a different light. I was someone who dismissed the Guard and Reserves without a second thought – primarily because I was burned out from active duty. Today, I'm grateful I gave the idea a second chance.
Let's discuss some of the benefits, pros & cons, and misconceptions about serving in the Guard and Reserves.
What Are the Guard and Reserves?
In short, the National Guard and Reserves are a reserve component designed to back up the active duty military. Members of the Reserve Corps typically work on a part-time basis to maintain proficiency in their career field.
Both the Guard and Reserves are very similar. Still, members of the National Guard and Air National Guard can be called upon by their state governor for civil relief actions, such as natural disaster relief, to help with terrorism threats, riots, etc. The federal government can also call upon Guard and Reserve members to relieve active duty members, fulfill deployment needs, and more.
Similarities of Guard and Reserves:
Both serve in a Reserve capacity for active duty
Typical service requirement = One Weekend a Month, Two Weeks a Year
Difference between Guard and Reserves:
Guard = State Mission that can be called to both state and federal missions, depending on the orders.
Reserves = Federal Mission.
Your Commitment: 1 Weekend a Month, Two Weeks a Year
The service commitment for the Guard and Reserves is often referred to as "one weekend a month, two weeks a year."
This is more or less your commitment when you join the Guard or Reserves. But you may find that your requirements may vary by unit. If you are prior service, you may be able to join for as short a period as one year. Or you can join for up to six years or longer, depending on your contract.
Most Guard and Reserve units drill the first full weekend of the month and have a two-week Active Training (AT) period each year in which the entire unit drills. Some Guard units have a little more flexibility. For example, my unit has two three-day drill weekends during the year, and we take one month off in the summer. This is a little more friendly for vacation time.
Individual Mobilized Augmentees (IMA) in Reserves: The Reserves also have IMA slots in which members can backfill active duty slots on an as-needed, volunteer basis. IMAs typically don't have the traditional one weekend a month, two weeks a year schedule. The benefit is a little more flexibility and the ability to write your own ticket.
You'll hear more about this in the podcast, where Rob discusses the benefits of having an IMA slot.
Guard & Reserve Drill Pay
Members receive Drill Pay based on the days they serve. Pay is based on the active duty pay scale. However, your pay is based on the time you serve. Let's break down the pay for Guard and Reserve members that works the "one weekend a month, two weeks a year" schedule.
For each Drill weekend, you actually get paid for 4 drills, or 4 days of work, even though you only work 2 days. The pay for each drill is 1/30th of the base pay for your rank and years of service. The reason you get paid for two days of work, even though you only work one day, is that you don't receive pay for BAH and BAS when you are on Drill Duty.
Here are the 2021 Drill Pay Charts.
You receive BAH and BAS on the days you serve your annual AT days (your two weeks of annual training). However, you will receive Reserve Component BAH (or Non-Locality BAH), not BAH for your location.
How much will you get paid?  It depends on your rank and time in service, of course, but you should make several thousand dollars per year. Many servicemembers volunteer for extra days and can easily bring in over five figures per year in additional income. Here is a list of Guard and Reserve Drill Pay charts, or you can use the NationalGuard.com Drill Pay calculator.
Guard & Reserve Retirement Benefits
Retirement is based on earning 20 good years of service. Your active duty time will count toward a good year of service. And if you served a partial year of active duty, it may give you an additional year of service. For example, I extended six months on my active duty contract, finishing with 6.5 years on active duty. I immediately transferred to the Individual Ready Reserve (IRR) to finish my 8-year commitment. That half a year of active duty, plus the other six months in the IRR, gave me a good year of service toward retirement. So, I have seven good years already.
What is a Good Year of Service? A good year of service equals 50 points. You will earn 1 point for each drill served (remember, you earn 4 drills per drill weekend, so 12 drill weekends per year is 48 points). You also earn 15 participation points per year, and 1 point for each day of AT time (your annual training, which is usually around 15 days per year). So you can easily earn about 78 points per year with regular service (48+15+15 = 78).
Earning additional points toward retirement. You can also earn more points for each day you serve, for performing burial duty and certain Honor Guard functions, and for completing correspondence courses, including Professional Military Education, or even non-military courses.
Related Topic:
Retirement Benefits Start at Age 60
In most cases, retirement benefits start at age 60, including the Pension, and health care benefits. There are a couple of important points to note: you will be a Gray Area retiree until you reach age 60. During this time you will have base access, can use base facilities, and can shop at the BX, PX, NEX, Commissary, etc. You just won't receive retirement pay or health care until age 60.
Health Care & Related Benefits
Members of the Guard and Reserves are eligible for affordable health care through the TRICARE Reserve Select program. You must be in a drilling status to be eligible for this program (not in the IRR). There is also a Dental program. Here are the rates and more information:
TRICARE Retired Reserve: You can also sign up for TRICARE Retired Reserve while you are awaiting full health care coverage when you turn age 60. These rates are unsubsidized and run approximately $390 for an individual and $961 for a family. Here are other healthcare options for retired Reservists.
TRICARE Prime & Standard. When you turn age 60 you will be eligible for either TRICARE Prime or TRICARE Select. You will be required to transition to TRICARE for Life when you turn age 65.
Education Benefits in Guard & Reserves
The Guard and Reserves offer Education benefits, including the Montgomery GI Selected Reserve (MGIB-SR). The rates for the MGIB-SR are lower than what you would earn on active duty, so you may want to look into the MGIB if you are prior service. You may also earn access to the ost-9/11 GI Bill if you are activated.
Some states have their own benefit for Guard Members: I happen to live in Illinois, which is one of the few states that offer free college tuition at a state college for members of their state Guard units. I believe there are only five states with a similar benefit. However, many other states offer scholarships, tuition reductions, or other benefits. Be sure to look into your state's benefits.
Career Options in the Guard and Reserves
More often than not, you have more career flexibility in the Guard and Reserves than you do in the active duty military. I was able to change career fields when I joined the Air National Guard. It's also not uncommon for Guard and Reserve members to work in multiple career fields during their careers. Availability is dependent upon your base mission and the needs of your unit.
My recommendation is to contact the recruiter at your local unit(s) to ask which jobs are available, and what kind of promotion opportunity is there.
You may also find that you are able to fill a billet with promotion potential. Some units will allow you to serve in a billet either one pay grade above or below your current pay grade. But other units may allow you to fill a billet two grades above your current pay grade. This gives you an immediate opportunity for career advancement, provided you meet the time in grade requirements and other qualifications for promotion.
Travel Requirements
You might be surprised to know that many Guard and Reserve members travel long distances to perform their drill duty. I counted license plates from about 7 neighboring states at my last drill. This isn't uncommon. The good news is your unit may put you up in a hotel room if you live outside of commuting distance. You may even be eligible for reimbursements when traveling to Drill Duty, depending on your unit's policies.
IDT travel reimbursements: The service secretary for each branch of the Reserves is allowed to authorize travel reimbursements for members who live more than 150 miles from their base, however, not all branches currently reimburse Reserve members for travel. Rules also vary for National Guard Units. We have some general rules for IDT Travel Reimbursements, but we recommend contacting your unit for more specific information regarding unit participation and availability.
You may be able to deduct travel on your taxes: Even if you can't receive a reimbursement for your travel expenses, you may be eligible to claim mileage and other travel expenses on your taxes if you have to travel more than 100 miles for drill duty. You can also claim half the cost of your meals on your taxes. Those benefits don't negate the cost of travel, but it certainly helps when you file your taxes.
Miscellaneous Benefits
In addition to education benefits, you can earn access to the VA Loan program, making homebuying easier and more affordable. Here is more information on VA Loan eligibility for Guard and Reserve members.
Other benefits include base access, the ability to shop on base, use base facilities, military discounts, etc. And for me, the biggest benefit is being part of the military again. I missed being part of something bigger than myself. Being part of a unit and a mission and that satisfaction comes from a job well done.
There is a lot more covered in the podcast, so I hope you give it a listen.
About Post Author