The tax deadline is April 15th in most years, unless that date falls on a holiday or weekend. In that case, the tax deadline will fall on the next business day. That is the case this year, with the tax filing deadline landing on April 17th (the 15th was on Sunday, and the 16th was Emancipation Day in Washington, DC). Hopefully the extra two days gave you enough time to finish your taxes and get them filed in time. If not, then I strongly suggest filing a tax extension, otherwise, you may owe the IRS stiff penalties or fees for filing your taxes late. Let's look at a couple situations and how they might work out for different tax filers.
What Happens if you File Your Taxes Late?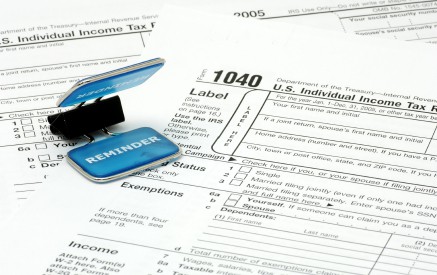 There are two classes of tax payers when it comes to late filers. Those who owe the IRS money, and those who are owed money by the IRS. If you are owed money by the IRS, then you don't have as much to worry about if you file late. You won't receive your refund in a timely fashion, but you will only have yourself to blame. On the other side of the equation are those who owe the government money. If you file late, you may be subjecting yourself to penalties and fees.
Failure to File and Failure to Pay Penalties
The most important thing you can do is file your taxes, even if you can't pay them right away. The reason is because the failure to file penalty is usually worse than the failure to pay penalty. Because of this, it's usually best to file, then work with the IRS to figure out a payment schedule or other arrangement.
Failure to file penalty. The penalty for filing your taxes late is usually 5% of the tax liability, per month, until the taxes are filed. The cap for the failure to file penalty is 25% of your unpaid taxes. The clock starts rolling the day after the due date your return was not filed. If you wait at least 60 days beyond the due date or extended due date, the minimum penalty you will pay is the lesser of $135 or 100% of the unpaid taxes. (Keep in mind, this is the minimum penalty).
Failure to pay penalty. Not paying your taxes can also bring about some hefty penalties and fees. Not paying your taxes by the due date usually results in a penalty of ½ of 1 percent of your unpaid taxes for each month or part of a month after the due date that the taxes are not paid. This penalty can accrue to as much as 25 percent of your unpaid taxes.
What Happens if You Don't File Your Taxes?
The failure to file and failure to pay penalties both assume you will pay your taxes within a reasonable time frame. If you are a few months late, chances are good that you will only be subjected to penalties – assuming your tax return checks out fine.
The IRS may take a deeper look into your tax return and determine if you owe underpayment penalties. These include (from least severe to most severe) a Frivolous Return, Negligence, Civil Fraud, and Criminal Fraud (tax evasion). At the low end of the scale, you will be subjected to additional fees on top of the late penalties and fees mentioned above. At the high end of the scale, you could face jail time. Read more about potential penalties for not filing.
File a Tax Deadline Extension if You Will Be Late
If you know you will file your taxes late, then do yourself a favor and file an extension. It is free, and easy to do – just fill out a simple form and filie it electronically, or mail it to the IRS. Once you file your deadline, you have until October 15th to file your taxes. Keep in mind that if you owe money to the IRS, that is due by the April 15th deadline (17th in 2012). You can get around owing additional fees if you pay at least 90% of your tax bill by the April deadline.
Military Members May Be Eligible for a Longer Extension
Some military members may be eligible to extend their tax deadline if they served in a combat zone in the previous or current tax year. Here is an FAQ from the IRS website which covers some of the common questions about this benefit. It's important to note that this extension will be approved, but you should notate this when you file your taxes. This additional military extension can help you avoid the failure to file and failure to pay penalties, provided you file your tax return by your new tax deadline, as determined by your extension eligibility.