Do you need to file a federal tax extension?
If you are like me, then you probably haven't filed your federal taxes yet. I don't really have an excuse, other than a full plate. I put it off until the weekend, but then something else comes up that is much more fun. But the April 15th tax deadline is fast approaching and it's time to get down to business. If you haven't yet filed your taxes you should probably start considering whether or not you need to file a tax extension.
Filing a Federal Tax Extension is Free and Easy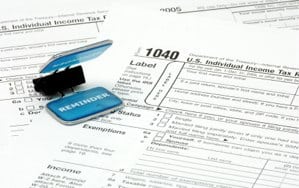 Filing a request for a federal tax extension gives you an extra six months to file your income taxes, and the best part is it is easy and will not cost you a penny. The deadline for filing a tax extension is April 15, the same deadline for filing your federal taxes and making your income tax payment.
The only downside is that an extension of time to file does not give you an extension to pay your federal tax bill. If you owe the IRS money for your income taxes you will have to pay at least 90% of that balance when you file your tax extension request, otherwise, you may owe penalties and fees.
Use Tax Form 4868 to File an Extension
Before filing for a tax extension you will need to have a rough draft completed of your tax return. You will need to fill out and file tax form 4868 and send it to the IRS. Form 4868 is relatively easy to complete, as it is only one page long. You will fill out your name, address, social security number, estimated tax liability, your tax payments, your balance due, and the amount you are paying.
You can use many tax preparation software programs to e-file this form, including TurboTax, H&R Block, and more. These programs offer step-by-step instructions for completing the tax extension and will save your progress if you use the program when you file your taxes. They may charge a fee for the software, but in my experience, using a guided software program is much easier than trying to do taxes by hand.
You can also use the IRS Free File Fillable Forms or download form 4868 from the IRS website, print it, fill it out, and send it in. Don't forget to include your payment if you owe federal taxes.
For those that are without Internet access, or do not have a printer, you can pick up Form 4868 at a local IRS office, Post Office, Library, or you can call 1-800-TAX-FORM (1-800-829-3676) to file a tax extension.
Tax Deadline Extensions for Military Members
Those that are military members may qualify for an even longer extension, especially if they were serving in a tax-free zone for either the current year or the previous year. Some American civilians working overseas may also qualify for a longer extension.
Depending on your situation you may qualify for a military tax deadline extension due to a deployment, service in a tax-free military zone, or other military qualification. Some of these extensions are automatic, but others require you to at least notify the IRS of your situation. These military tax deadline extensions qualify you for an extension for both filing your federal taxes and making your federal tax payments. In many cases, the deadline extension is automatically set at 6 months, but it may be longer if you are currently deployed overseas.
Free tax preparation for military members: Remember – many military members and their family members are eligible for free military tax preparation. Be sure to check your base military tax center for more information about applying for a federal tax extension.
What if You Don't File a Tax Extension?
Form 4868 is due by April 15th along with the appropriate amount due, if applicable. Once the tax extension form has been filed, a taxpayer then has until October 15 of that same year to have your taxes completed and sent in. If you do not file your taxes by either due date, you may then be subject to penalties, fees, and in more extreme circumstances, jail time.
If you cannot make your estimated tax payment by the April 15th deadline, you should call the IRS; often they will work out a payment arrangement with you for a large amount if it will cause a financial strain.
Important information about federal tax deadline extensions: