Even when you prepare for the worst, expect the unexpected, and seem to have a steady handle on your finances, life has a funny way of turning upside down.
Whether it's due to a service-related injury, an unexpected family emergency, or unforeseen medical expenses, financial emergencies can challenge even the strongest and most prepared members of our military. Sometimes we have to ask for help when our finances take a huge hit or turn for the worst.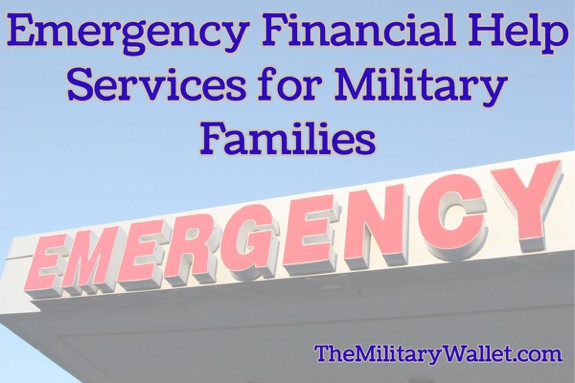 Luckily, there are some amazing financial aid and relief organizations who provide emergency financial help and services to qualifying members of the armed forces and their immediate family members.
If you find yourself in the predicament of not being able to pay your mortgage, pay for a funeral, fix your only car, or cover the costs of emergency travel, turn to the organizations listed below. Their primary purpose and functions are to help those who need emergency financial help.
American Red Cross
The American Red Cross works together with a variety of aid societies aimed at providing emergency, reliable financial assistance to eligible military families in times of crisis and need. The American Red Cross can help you with travel funds, food, and shelter, in the case of an emergency or tragedy. They can also help with funds for the burial of a loved one.
Who's eligible for Red Cross Emergency Financial Assistance?
You qualify for emergency financial assistance if you're:
An active duty service member or immediate family member
A member of an activated National Guard or Reserve Unit or immediate family member
A military retiree or spouse/widow(er) of a retiree
Information you'll need to have ready
When submitting a request to the American Red Cross for financial services, you will need to have the following information ready:
Full legal name of the qualifying service member
The branch and rank/rating of the service member
The service member's social security number and date of birth
The service member's military unit address
Any information you have about the deployed unit and home base unit if the service member is currently deployed
If you find yourself facing an emergency, and you don't know how you'll afford the bills necessary to deal with your emergency, call the American Red Cross at 1-877-272-7337 or submit a request online.
Branch Specific Relief Organizations
Due to the risky nature of military careers, service members are aware of the physical and financial emergencies that can occur at any time. To help relieve some of the stress that comes along with a high-risk career, each branch of the service has established its own emergency assistance program to help the members of their branch.
Each organization varies slightly in relief available, but they mostly offer the following services based on need:
Basic living expenses
Emergency travel
Vehicle expenses
Funeral expenses
Medical and dental bills
Child care assistance
Moving expenses
Miscellaneous expenses
The emergency financial relief organizations by branch are as follows:
Air Force Aid Society
The Air Force Aid Society can help service members in the Airforce and their families through need-based loans and grants. For help, call 800-769-8951
Army Emergency Relief
The Army Emergency Relief organization can help service members in the Army and their families. For help, call 866-878-6378 or visit the aid office closest to you.
Coast Guard Mutual Assistance
Coast Guard Mutual Assistance help service members of the Coast Guard and their families. To apply for aid, you will first need to contact your local Coast Guard Mutual Assistance Representative. You can also call the National Headquarters office at (800) 881-2462.
Navy-Marine Corps Relief Society
The Navy-Marine Corps Relief Society (NMCRS) offers financial and emergency assistance to qualifying active duty service members in the Navy, Marine Corps, and Navy or Marine Corps Reserves. To receive assistance, first, you will need to make an appointment with your nearest NMCRS office. Before arriving, make sure to fill out your pre-appointment information sheet and have all necessary paperwork. If you have questions or cannot locate a local office, call the NMCRS headquarters at (800)-654-8364.
Operation Homefront
Operation Homefront is a non-government organization that assists military families who are experiencing financial emergencies. Operation Homefront offers help with the following physical and financial needs of qualifying service members:
Food assistance
Auto and home repair
Vision care
Emergency travel and transportation costs
Moving assistance
Providing essential home items
Financial assistance
These good and services are fulfilled through financial assistance grants which can be won if you can successfully petition and document your need. While it's their goal to help everyone, they can only help those who fill out the application form and provide the necessary documents to prove that your, "financial resources are insufficient to meet current expenses and that those expenses are already due or past due."
If you believe you qualify, apply for assistance on their website. You can also call their main office if you (210) 659-7756 to ask questions. If you aren't sure if you qualify for assistance through Operation Homefront, have other questions about the application process, or need emergency assistance, call (877) 264-3968.
American Military Family
American Military Family is a private relief organization that offers financial assistance to wounded warriors and their immediate family who happen to be Colorado residents. If you are a Post 9/11 Veteran with a diagnosis of PTSD or a traumatic brain injury, they will assist by:
Providing rental assistance to avoid eviction
Make a utility payment to avoid shut off
Provide interim housing while veterans wait for permanent housing
Supply gift cards for food, diapers, and gasoline
If you believe that you qualify, you can apply for any of their services online. If you are in need of urgent assistance, call (303) 746-8195.
Veterans of Foreign Wars Unmet Needs Program
The Veterans of Foreign Wars Unmet Needs Program works to help service members who have "been deployed in the last six years and have run into unexpected financial difficulties as a result of deployment or other military-related activity."
If you meet the eligibility criteria, they will provide a grant of up to $5,000 to help you meet your payments for basic life needs, such as rent, utilities, and other day-to-day expenses. To date, Unmet Needs has distributed over $5 million in assistance grants to military veterans who need emergency financial help .
If you're experiencing a financial crisis and need assistance, apply online. You can also contact Unmet Needs by phone at 1-866-789-6333 or email them at [email protected] if you have any questions.
NACCRRA
The National Association of Child Care Resource and Referral Agencies (NACCRRA) is a cooperative referral system of child care agencies that works to help the families of severely injured service member find and afford long-term quality childcare, especially if the service member is currently a patient at a medical facility due to military-related injuries. Most child care referral offer childcare assistance for six months, but they do accept extension requests.
To request information for fee-assisted childcare, you can visit their website or call (703) 341-4100 to ask questions.
Know That You Aren't Alone
In the midst of personal, medical, or financial struggles, it can be easy to fall into a depression or feel like you're completely alone. Know that you aren't alone, and there are organizations out there able and willing to help you make it through the most trying of times and who can give you the emergency financial help you need.
Even if you don't qualify for a particular organization's aid, always ask them to point you in the right direction for a different agency or relief society. Many of these organizations are interconnected and work together to help our nation's service members in their hour of need.
About Post Author