Podcast: Play in new window | Download
Subscribe: Apple Podcasts | Google Podcasts | RSS
Your military discharge characterization (or rating) is important for many reasons. A high rating can open the door to various benefits, including the ability to qualify for government employment, reenlistment eligibility, and certain VA benefits. On the other hand, not having a high enough rating can impact your eligibility for certain benefits.
Today's article and podcast discuss the importance of your discharge characterization, how it can impact your future, and how you can appeal your discharge characterization and possibly receive an upgrade. This is especially important for veterans who may have experienced Post-Traumatic Stress Disorder (PTSD) or Traumatic Brain Injury (TBI) symptoms that impacted their discharge characterization, as new guidance from the DoD makes it easier for veterans to appeal a discharge where evidence of PTSD or TBI impacted the characterization.
Meet Our Expert – Ferah Ozbek
Our expert is Ferah Ozbek, a retired USAF Judge Advocate. Ferah has over 25 years of experience and insight as a former military attorney (retired colonel). This experience helps her develop the best strategies to represent her clients.
As a former Senior Legal Advisor and voting member to the Secretary of the Personnel Council's Discharge Review Board, she reviewed hundreds of applications by service members and knows what the military looks at when deciding whether your discharge rating should be upgraded.
You can learn more about Ferah Ozbek and her work at her LinkedIn profile or her website, FerahOzbek.com. Ferah also runs the Military Law Matters Podcast, which covers legal topics pertaining to military members and veterans.
How Your Discharge Characterization Impacts Your Future
An honorable discharge can open many doors, including preference points for military service when applying for a federal position, access to certain military and veterans benefits, and more. Conversely, even a general discharge under honorable conditions may not be high enough to earn certain benefits.
How does your discharge negatively affect you?
Unless you have an honorable discharge, you are ineligible for the Post 9-11 GI Bill education benefit – worth tens of thousands of dollars.
Unless you have a discharge under honorable conditions, you are ineligible for VA compensation and a VA pension.
Unless you have a discharge under honorable conditions, you may be disqualified from receiving VA medical care.
Mistakes Can Happen, and You Can Appeal Your Discharge
The military makes mistakes, and these mistakes have a huge impact on you and your family. The Department of Defense wants all veterans to know they can have their discharge and military records reviewed to correct any injustice.
Why? Because the Department of Defense wants to ensure that "all Veterans who have sacrificed so much in service to our great Nation receive all of the benefits" they deserve.
The DoD is Paying Special Attention to Discharges where PTSD or TBI Are Involved
Even if you already submitted an application to the Discharge Review Board (DRB) and your discharge was not upgraded, the services will review your case again, applying new guidance the Department of Defense issued in 2014 as it relates to Post-Traumatic Stress Disorder (PTSD).
The Department of Defense has stated that "liberal consideration will be given in petitions to changes in characterization of service"…when there is evidence of Post-Traumatic Stress Disorder or related conditions such as Traumatic Brain Injury (TBI).
Your Right to Appeal Your Discharge Characterization
If you received a discharge characterization that is other than "Honorable," you may request a military discharge upgrade. To do so, you must submit a DD Form 293 to the appropriate Discharge Review Board (DRB) and convince them that your discharge rating should be upgraded. But there is a catch – the DRB won't automatically upgrade just any discharge request simply because you ask. You must convince the Discharge Review Board that your discharge was improper or inequitable. Let's look at what this means and how you can apply to get your discharge upgraded.
Improper or Inequitable Discharge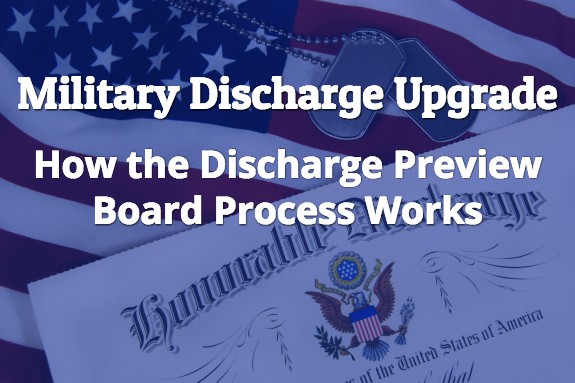 An improper military discharge is one that was made in error or one that violates laws or military regulations. In some cases, this could be an administrative snafu or a misclassification. An inequitable military discharge is inconsistent with military traditions or policies.
Many circumstances could qualify for these two classifications, and it is recommended that you seek legal counsel to help you determine the best way to challenge your discharge rating.
Examples of Discharge Characterization Upgrades
Here are some real stories of military members whose discharges were upgraded through the Review Boards Process (Source: DoD Boards of Review Reading Rooms).
A soldier was discharged with an under other-than-honorable conditions discharge (UOTHC) for drug abuse. He was found guilty of using illegal drugs, being AWOL, and violating a lawful general regulation. But there was more to the story. The soldier was deployed to Iraq; he was involved in combat; an IED hit him. And, while the soldier was carefree and upbeat prior to his enlistment, after returning from Iraq, his whole demeanor changed. He became wild and unpredictable. After the soldier's discharge, the VA diagnosed him with PTSD and TBI. Based upon his diagnosis, the DRB found a nexus between the soldier's diagnosis and his misconduct. This soldier served his country twice in combat, and something happened to him. The DRB upgraded his discharge to an honorable discharge and changed the reason for discharge from misconduct to Secretarial Authority.
A military member was discharged after he reported misconduct committed by a senior soldier. He was a victim of reprisal. The DRB upgraded the member's UOTHC discharge as they concluded his command acted in an arbitrary and capricious fashion.
An Airman's command waited eight months to discharge her after her last incident of misconduct. The DRB upgraded this veteran's discharge as they found the discharge to be arbitrary and capricious–waiting eight months to initiate discharge was unjust.
A soldier's Post-Service Conduct was so outstanding that the DRB upgraded his discharge to an honorable one even though he had a conviction.
A military member was discharged for his sexual orientation. The DRB changed his reason for separation to Secretarial Authority.
Military Discharge Review Board (DRB)
Each service has a DRB that allows former military members to request a review that could change their characterization of service, the reason for discharge, and their re-enlistment code based upon mistakes made by the Service.
Note: the Navy runs the Discharge Review Board for both the Navy and the US Marine Corps.
The DRB consists of a five-member board consisting of a legal advisor, medical advisor, personnel advisor, senior NCO, and a senior officer. They can review almost any discharge, except for a discharge or dismissal by sentence of a general court-martial. You can read more about the law governing Discharge Review Boards here: Title 10, United States Code, Section 1553.
When you fill out your DD Form 293 (discharge upgrade request form), you can present your case at the DRB in Washington D.C, in front of a traveling DRB or have a records review board without presenting your case in person. If you have the means, it is almost always recommended that you have legal representation present your case in person. Regardless of which method you choose, it's important to understand there are no guarantees, and discharge upgrade request approvals are not common.
There is No Such Thing as an Automatic Upgrade to Honorable
Many people mistakenly believe they can get their discharge automatically upgraded to an Honorable Discharge after 6 months (or some other time period). Unfortunately, this is not the case. In the mid-late 1970s, the Army discharged many soldiers when they used a urinalysis to screen for drug use.
The courts later ruled that it was OK to discharge those soldiers on those grounds, but there was an administration snafu regarding the discharge classification. See the United States District Court for the District of Columbia in "Giles v. Secretary of the Army" (Civil Action No. 77-0904) for more information. Many soldiers who were discharged under those rules prior to January 1, 1975, were able to get a military discharge upgrade on those grounds.
How to Request a Military Discharge Upgrade
To request a discharge upgrade, you must download DD Form 293 – Application for the Review of Discharge or Dismissal from the Armed Forces of the United States.
Ensure you have the most recent version of the form and follow the steps to complete the form as completely and accurately as possible. Instructions can be found on pages 3 and 4 of the form. Be sure to sign and date the form before submitting it.
Including supporting documentation, such as your DD 214, military records, and statements from former supervisors, first sergeants, commanders, and other veterans you served with, is a good idea.
Mail the completed DD Form 293 to the appropriate address listed on the DD Form 293 for each respective service.
What You Should Know About Requesting a Military Discharge Upgrade
Your personal statement and statements from those who served with you are invaluable. Do your best to obtain statements from your former supervisors, first sergeant, commander, or others in your chain of command regarding your duty performance and facts and circumstances that may support your case to upgrade your discharge characterization. In most situations, the Boards focus on your conduct during your period of military service. However, in rare circumstances, Boards may upgrade a discharge based on post-service conduct.
Discharge upgrades are possible. Legal counsel who is familiar with the discharge process can provide you valuable advice on the strategy to upgrade your discharge and whether your case may warrant an upgrade or change in the reason for discharge. If you want to consult with counsel, it is always best to consult with counsel with experience in these types of cases, as this is a very specialized area of military law.
You may also seek counsel or advice from a veterans organization for more information. Try your local VFW, American Legion, or similar organization as a starting point, and go from there.
Expect the application, review process, and decision to take several months from start to finish depending upon the number of cases pending with your service. Applicants who opt to present their case in person generally have a more favorable chance of an upgrade than those who do not appear in person, assuming there is a basis for an upgrade.
Upgrade Requests Must be Made Within 15 Years – But There is Hope
Veterans must request an upgrade within 15 years of separating from active duty. Otherwise, they must request a change to their military records by submitting an application to their service's Board for Correction of Military Records using a DD Form 149, which is an entirely different process.
In this application, you would submit evidence to support that your discharge characterization or reason for discharge was in error or that there was an injustice based on the facts and circumstances of your case.
As discussed in the podcast, discharges due to PTSD and TBI-related reasons may have more leniency for the Discharge Review Boards and for the Board of Correction for Military Records. Again, this isn't an automatic upgrade, but it can improve your odds of having your discharge upgraded.
About Post Author