The Thrift Savings Plan (TSP) began offering a Roth TSP option in 2012. The Roth Thrift Savings Plan option is similar to a Roth 401(k). It is a merger of two popular retirement plans currently available; the Roth 401(k) and the Thrift Savings Plan. This article details how the Roth TSP works, the benefits of investing in the Roth TSP, and additional information to help you decide if the Roth TSP is the best option for you or if you should invest in a Traditional TSP account.
What is the Roth Thrift Savings Plan? Offering the Best of Both Worlds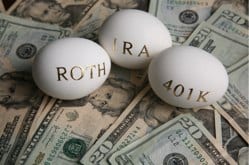 The Thrift Savings Plan is a good deal for investors. There are a few downsides, but it's almost all good for the average investor. The average investor won't be able to find such a simple and easy-to-use investment plan that offers wide investment diversity or one that offers lower management fees.
Roth IRAs are valuable for investors because of their long-term tax benefits. You are able to contribute funds that have already been taxed at your current income level, invest those funds and allow them to grow until you reach retirement age. Then, you can withdraw them tax-free.
Since most military members are in a relatively low tax rate, this is an incredible opportunity to pay a relatively low amount of taxes on your income, let it compound for decades, and never pay taxes on it again.
The Roth TSP account offers the best of both worlds as it combines the benefits of a Roth IRA with the Thrift Savings Plan. You can contribute to any of the Thrift Savings Plan funds (which are best in class in terms of management fees) and enjoy the long-term tax benefits of the Roth classification.
Traditional vs. Roth TSP Contributions:
A Roth version of the Thrift Savings Plan combines the benefits of a Roth savings plan with the TSP retirement savings plan. Instead of making contributions before paying taxes like you currently do with the Traditional TSP (and paying taxes when you withdraw the money), Roth participants will pay taxes now and make tax-free withdrawals in retirement.
Your Roth savings will grow without the drag of taxes because your contributions have already been taxed. You will not pay any federal income taxes on your withdrawals so long as you meet Roth withdrawal eligibility guidelines – typically age 59½ and have been making Roth contributions for a minimum of five years.
Roth TSP Eligibility & Contribution Limits
Another benefit adopted from the Roth 401(k) plan is the absence of income limitations for plan participation. All Thrift Savings Plan participants can contribute to the Roth TSP regardless of how much money they make. This differs from Roth IRA contribution limits, which are tied to income.
The Roth TSP contribution limits will be the same as all TSP contribution limits, regardless of whether you invest in the Roth option or the traditional option.
It is important to note that the Thrift Savings Plan contribution limits apply to your entire TSP account. So if the annual contribution limit is $22,500, you can contribute up to that much across your entire TSP account for that calendar year. You can make the contributions in your Traditional TSP, Roth TSP, or a combination of the two, so long as you don't exceed the annual contribution limit.
Matching contributions don't count toward the $22,500 limit.
Roth TSP Contributions Must Be Made as a Percentage of Pay
Before January 1, 2015, Roth TSP participants could make contributions in a fixed dollar amount. However, the TSP set new rules limiting contributions as a percentage of their pay instead of a dollar amount. Traditional contributions were already processed based on a percentage of pay. The change was made to standardize the system across Traditional TSP accounts, Roth TSP accounts, and the civilian and military pay systems.
Who is affected? All active duty members of the Air Force, Army and Navy who contribute to the Roth TSP. This will also affect members of the Guard or Reserve who are activated for over 30 days.
How to Max Out Your Roth TSP Contributions
If your goal is to max out your annual Roth TSP contributions, then it's not too difficult to calculate the percentage you need to contribute.
The annual Roth TSP contribution limit in 2023 is $22,500, totaling $1,875 per month. Just divide this by your salary to determine how much you need to contribute. If your salary is $6,000 per month, you will divide $1,875 by $6,000 and get 31.25%. So you would need to contribute over 31% of your income.
Catch-up contributions for those aged 50 and over are limited to $7,500 annually. So if you are eligible to make catch-up contributions, be sure to include that in your calculations. The max for you would be $30,000 per year or $2,500 per month. If you have an $8,000 salary, you will divide your $2,500 contribution by your $8,000 salary, which would come out to about a 31.25% contribution.
Not all numbers work out that easily. But the concept is the same.
Can you contribute too much to the TSP?
The TSP has processes that should automatically stop contributions once you reach your annual contribution limit. The Thrift Savings Plan should refund the extra contributions if you accidentally contribute too much. That said, you might find that it is a manual process, or there may be a delay in the refund. So try to get as close to the contribution limit as possible without going over it.
You should also be very careful if you change jobs during the calendar year. The TSP will not have any information regarding previous TSP or 401(k) plan contributions. These will share the same annual contribution limit, and there will be no process in place to automatically stop or refund contributions if you contribute too much.
Advantages of Using a Roth TSP for Investing
Here are some positives to using a Roth TSP to save for retirement:
1. Eligible Withdrawals are Tax-Free
There are no taxes on Roth TSP withdrawals so long as you meet withdrawal eligibility requirements.
2. No Income Restrictions
Unlike a Roth IRA, there are no income restrictions regarding who can contribute to a Roth TSP. So you can contribute regardless of income level. This is valuable for higher-income employees who are ineligible to contribute to a Roth IRA.
3. Higher Contribution Limit than a Roth IRA
If you like Roth accounts over the Traditional TSP and Traditional IRA, where you can defer taxes until retirement, then you should love the Roth TSP. The account is treated just like a Roth IRA, but it has a contribution limit about three times higher than a Roth IRA.
4. Pay Taxes Now Like a Roth IRA
Roth TSPs have the same tax treatment as a Roth IRA. With these Roth investment accounts, you choose to pay taxes now at your current income tax rates rather than deferring them to retirement.
Whether or not you see this as an advantage or disadvantage depends on your anticipation of future tax rates in general and your future tax rates. Many people believe that tax rates will be higher in the future, which makes a Roth TSP a smart way to save for retirement.
5. Low Effort Investing
Setting up a Traditional IRA or Roth IRA means researching a brokerage firm and different investment options, filling out paperwork to open the account, and either setting up automatic contributions or remembering to invest regularly. That is a lot of effort for busy individuals.
Investing in the TSP is significantly easier. Contributions come out regularly from your paycheck. You do have to make investment selections when you set up the account. Still, the pool of potential investments is significantly smaller than at a brokerage firm, making selection easier.
6. Easy to Transfer Your Roth TSP to a Roth IRA When You Leave Your Job (and Avoid RMDs)
The Thrift Savings Plan and 401k plans have Required Minimum Distributions or RMDs. These are the minimum withdrawals you are required to make once you reach age 72.
RMDs apply to all Traditional Retirement accounts and Roth TSP plans (and similar employer-sponsored Roth plans, such as the Roth TSP). However, RMDs do not apply to Roth IRAs.
That means you can roll your Roth TSP into a Roth IRA after you leave your job and make any withdrawals when you want to, instead of being forced to take them due to tax rules.
Disadvantages of Using a Roth TSP for Investing
Here are some drawbacks to using a Roth TSP for retirement investing.
1. Fewer Investing Choices than IRAs
When you invest through the TSP, you inevitably have fewer investment choices than you have by investing on your own with an IRA. When opening up an IRA with a brokerage firm, you can choose the best firm for your specific situation; the firm that offers the right investments for your investing goals.
With the Traditional and Roth TSP, you are stuck with the investment options your company chooses to put into the plan. You could have great, low-cost index investments if your company chooses wisely. Alternatively, you can be stuck with high-cost investments. With IRAs, you simply have more choices.
2. Can't Pay Taxes Later
If you prefer to invest in tax-deferred accounts because you believe your tax rate will be lower in retirement, then the Roth TSP is not the right investment vehicle for you. You are better off with a Traditional TSP or a Traditional IRA.
3. No Penalty-Free Early Withdrawals
One of the biggest benefits of a Roth IRA is that you can withdraw your contributions anytime. Since you already paid income tax on the money before it was invested, you can pull the fund out whenever you want. (You cannot withdraw earnings until retirement, just contributions.)
Even though a Roth TSP is funded with the same kind of income (post-tax) as a Roth IRA it is still tied to the withdrawal rules of a regular TSP. That means early withdrawals before retirement are hit with a 10% early withdrawal penalty.
An even bigger kicker?
If you take a non-qualified distribution from your Roth TSP you can end up paying taxes on the withdrawal even though you funded the account with post-tax income.
The amount of the taxable withdrawal will be in relation to the value of your account versus the contributions that got you there. For example, if you have $100,000 in your Roth TSP and only contributed $75,000 over the years, that means $25,000 is from earnings. If you had a non-qualified distribution of $10,000 from the account, then 25% of that withdrawal would be taxable income. (You still get hit with the 10% early withdrawal fee.)
4. Required Minimum Distributions
In addition to the withdrawal rules of a regular TSP, Roth TSPs are also tied to "Required Minimum Distributions." According to IRS regulations, individuals must begin making minimum distributions by age 72 from regular and Roth TSPs. This requirement is not in place for Roth IRAs, where the entire account will be willed to an heir if the investor chooses.
Deployed Contributions to a Roth TSP Are Tax-Free
I'm a big fan of investing in the TSP while deployed because of the tax benefits:
You don't pay income tax on the money you contribute, and the portion you contribute while deployed can be withdrawn tax-free, giving traditional TSP contributions similar rules to Roth TSP contributions.
However, there are some downsides to the Traditional TSP contributions while deployed. Only the contributions are tax-exempt upon withdrawal. The earnings are still taxed. And the tax-free portion of your withdrawals will be prorated across all regular TSP withdrawals. So you lose flexibility when deciding how you will make your withdrawals. It is possible to roll the tax-exempt contributions into a Roth IRA. Still, you will need to wait until after leaving the service before being able to make any IRA conversions.
The Roth TSP, on the other hand, offers tax-free withdrawals. Since you can make contributions with tax-exempt combat pay, you will have the unique opportunity to contribute to a retirement account with money that hasn't been taxed, watch it grow without the drag of taxes slowing it down, and be able to make tax-free withdrawals in retirement. This is a unique opportunity to invest and withdraw your money without it ever being taxed.
The Roth feature will eliminate the necessity to track which portions of contributions and withdrawals are tax-free. However, there are still Required Minimum Distributions once you reach 72. Even so, these benefits make the Roth TSP feature much more flexible.
Bottom line: You won't get taxed on income and can make tax-free withdrawals in retirement.
Which is Better – Traditional or Roth TSP?
Comparing Traditional and Roth TSP plans is similar to comparing Traditional and Roth IRAs.
If you are currently in a low tax bracket or expect to be in a higher tax bracket when you retire, a Roth TSP, 401(k), or 403(b) offers a better tax benefits tax than the Traditional TSP. Even if you stay at the same tax rate, a Roth TSP may have an advantage over a Traditional TSP plan because many people experience higher tax bills when they retire because they may have fewer itemized deductions, such as fewer dependents living at home, mortgage interest, etc.
If you don't think you'll need access to your money at 59½, you can roll your money from a Roth TSP to a Roth IRA without tax penalties. Once the money is in a Roth IRA, you don't have to take distributions until 72. This means you end up with more tax-free growth of your money and may have more money to last your retirement or to give to your heirs.
On the flip side, a Traditional TSP may be a better option if you need to lower your taxable income in the present or if you expect your tax bracket to be lower when you retire. You may also prefer to contribute to a Traditional TSP plan if your employer offers a matching contribution for Traditional plans but not for the Roth plan.
Why not choose both? Finally, it isn't an all-or-none proposition. You can contribute to both plans if you wish. Simply divide your contributions as you see fit. This can be an excellent strategy for employer-matching contributions and hedging future retirement taxes.
Should you invest in the Roth Thrift Savings Plan?
This could be a great opportunity to save some money with great tax benefits, though it may not be the ideal situation for everyone.
You should look at your investment goals, tax obligations, and other factors before deciding to switch from the traditional TSP plan to the Roth TSP or consider contributing to a hybrid approach and making a portion of your contributions to each plan so you can diversify your tax liability in retirement.
When the Roth TSP is a Good Option
Many military members start their careers in lower tax brackets because they often receive a large portion of their income as non-taxable military benefits. This allows military members to put away a lot of money that was taxed at a comparatively low rate – potentially lower than they would be subject to in retirement years. This can be a great way to save for retirement and practice tax planning simultaneously.
Generally, if you are in a low tax bracket or have tax-free deployment income, you might want to consider the Roth TSP feature. If you are in a higher tax bracket and don't have tax-free income, then the tax situation should be similar to deciding whether or not you should invest in a 401(k) or IRA.
The following articles can give you more insight into when it makes sense to choose a Traditional account or a Roth account and how each affects your tax and retirement planning.
A quick read of the above articles will help you understand how these accounts impact your current and future tax and retirement planning.
Does the Thrift Savings Plan Allow In-Plan Roth Rollover Conversions?
Unfortunately, the Thrift Savings Plan does not currently allow members to do a Roth in-plan Rollover. Some commercial 401(k) plans allow participants to transfer some or all of their current 401(k) plan assets from a Traditional account to a Roth account. There are generally tax consequences for the conversion since you are taking money that was contributed before taxes and converting it to an after-tax investment account. But there can be long-term benefits, depending on your situation.
About Post Author