Under Armour gear is designed for both athletes and fans who enjoy athleisure clothing. They offer items that range from tactical and military-themed gear to children's clothing. The great thing about the UA discount is that it's simple to get both online and in-store for everyone connected to the military.
Unlike other clothing companies, Under Armour is committed to the members of our military community. It has created a program called Under Armour Freedom-United In Service. Its singular mission is to "support and inspire the brave men and women" who are dedicated to protecting the United States.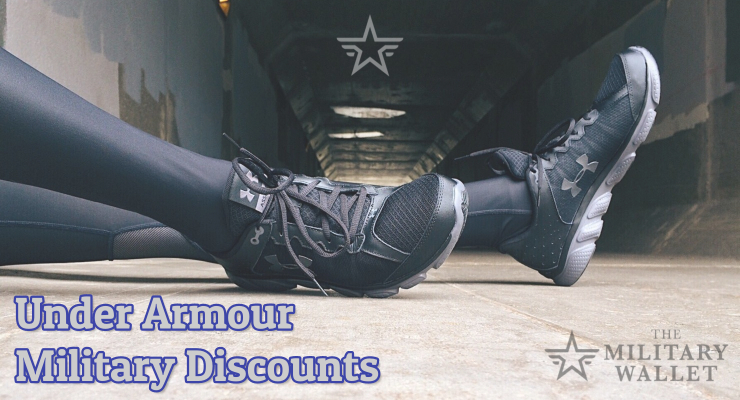 What is the Military Discount?
When you shop at an Under Armour store or online, military members can save 20% off their entire purchase. This discount can't be combined with other promotion codes, sitewide promotions, or gift card purchases.
Who Is Eligible?
Active duty service members and their families are eligible for the UA discount. Veterans, those in the reserves, teachers, and First Responders including active Police, Fire, Nurses, Doctors, and EMT customers.
Visit Under Armour to take advantage of this military discount.
How to Get the Military Discount
To get your discount in-store, show your military ID or dependent privilege card. If you are a veteran, you may need to provide another form of ID, such as a Veterans ID Card, VA healthcare ID card, or a drivers license with a veterans designation.
When shopping online, you'll need to verify your military status using ID.me
ID.me is an exclusive online verification portal for military members, including veterans, retirees, and family members.
To verify your status, you'll need to create an account on ID.me that will include uploading a picture of your military ID. This account can be used across a variety of retailers who provide military discounts, so it makes good financial sense to sign up. The process is quick and simple.
Once you have your account, you'll receive a promo code to use for your purchase on Under Armour. There is no limit to the number of times you can receive this discount, but you will need to be issued a new code for each online purchase.
During patriotic holidays like Memorial Day, Veteran's Day, or the Fourth of July, Under Armour generally increases the military discount, so it's a good idea to check ahead of time and schedule your shopping purchases accordingly.
How Does UA Support the Military Community?
Many companies that offer military discounts have military community initiatives, such as supporting military service organizations, military hiring initiatives, and supporting our military community. Under Armour makes many efforts to be present and active in our military community. In addition to the lucrative discount offered, Under Armour collaborates with and takes part in the following initiatives.
The DOD Warrior Games were established to enhance the rehabilitation and recovery of wounded and injured service members. By exposing them to adaptive sports, Warrior Games and UA prove that veterans can live without limits.
Team Rubicon and the Travis Manion Foundation work to empower veterans and families to help develop character in future generations and mobilize veterans to continue their service. By partnering with these organizations, UA aims to bridge the gap, leveraging and connecting veteran skills with the civilian sector.
Flags of Valor (FOV) is a veteran-run business that's dedicated to the idea that combat veterans deserve opportunities across all sectors once they've traded their uniforms for civilian clothes. FOV believes that "Made in America" matters. They connect craftspeople who have significant combat-related injuries with manufacturing jobs. Since 2015, the company has raised over one million dollars for veteran-related charities.
Under Armour consistently proves that its dedication to the military community goes far beyond simple platitudes and hollow commitments through their generous discount and their involvement in the veteran and active duty community at large.
Visit Under Armour to take advantage of this military discount.
About Post Author