The military lifestyle comes with a great deal of sacrifice given by both the service members themselves and their families. As a way to help say thank you for that sacrifice, there are a lot of really terrific services available only to military members, veterans, and their families.
Some of these service are offered by private companies and many are offered by various offices of the government, but all of them are meant to help try and make a difficult military life a little bit easier and more enjoyable. Unfortunately, through bad public relations, poor communication, or just continued misperceptions by service members themselves, many of these programs go underutilized, leaving families struggling unnecessarily.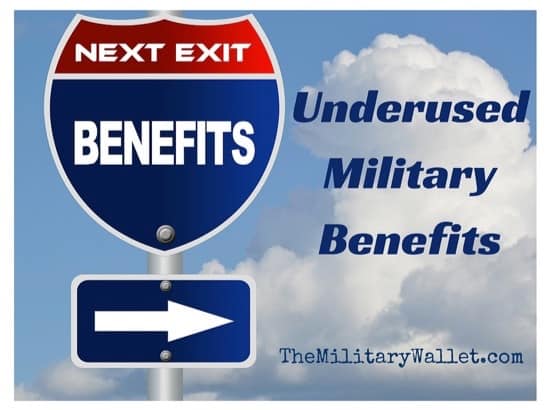 This list brings attention to just a few of the services and benefits which, if given more publicity, will be able to help more military families.
Counseling Services
Most service members and their families have heard, at least in passing, that counseling services are available to them. The military lifestyle presents unique emotional challenges to both families and individuals. Military members are hesitant to seek out a professional help for a variety of reasons, including the social stigma that comes along with seeking mental help.
In response to this need for more discreet counseling services, organizations like The Soldiers Project, a 501 (c) (3) non-profit organization, "are dedicated to providing free, confidential psychological services to US military veterans and their loved ones who have served at any time after September 11, 2001."
Know that you don't have to suffer in silence. Utilize the counseling services available not only to you as the military member, but for family and couple counseling as well.
VA Home Loan
Veterans Affairs Home Loans allow any retired, active duty, or honorably discharged members of the military to buy, build, or improve any primary dwelling without needing to place a down payment on the property to proceed with a loan. VA home loans can be used to buy or build a home, buy a manufactured home and/or lot, purchase and improve a home, or for making energy efficient improvements on your existing home.
Unfortunately, VA home loans are an underutilized service among military families. Too many military members either have never heard about VA home loan benefits or they have been persuaded by uneducated real estate agents to not use the benefit.
In order to qualify for a VA home loan, you will need to first certify that you are eligible, and then submit a Certificate of Eligibility (COE). This COE form verifies to the lender for the property that you wish to purchase, that you are in fact eligible for a VA-backed loan. Without the COE you won't be able to move forward on your VA backed purchase of a home. Once submitted, the loan verification process takes about five business days.
Military Spouse Scholarship Program
MyCAA is a military spouse scholarship program. Spouses married to active duty service members in pay grades of E-1 through E-5, W-1 and W-2, and O-1 and O-2 are eligible to receive up to $4000 (with a $2000 annual benefits cap).
The benefits cover the cost of tuition costs education, training courses, and examinations that lead to earning an associate degree. It will also cover the cost of earning a license or certification at an accredited college that will lead to increased employment opportunities as a military spouse.
The Military Times reported that, "Less than one-fifth of the military spouses who are eligible for the Defense Department's scholarship program are using it," according to a Rand analysis of a 2012 DoD survey of active-duty spouses.
If you are an eligible military spouse, and you would like to take advantage of this benefit, you can visit the MyCAA Spouse online Portal to give the required Spouse Profile information. According to the MyCAA fact sheet, "A real-time DEERS eligibility check will confirm if spouses meet MyCAA eligibility requirements. Once confirmed, spouses can move forward and establish a MyCAA Account. Those who do not pass this check will be provided additional guidance."
You can also call 800-342-9647 to speak to a Spouse Education and Career Opportunities program (SECO) career counselor, who will be able to assist you with questions about moving forward to receive this benefit.
National Park and Federal Recreational Land Pass
Current US military members and their dependents in the Army, Navy, Air Force, Marines, and Coast Guard, as well as most members of the US Reserves and National Guard can receive a free annual pass to any national park or federal recreational land by simply showing your military ID.
You can receive your pass in person at any federal recreation site that issues annual passes. Call ahead to the location you wish to visit to ensure that they issue free annual passes for military families.
To find out more details about where and with whom you can use your annual pass, visit USGS.
Morale, Welfare, and Recreation Program
Most military installations have a Morale, Welfare, and Recreation Program (MWR) office. The MWR is a program that offers more than just access to the on-installation fitness facilities (although they do that too). You can rent jet skis, party boats, RVs, bounce houses for birthday parties, and even corn-hole game boards.
The MWR even has a digital library where you can access free eBooks and audio books, live, free tutoring for kids through tutor.com, get help with a resume, and more. Check out all of the resources that the MWR digital library has to offer. Many MWR centers also offer free classes on base.
The MWR is a great benefit that allows service members to rent gear and equipment at a deep discount. Anything you can think of to use in your free time, for a holiday, or at a party is available at most MWR facilities. You only need a valid military ID to take advantage of the services that the MWR has to offer. Find the nearest MWR installation and start enjoying the equipment and resources available to both military members and their families.
Burial Benefits
Not enough military families are aware that burial benefits are available to all veterans, spouses, and dependents, without regard to income or available assets. You and your family are eligible to receive a burial at a national cemetery with a free grave marker.
Please note that while the site and grave marker are provided, any funeral or cremation costs are not included in the benefits of a veteran burial. If you choose to be buried in a private cemetery instead of a national cemetery, you may be eligible for a $300 funeral allowance and $300 for a gravesite.
Visit the National Cemetery Administration website to learn more about these benefits, and which documents are required for burial.
Reach Out for Support
Reach out to your command unit's family liaison officer, or ombudsman, for help in better understanding any of these benefits. Also, eBenefits is another great website with centralized information regarding veteran benefits of all types.
You should also contact your nearest VA office for help with these and other services available to active military members and veterans.
Don't let any of these awesome benefits and opportunities pass you by. You earned them!
About Post Author