If you are a military member or retiree who is planning a Disney World vacation, then it pays to take advantage of the generous military discounts Disney offers through their Disney's Armed Forces Salute program. There are several promotions available, including a discounted Park-Hopper pass, discounted rates at Disney Resorts, and Disney's military hotel, Shades of Green, and Disney Cruise Vacations.
Disney World Military Discounts Eligibility
Disney World military discounts are available for Disney World Park Hopper passes. These can be purchased by current and retired military members, and members of the uniformed services.
Eligible participants include:
Active duty members of the Air Force, Army, Marines, Navy, Coast Guard
Members of the National Guard and Reserves
Military Retirees
Commissioned Corps of the Public Health Service (PHS)
Commissioned Corps of the National Oceanic and Atmospheric Administration (NOAA)
Spouses of Military Service Members also qualify if they are able to present valid and active U.S. Military IDs in the absence of active Military Personnel.
Valid ID is required to purchase and use these discounted tickets.
Disney World Military Park-Hopper Pass
The Park-Hopper promotion is good for a 4-Day or 5-Day Park Hopper ticket, which gives you access to all four Disney World parks. You can also buy an add-on to be able to visit the Disney water parks. These prices vary.
2021 Valid Dates:
Purchase for visits good now through December 17, 2021. You also have the option of adding a water park option for an additional $30, plus tax as well as the Memory Maker PhotoPass product for $98. (2021 Details).
4-Day Military Promotional Tickets
With the Park Hopper Option: $296 plus tax
With the Park Hopper Plus Option: $326 plus tax
5-Day Military Promotional Tickets
With the Park Hopper Option: $315 plus tax
With the Park Hopper Plus Option: $345 plus tax
Where to Buy Military Park Hopper Tickets:
Disney Military Promotional Tickets may be only purchased at participating U.S. military sales locations, and can only be purchased by the servicemember, or their spouse (but not both), for use by themselves and other family members and friends.
Up to 6 tickets may be purchased at these discounted rates, however, the tickets may not be sold or transferred, so be sure to only buy what you will use! As a security feature, these promotional tickets are not valid until activated by eligible service members or their spouse at a Disney World theme park ticket window.
The Disney website states, "The actual prices charged at the individual U.S. military base ticket offices for Disney Military Promotional Tickets may be less than the prices set forth above." There are no guarantees your local base will offer these tickets for less than the stated price, but that would be a nice bonus!
Redeeming Your Disney Military Vouchers for Park Hopper Passes
The Disney World military discounts are in the form of a voucher, which must be redeemed for the actual tickets. The image below is of one of the vouchers.
My wife and I took advantage of the Disney military discounts this year. It works like this: You visit your base ITT Office and buy the ticket vouchers from them. We had to pay a shipping fee to receive the ticket vouchers. I don't remember the exact cost of the shipping fee, but it wasn't much (between $10-$15). We received our Disney Ticket Vouchers about a week later. This is important to note since we didn't receive the vouchers that day.
It may be possible to get vouchers the same day, depending on where you make the purchase. The Shades of Green resort has a ticket sales office and I believe you can get the tickets the same day if your buy them there.
Once you have your ticket vouchers, you must redeem them for the actual Disney Park Hopper Passes. This must be done at one of the approved Disney Ticket offices (the voucher should state where to redeem them for the actual tickets). Your vouchers can only be redeemed by the military member of spouse, so make sure one of you is there, and bring your military ID card to prove eligibility! We had our entire family, which made it easy. Once you have your tickets, you're good to enter the parks.
Note: Activate your tickets the day or night before you plan on visiting the parks!
We redeemed our ticket vouchers the night before we planned to enter the parks, that way we had our tickets first thing in the morning, so we wouldn't have to waste time redeeming the vouchers and getting our tickets set up. This is a good idea, since the lines can be long on some mornings. You also want to be able to go straight into the parks when they open so you can hit one of your favorite rides without having to wait in a long line.
Fine Print and Exclusions
As mentioned above, you or your spouse can buy up to 6 total tickets, however, they cannot be transferred. In previous years there were blackout dates for some parks or experiences. The website does not show any blackout dates for 2020, but be sure to verify this before making your reservations. (Pro Tip: there are many helpful crowd calculator websites out there to help you pick the right dates for your family!)
Expiration dates and other fine print:
Valid military identification will be required for purchase and use. Tickets must be activated at Walt Disney World theme park ticket windows.
Tickets and options are only good for the year in which they were purchased. There is an expiration date, so be aware of this when making your purchase.
No more than six (6) Disney Military Promotional Tickets may be purchased and (if applicable) activated by any Eligible Service Member or spouse (regardless of the place of purchase and whether purchased by that person or that person's spouse).
In addition, one of the six (6) Tickets purchased must be used by the Eligible Service Member or his/her spouse.
Each Disney Military Promotional Ticket must be used by the same person on any and all days.
For more information on Park-Hopper Passes, see the Disney website.
Shades of Green – Disney's Military Hotel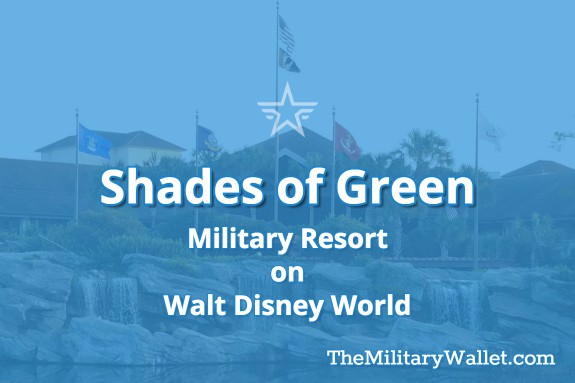 Orlando area hotels are typically very expensive. A good way to save money is to stay at the Shades of Green Resort, a military-owned resort located at Walt Disney World. They offer more affordable rates than other Disney Resorts, as well as free shuttle transportation to the Disney World Theme parks and Disney Springs (formerly known as Downtown Disney). There are also shuttles to other Orlando area attractions for a reasonable fee.
My wife and I stayed at the Shades of Green Resort and found it to be the best of both worlds – very affordable, and close to the Disney World action. Shades of Green is located a 10-minute walk from the Polynesian Resort, which is two Monorail stops from the Magic Kingdom. That makes it very easy to get to the Magic Kingdom or the Disney World Ticket and Transportation Center, for easy access to Epcot.
Shades of Green has a lot to offer, including two pools, several restaurants, tennis, easy access to Disney World, the Disney World golf courses, and much more. You can learn more in our Shades of Green podcast and review. Visit the Shades of Green website for more information about rates and availability.
Military Discounts at Disney Hotels
Disney also offers military discounts to military members, retirees, and their spouses. Discounts can be up to 20-30% off regular rates. However, the number of rooms is limited, there may be length of stay requirements, and blackout dates may apply. Valid military ID is required. It's best to contact Disney customer service to learn more about current offers.
Disney Military Cruise Discounts
These discounts vary by season, destination, which cruise ship, and other factors. Discounts are often announced with short notice (30 – 60 days out), so it is recommended to check back frequently. Here is the Disney Cruise Line Military Discount page. Unsure if your desired port stop is an approved destination? Check out the Department of State Travel Advisories page.
More Military Discounts, Theme Parks, & Travel Savings
Here are some more savings you may find helpful:
About Post Author