The Home Depot offers a 10% discount every day to all active service members, National Guardsmen, reservists, veterans and military spouses.
However, the discount policy recently changed. You can't use a Form DD-214 or a veteran, military, or dependent ID at the register to get the discount anymore. Instead, to use Home Depot's military discount, you must sign up for a virtual ID and shop online or scan the app in-store.
Home Depot also instituted a maximum annual military discount limit of $400 in January 2022. Previously, Home Depot's 10% military discount was valid for purchases up to $5,000 (a $500 discount), but there wasn't an annual cap.
If you hit your cap at Home Depot, you can still shop around at other retailers offering military discounts, like Lowe's.
---
The Home Depot Military Discount
The Home Depot offers 10% military discounts on in-store and internet purchases on select items. These discounts are available every day to all US veterans, active duty service members and spouses.
---
The Home Depot's Military Discount Policy
According to Home Depot's website, the store's year-round military and veteran discount is capped at $400 per year. (Some exclusions apply – more on that below).
Spouses of eligible service members and veterans can also get the discount if they create their own Home Depot account and verify their identity by uploading their dependent ID. Spouses must also provide their service member's name, birth date and email address registered to their Home Depot account.
Non-married dependents of military members and veterans (including children and dependent parents) are no longer eligible for the discount. For more information, read the frequently asked questions here.
Home Depot's military discount works online or in-store, as long as you display your virtual ID on the Home Depot app at the register. (The store no longer accepts identification cards or physical proof of military service at the register).
How to Register for Home Depot's Military Discount
You'll need a Home Depot virtual ID QR code to shop with your military discount in stores. To get one, visit homedepot.com/military/discount or open the Home Depot mobile app and navigate to the military discount page.
A Home Depot account is required. You can create a new Home Depot account or log in with your existing one.
On the military discount page, click "Verify Military Status" and follow the on-screen instructions.
The website's verification service, SheerID, will ask for details like your name and branch of service and it will request supporting documentation.
How to prove military service:
Read about other ways to verify military service here.

It may take a few minutes for SheerID to finish verifying your account. You should receive an email once it does.
Once you're verified, your spouse can create an account and input your information to get their own virtual ID to access the discount.
NEW!

Military Discount Finder
Gain Access to Hundreds of Verified Military Discounts!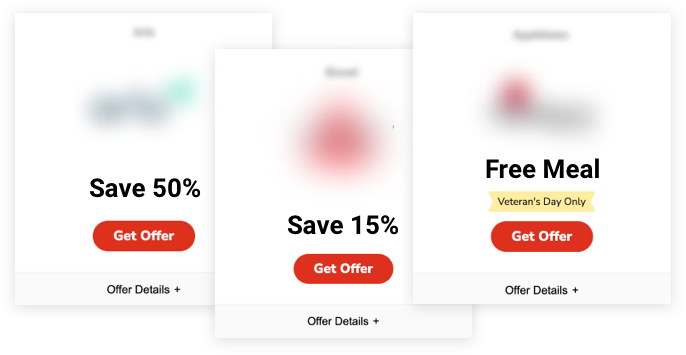 Find Military Discounts →
How to Use Home Depot's Military Discount
To use your discount in Home Depot stores, you have to have the Home Depot app on your phone.
At the register, log into the app and navigate to your account information. Scroll down in your customer profile to the "Military Discount Program" section. You should see an area that says "Scan Virtual ID" which features a QR code.
You have to show this QR code at the register to receive your military discount.
App space can be scarce on smartphones, (and not everyone has one!) so we've tried some other options, including QR code screenshots and even printing out the QR code.
Unfortunately, SheerID updates individual QR codes regularly, so neither of those options works for long. Home Depot's website does not display the QR code either, so the app is the only way to apply your discount in stores. See the frequently asked questions for more information.
Is The Home Depot Military Discount Available Online?
Even though your military discount QR code isn't available on the website, you can still use your discount to shop online. As long as you're logged in to your account, Home Depot will apply your discount automatically at checkout.
Home Depot spokeswoman Yanique Griffin Woodall said purchasing on the website is the best alternative to accessing your discount if you don't have a smartphone or don't want to use the app.
Woodall said users can place orders online with their discount and pick them up in-store or have them shipped to their homes.
The Home Depot Online Coupon Codes
The Home Depot offers a variety of sales which can vary by location. Before you shop, it's a good idea to check local advertisements, fliers, promo codes, and online store promotions for up-to-date information.
In many cases, The Home Depot website features deals that aren't available at their warehouse stores, so it pays to do some digging for deals online.
What Can You Use The Home Depot's Military Discount For?
As with all discounts and savings opportunities, Home Depot's military discount comes with a few restrictions you should be aware of before stepping into the check-out line.
After all, you don't want to attempt to buy $7,000 worth of goods only to find that the maximum purchase amount is much less.
So, what limitations and exclusions apply to Home Depot's military discount?
The Home Depot's Military Discount Exclusions
Some products and services are not discounted, including:
Goods with manufacturer imposed restrictions
Appliances
Gift cards
Freight and delivery services
Installation and other labor services
Value-priced merchandise, items that are already discounted or items on clearance
Tool rental fees
Commodity products like lumber, wire and building materials
Again, your 10% discount has a maximum annual cap of $400 each year.
Additionally, Home Depot's military discount is for personal use only. You can't pay for your purchase with a commercial credit card or have a job number connected to the purchase. (However, you may be able to use your military discount with your Home Depot consumer credit card).
Finally, the discount can't be used retroactively for prior purchases, regardless of the reason.
Can You Stack Military Discounts At The Home Depot?
In most cases, no. You can't combine a military discount with a contractor's discount. But, if Home Depot is offering a storewide deal, you may be able to use your military discount on top of that deal.
When in doubt, call ahead and ask.
What If You Don't Receive a Discount?
Some active military personnel and retired veterans have reported not receiving a 10% discount when shopping at The Home Depot. Please review the information above and verify that the discount applies to your particular purchases.
You might not qualify for the discount if there are exclusions as noted above, or you haven't registered for a virtual ID. Keep in mind that Home Depot store clerks can get in trouble or lose their jobs if they accept a non-valid form of ID, so please don't put them in an awkward position.
If you have questions or think that you were wrongly denied the discount, you can ask to see a copy of the military discount policy.
Shop Around at Other Retailers
If Home Depot doesn't honor your military discount, then compare prices with other stores, including Lowe's.
If one competitor has home improvement coupons, check to see if the other will honor them. Consider all of your options to ensure you're getting the best deals on the products you need.
You can find even more savings with special Memorial Day and Veterans Day discounts at retailers and restaurants nationwide.
How The Home Depot Supports the Military Community
In addition to the military discount program, the Home Depot also offers a variety of programs that support the military community, including efforts to hire military veterans and programs to help build homes for disabled veterans.
Home Depot said it currently employs more than 35,000 active, reserve and retired military members.
Since 2011, The Home Depot Foundation has invested more than $400 million in veteran causes, including the improvement of over 50,000 veteran homes and facilities.
The foundation is on track to put $500 million toward military and veteran causes by 2025.
In Summary
If you're a veteran, military member or spouse that is eligible for Home Depot military discounts, don't miss out on the chance to take advantage of the special pricing.
While military discounts at The Home Depot changed in 2022, the company is still working hard to support the military community. Please remember to thank store workers and attendants you meet while shopping.
Make sure you read the fine print and understand the exclusions and terms of using your Home Depot military discount. If you have questions during the new enrollment process, Woodall said store clerks will be happy to walk you through the process. You can also contact Home Depot customer service at 1-(800) 466-3337.
About Post Author