Military service online ID verification services help connect you to retailers across the country who offer military-exclusive discounts and benefits. Servicemembers, veterans, and family members complete a form that includes non-sensitive information such as name, branch of service, and email address. To verify your eligibility, companies use the Defense Manpower Data Center and other government sources of military records. Once your status has been verified, you're eligible for discounts and benefits.
Online ID verification services never ask for your DoD number or social security number. As long as you're using a legitimate ID service like the ones covered in this brief, your information is secure.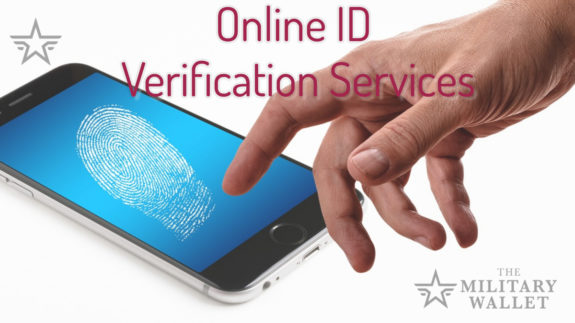 What Is ID.me?
ID.me makes it easy for people in our community to prove and share their identities online. The company offers secure identity proofing, group affiliation, and authentication verification services for government and businesses across several industries.
Once you're verified, you'll never need to re-authenticate your identity anywhere that ID.me is integrated. This technology is used by more than 22 million people and 350 partners, including state and federal agencies, financial institutions, retailers, nonprofits, and healthcare organizations.
ID.me launched around 2010 as Troop ID after founder Blake Hall watched a military veteran use a DD214 separation form to claim a military discount. Hall understood immediately that the veteran was showing far too much information to the clerk, and exposing so much information for a single discount was risky. He decided there had to be a better way for members of the military and veteran community to verify their identity.
Now, ID.me is used by the military and first responders, students, teachers, government employees, nurses, alumni groups, company employees, and similar organizations. Once the service has verified your identity, you're eligible to access an array of discounts curated for you as a member of the military community.
How does ID.me work?
Creating an ID.me account is simple and quick. After creating an account, you'll need to upload an image of your military or veteran ID. Once your identity is authenticated, you're all set.
Then, search for the type of discount you need and select the retailer you want to patronize. You'll be redirected to their site, where you can shop for your items. Since you're already logged in and verified with ID.me, you're automatically eligible for the discount.
Benefits of ID.me
ID.me offers a really good selection of military-centric discounts, categorized into apparel, health and beauty, sports and outdoors, travel, lifestyle, tech and office, home and auto, and a general category for all other discounts.
Some of the top retailers include:
Adidas
Yeti
Hotels.com
Ray-Ban
Sam's Club
23andMe
Hotwire
MLB.tv
NFL Game Pass
and more
What is SheerID?
SheerID makes it quick and easy for you to prove your military status. Brands that use SheerID provide an online form where you simply type in a few pieces of information about yourself, such as your military status, branch of service and your name. This allows you access to discounts that might otherwise not be available.
SheerID works with retail, streaming, software, finance, and hospitality brands to offer personalized discounts for the military community. Since each offer is exclusive, this encourages members to share with others in their network, which helps to increase the reach of the brand.
SheerID's co-founder and CEO, Jake Weatherly, was inspired to found the company in part by the experiences of his father-in-law who is a military veteran. In many cases, when trying to redeem a military discount, he would be asked for highly sensitive personally identifiable information, such as his social security number and, in some cases, even his blood type.
Jake and his co-founder started the company in 2011 both to protect the privacy of consumers and also ensure that people who tried to redeem a community-specific offer were actually a part of the community. Today, SheerID verifies the identity of more than 2.5 billion people across multiple communities such as military, students, teachers, first responders and more.
How Does SheerID Work?
You don't need to create an account with SheerID to prove that you're a part of the military community. When you see a military offer protected by SheerID, you simply type in a few pieces of information about yourself into the online form on the brand's website. SheerID's technology then will check your information against authoritative data sources to confirm that you are a member of the military. 
Typically, SheerID's technology will determine your eligibility within a matter of seconds. In rare cases, you may be required to upload some documentation for verification.
Benefits of SheerID
Like ID.me, SheerID offers an array of benefits in several different categories, ranging from apparel to sports equipment, travel, and food. Unlike ID.me, SheerID has partnerships with energy service providers and internet service providers.
Some of the top retailers include:
Are ID.me and SheerID Safe?
Both ID.me and SheerID have contracts with many different organizations to verify your affiliation with the military or another covered group. As you might guess, there is the potential for sensitive information to be accessed during this process.
ID.me uses bank-grade encryption to keep your personal information safe and secure. You have control over what information is shared online.
SheerID encrypts personal information before it's transmitted for verification. They also make sure that their data partners purge data as soon as the verification process is complete. All SheerID systems are hosted within a highly secured data center and cloud service platform.
What's the Difference Between SheerID and ID.me?
The main difference between ID.me and SheerID is that ID.me is directed toward members of the military community who are actively searching for discounts on specific items. SheerID is marketed toward businesses that are aiming to make a connection between the services and goods they provide and the military community. However, as a member of the military, you can go here to find the latest deals that brands are offering through SheerID.
Other than that, they serve the same purpose—to help retailers and other organizations verify identification for people in different organizations.
Ultimately, both ID.me and SheerID offer a similar option for members of the military community. Both are free to join, it makes good financial sense to be verified with both. That way, you can search for the best deal based on the item you want or need.
About Post Author