If you're in the mood for some mouthwatering seafood this Veterans Day, there's a good chance Red Lobster is offering a free Walt's favorite hand-breaded butterflied shrimp, fries, and coleslaw to veterans, active military personnel, and reservists on November 11, 2023. This is the discount they offered in 2022.
While most locations will be participating, you should call ahead to make sure your local Red Lobster is one of them, and be sure to bring your military ID when you visit.

Red Lobster Veterans Day Deal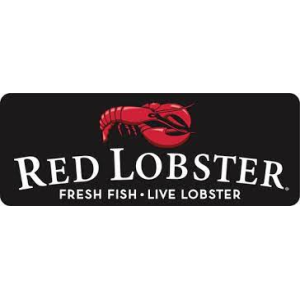 Offer Type
Participating Locations
Requirements
Valid Military ID, Proof of Service
Who Qualifies?
Active-Duty, Veterans, Reservists
On Veterans Day, Red Lobster recognizes veterans, active-duty military, and reservists with free vouchers for Veteran Shrimp & Chips from 11:00 a.m. to 4:00 p.m., with proof of service or valid Military ID. Vouchers can be redeemed starting Monday, November 13, through Sunday, December 10
Red Lobster also participates in Military Mondays at select locations in the continental U.S. All active-duty military personnel receive 10% off their meal every Monday. Just show your military ID. It is not valid in conjunction with any other offer, discount or coupon.
Bring Your Military ID
The discount requires you to show a valid military ID that proves you are a member of the Department of Defense or armed forces. It must be issued by the United States Department of Defense.
Here are a few commonly accepted proofs of military service:
Veterans Service Organization Card
Wearing your uniform is another easy way to identify yourself as a service member (if your service permits). Not all restaurants will accept a uniform on its own as proof of identification, so call ahead to double-check.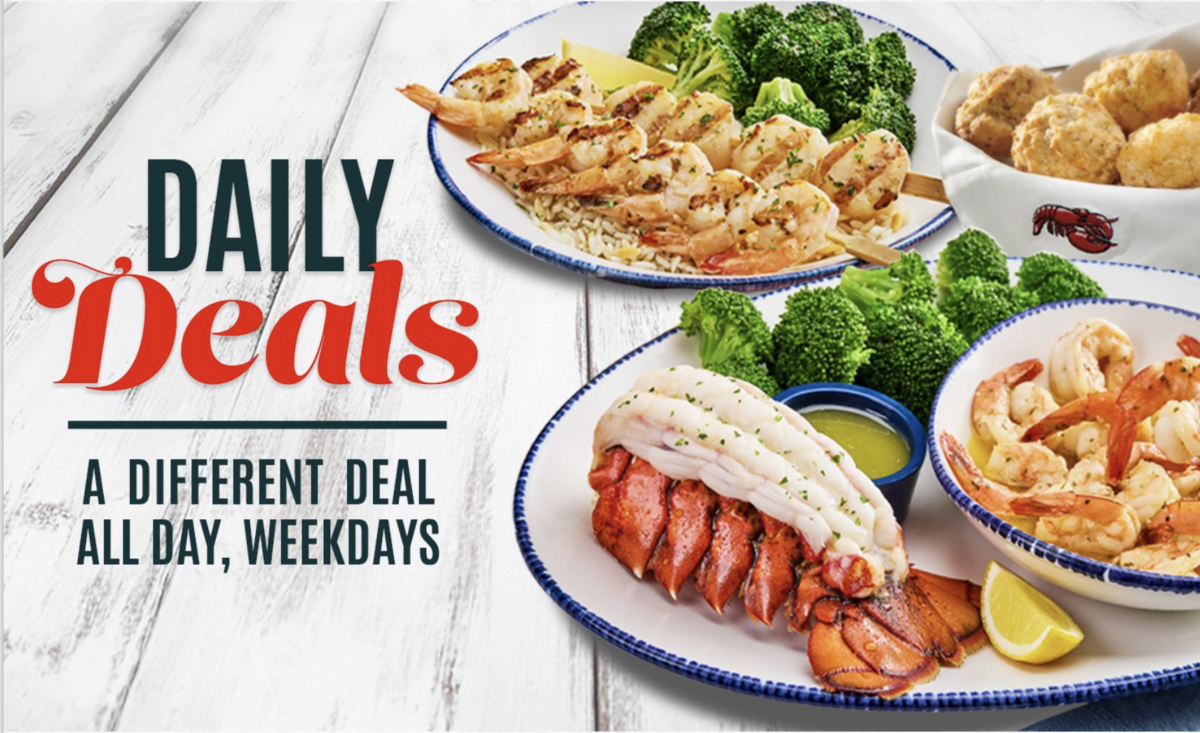 How Red Lobster Supports Communities
Red Lobster has several well-established programs in place to support communities. Here's what they're doing.
Food
Through the RL Shares program, we donate unused, wholesome food to local food pantries and community organizations every week. Since the program started, we've donated about 20 million meals.
Families
Red Lobster is a proud partner of Make-A-Wish in the U.S. and Canada to support their mission to create life-changing wishes for children with critical illnesses. To learn more and find out how to donate or grant wishes, visit WWW.WISH.ORG.
Red Lobster is also proud to partner with the NAPA Seafood Foundation for the SEAFOOD FOR HEROES program to say thank you to healthcare providers and first responders during times of crisis. Our partners provide the funds for the food, and we do the cooking and delivering.
Additionally, because Red Lobster is headquartered in Orlando, we support our hometown community through Heart of Florida United Way as well as Boys & Girls Clubs of Central Florida.
And, we support each other in times of need through our RL Cares Employee Emergency Assistance Fund. Our employees voluntarily donate to the fund, which helps team members cover unexpected expenses and financial hardship.
Oceans
Red Lobster is committed to supporting efforts to ensure there's seafood to enjoy, now and for generations. Below are just some examples of this work.
Maine Lobster
We proudly support University of Maine's collaborative research with the lobster industry to improve understanding of how the lobster's earliest life stages respond to changes in the environment and the implications of those changes for the future of the fishery. Over the long term, the research is expected to help better understand the role a warming ocean plays on the changing distribution and abundance of lobsters in the Gulf of Maine.
Rock Lobster
Our partnership with World Wildlife Fund is helping improve the sustainability of Rock lobster fisheries through fishery improvement projects (FIPs) in the Bahamas, Belize, Brazil, Honduras and Nicaragua – and helping to safeguard marine wildlife, the natural environment and the livelihoods of people who depend on ocean resources.
Ocean Conservation
We currently work with Ocean Conservancy, a leading ocean conservation nonprofit, to support the protection and preservation of the world's oceans. Our partnership is specific to two programs: The Global Ghost Gear Initiative, which focuses on driving solutions to the problem of lost and abandoned fishing gear, and the Trash Free Seas Alliance®, which unites leaders to mitigate plastic waste entering the oceans.
NEW!

Military Discount Finder
Gain Access to Hundreds of Verified Military Discounts!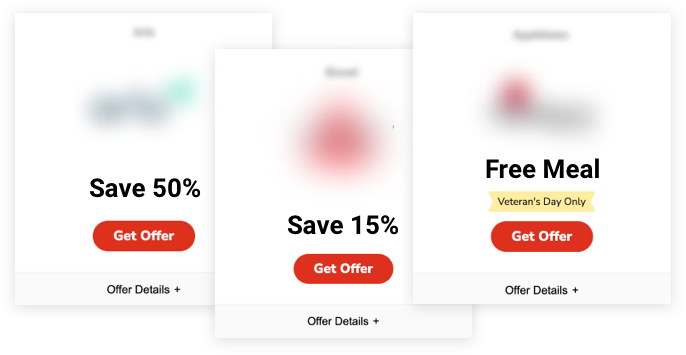 Find Military Discounts →
Enjoy Your Veterans Day Discounts
Red Lobster's free meal is not the only deal available to you. In addition to dining out, you can benefit from a number of Veterans Day retail deals, as well as discounts on attractions and events.
You can also check out our military discounts page to stay in the loop on all the deals available to you for the rest of the year. These lists are updated regularly as businesses release more information about their discounts.
About Post Author