As we wrote in our military pay date schedule, the first step in creating a budget is knowing how much you will be paid, and when. The good news is that retired military pay dates are easy to remember: you usually receive your pay on the first of the month. The only exception is when the first of the month falls on a weekend or holiday. If that happens, then you would receive your pay on the preceding business day.
Military annuitant paydays are similar to retiree paydays. Military annuitants, surviving spouses, or family members, receive their payment on the first of each month. However, if the 1st falls on a weekend or holiday, they will receive their payment after the weekend or holiday, not before like retired military members.
2021 Military Retiree & Annuitant Pay Dates
Here are the military retiree pay dates for 2021. You will need to check MyPay for your Retiree Account Statement (RAS).
| Entitlement Month | Retired Pay Date | Annuitant Pay Date |
| --- | --- | --- |
| December 2020 | December 31, 2020 | January 4, 2021 |
| January 2021 | February 1, 2021 | February 1, 2021 |
| February 2021 | March 1, 2021 | March 1, 2021 |
| March 2021 | April 1, 2021 | April 1, 2021 |
| April 2021 | April 30, 2021 | May 3, 2021 |
| May 2021 | June 1, 2021 | June 1, 2021 |
| June 2021 | July 1, 2021 | July 1, 2021 |
| July 2021 | July 30, 2021 | August 2, 2021 |
| August 2021 | September 1, 2021 | September 1, 2021 |
| September 2021 | October 1, 2021 | October 1, 2021 |
| October 2021 | November 1, 2021 | November 1, 2021 |
| November 2021 | December 1, 2021 | December 1, 2021 |
| December 2021 | December 30, 2021 | January 3, 2022 |
The above military pay dates are applicable to all branches of the military, including the Air Force, Air Force Reserves, Air National Guard, Army, Army National Guard, Army Reserves, Marine Corps, Marine Corps Reserves, Navy, Navy Reserves, Space Force, Coast Guard, Coast Guard Reserves, and the Public Health Service.
When Will I Receive My Military Retirement Paycheck?
Military paychecks are generally available on the payment date. However, payments may hit your bank up to a day early, or sometimes in the afternoon or evening of the pay date.
Some Military Banks offer military deposits a day or two earlier than the actual pay date. This is common with Navy Federal Credit Union (if you use the Active Duty Checking Account) and USAA Federal Savings Bank, among others. Here is the list with the NFCU pay days. Here are the dates military paychecks are available through USAA.
Top Military Banks: Here is our list of the top military banks and credit unions. You may consider choosing to bank with one of these financial institutions if receiving your pay earlier is important to you.
Understanding Your Retired Military Pay
Military retirement pay is handled by the Defense Finance and Accounting Service, or DFAS. They handle all record-keeping, tracking, payments, etc. Retirees can track their pay on MyPay.
The best way to understand your retirement pay is to log on to your MyPay account and view your Retiree Account Statement (RAS), which is a two-page document issued by DFAS that summarizes your pay, benefits, and any deductions, including allotments.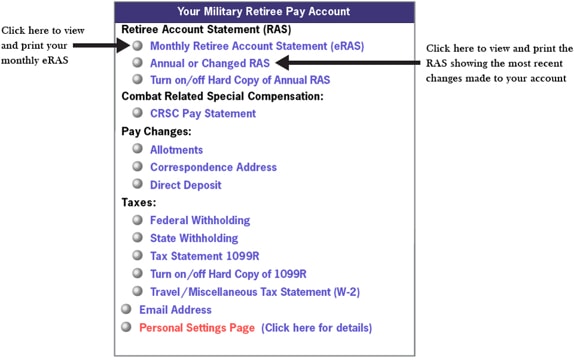 Military retirees receive a Retiree Account Statement each month, along with an annual RAS in December. MyPay makes the previous 12 RAS statements available to you. If you want to keep a long-term record, it would be a good idea to download the RAS in PDF form.
You should receive an email each month from MyPay informing you when your RAS is available (provided you have provided your email to MyPay and are opted-in to this service).
Other ways to use MyPay: In addition to tracking and downloading your Retirement Account Statements, you can also use MyPay to download your tax statements, change any allotments you might have, change your tax withholding, and change your banking information.
It's also important to note that your retirement pay is made in arrears, meaning you receive pay for the previous month, just like military pay and most other types of pay.
How Does Your Military Pay Change in Retirement?
Your military retirement pay is based only on your base pay, and your time in service. You will no longer have your BAH, BAS, or other benefits, such as COLA, incentive pay, and bonuses. You also have to take into consideration any withholdings, such as taxes, insurance, and any allotments.
The good news is that many states do not tax military retirement pay. So you may see an unexpected boost.
Here are some additional withholdings you may see, depending on your situation:
You can find a full analysis of how your military pay changes when you retire. This is a great resource for planning purposes.