Civilian clothing – it's not exactly a pressing issue for service members. As a matter of fact, it's rarely a point of contention at all while on active duty. But once an Airman, soldier, sailor, guardsman, or marine transitions to the private sector, the art of civilian dress can seem extremely difficult. Gleaning uniform regulations from fiery-eyed drill instructors, a new recruit becomes well versed in the military dress code rather quickly. There are rules and standards. When "Irish pennants" (a loose thread on a uniform), and other minor imperfections in one's Battle Dress Uniform, elicit streams of profanity, people tend to listen/learn. With time, most service members become outstanding examples of uniform taxonomy. But what about civilian attire?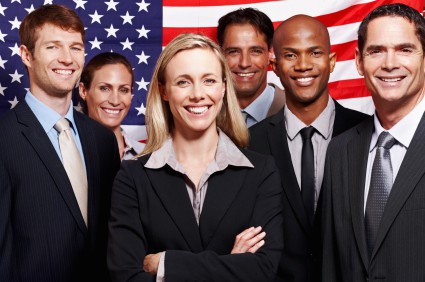 First Impressions Are Everything
A sharp uniform, close shave, polished appearance, and attention to detail can mean success in the military. Similarly, it's no different in the civilian world. Instead of BDUs, Dress Blues, and flight suits, we're talking blazers, blouses, and wool suits.  When the time comes to move on or retire from military service, one should be prepared to enter the private sector. One of those provisions should include a plan regarding appropriate civilian attire. Specifically, a wardrobe geared towards a post-military career. As in the military, first impressions in the private sector can make or break you. Job interviews are prime examples of this.
The job of your dreams or the unemployment line can hinge on your appearance during an interview. It's a sad but true fact – looks matter quite a bit. Depending on your field of work, a well-tailored suit is a staple for your interview. Something dark, well tailored, and manufactured from quality materials (wool or silk), is a general rule for men's suits. Assure the aforementioned garb is appropriate for the occupation sought. Remember, simple is better.
In regards to the female persuasion – slacks, conservative skirt and blouse, are suggested. When combined with an oxford shirt and blazer, you're guaranteed a professional appearance. Keep the high-heels and stilettos for a night out on the town, and stick to something mid-heel for interviews. Make certain to go light on the perfume and traditional with the cosmetics. Of course, these recommendations are generally geared towards executive/managerial positions. Again, adjust your attire to meet the job you seek.
Professional Attire, Business Casual, and Campus Casual
The current culture of business today, allows for three main categories of attire. They include:
Professional Dress – as the name suggests, it consists of professional attire (i.e. suit, slacks, and tie). For women, business/pants suit is acceptable.
Business Casual – essentially a relaxed version of professional dress. Women should sport moderate length dresses or skirts, and men can go sans coat and tie.
Campus Casual – relatively new on the scene, campus casual is modern take on business attire. Although one won't wear this often, it is in actuality, everyday apparel. Informal office gathering and networking events may call for this type of business wear. Lean towards the conservative side, such as dark jeans, polo shirt, clean sneakers.
Tips for Your Civilian Wardrobe
The most important thing to remembers is that you need to present a professional image. But that doesn't mean you need to spend a lot of money on your wardrobe. Start by purchasing basic wardrobe items that work well with other items so you can mix and match. For men, that includes a dark suit, several plain colored shirts (white, off white, and blue are versatile), several ties, and a dark pair of high quality shoes. Women can start with similar items, and by mixing in a few skirts or pant suits.
Here are some wardrobe Do's & Don'ts:
Tailor your outfit.
Invest in a quality wardrobe.
A fresh haircut adds to a sharp look.
Use a lint remover.
Remove any political emblems from your attire.
Learn what colors and clothing flatters your specific body-type.
Cover visible tattoos and piercings.
Polish your shoes.
Keep a stain remover pen handy.
The tip of your tie should fall atop your belt.
Wear conservative jewelry.
No overpowering cologne or perfume.
Don't combine horizontal lines with vertical lines.
And as always, make sure your clothing items are clean, wrinkle free, and serviceable. Once you nail down your wardrobe, you are ready for the interview!
About Post Author