Podcast: Play in new window | Download
Subscribe: Apple Podcasts | Google Podcasts | RSS

The military is downsizing it's forces. Service members are being laid off in numbers we haven't seen since the end of the Cold War era in the early and mid-90s. Benefits are also on the cutting block. Is the military still a good career option with these changes happening now and expected to continue for the foreseeable future?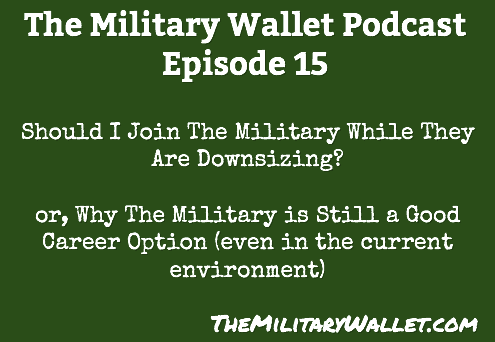 There are a lot of ways you can look at the future of serving in the military, but I'll share my perspective, in response to a reader question in which the reader asks if it's still a good idea to join the military, even while the military is reducing its end-strength. Here is the reader question:
Can the military discharge you for no reason? I thought I read somewhere a couple years ago that the military just started randomly firing people because of the new budget or something. I want to join the military when I graduate but I don't want to end up getting discharged for no reason and end up broke. ~ Jacob
This is a great question, and one that faces our next generation of service members. Things are changing, and will continue to change in the coming years. Let's jump in and answer Jacob's question, which is probably bigger a bigger question than he thinks.
We'll start with the concern over being laid off (also called Force Shaping, or Reduction in Force (RIF)).
Can the Military Discharge You with No Reason?
No. At least, not really. There is always a reason. But I think what you are asking is whether or not the military can discharge you through no fault of your own? In that case, the answer is, sometimes.
In some cases, the military can elect to discharge people through downsizing, or a process often referred to as Force Shaping, or Reduction in Force (RIF). The military is getting smaller right now due to changes in requirements, the way wars are fought, and of course, due to budget constraints. The Department of Defense (DoD) has determined the final number of people they need to get down to, and then they are coming up with ways to reach those goals. In some cases, they allow members to retire early. They also ask for volunteers to leave the service early. It is only after they don't get volunteers or early retirements that they will let people go. If they do let people go, it is often with some form of separation pay, which you can read about here.
While you can't completely prevent being laid off from the military, there are some things you can do to reduce your odds of being selected for Force Shaping, such as choosing a career field that is undermanned, or that won't be going away in the near future, maintaining military standards (not failing any training or physical fitness tests, for example), and maintaining strong annual performance reviews. None of those are foolproof, but they will make you more competitive for keeping your job.
Listen to our Force Shaping Podcast for tips on surviving a military layoff.
Military Can Still Be a Good Career Option
The military can be a great career, but there are many risks – physical risks being the obvious. There are other risks such as not being able to control where you live, when you are called to go somewhere, and as you mentioned, there is also the risk of being "laid off," which is why you wrote your question. That said, don't let that dissuade you from joining if you feel the military is a good option for you. You can still have a great military career or use the military to launch the next stage of your career, even if you only serve one tour.
I'll give myself as an example. I joined the Air Force on a six year enlistment. During my six years I had the opportunity and good fortune to travel the world, learn a trade, earn my degree (which the military paid for), and gain a variety of experiences I could take with me into the real world after leaving the military, which I did.
After serving my six year tour, I was ready for a change. I left the military and entered into the civilian world where I used my Air Force experience while working as a consultant to the Department of Defense. I worked for about 4 years in the corporate world before starting on my own as an entrepreneur. I am now self-employed. Would I be here today if I hadn't joined the Air Force? Probably not, as leaving the military was a big inspiration for starting my business (and this site you are reading is part of my business as well; and I certainly wouldn't have the knowledge to run this site without having first served in the military).
And my military experience didn't end there — I later joined the Air National Guard because I missed being around the military environment.
If you look at you career in terms of seasons, I am now on my fourth season (Air Force, civilian contractor, self-employed, Air National Guard), and all four were directly impacted by my military service. Even though I only served on tour on active duty, my life has been greatly impacted by those 6 years on active duty!
But Getting Laid Off is Different than Choosing to Leave!
Absolutely. Getting laid off is never easy. Thankfully, Reduction in Force measures only impact a very small percentage of servicemembers, and the military does take some steps to make it easier for those they lay off. For example, enlisted members are given advance notice they will not be allowed to reenlist when their contract is up. This is generally done with at least 6-12 months notice, and sometimes much longer. Officers are usually given a deadline to leave, but they usually have a similar window. Almost all military members will be able to complete at least one tour of duty before they are RIF'd (and again, it will only ever impact a very small percentage of servicemembers).
Separation pay is also given to military members with at least six years of service. Separation pay is determined with the following rules:
Monthly base pay x 12 x years of active duty service*, x 10%

You could also say this as – 10% of your Annual Base Pay, times the number of years you have served.

*Months of service are counted as 1/12 of a year.
Let's work through an example of an E-5 receiving involuntary separation pay at 6 years:
$2,734.50 base pay x 12 = $32,814.00

$32,814.00 x 6 (number of years served) = $196,884.00

$196,884.00 x 10% = $19,688.40 = Full Separation Pay.
To determine the separation pay you may be eligible to receive, simply plug in your base pay, number of years (including fractions), and multiple by 10%. The longer you have served and the higher your rank, the greater the value of your separation payment.
Benefits to Help through the Transition Period
The military and other organizations offer many benefits to help you through the transition process. Here are just a few of the major programs you may be eligible to receive when you separate from the military:
Health care benefits during transition. The military also provides additional health care benefits to those who are involuntarily separated. The Transitional Assistance Management Program provides full health care benefits to the military member and his or her dependents for 180 days after separation. COBRA benefits are also available.
Unemployment benefits are also available to separating military members (except retirees, who receive an immediate pension). So you can have that to fall back on.
Employment programs & Job fairs: There are also many employment programs to help you find work after leaving the military. These are often available through local agencies such as your state or county employment bureau. There are also federal hiring programs for veterans. Finally, there are many job fairs that specifically target veterans. You may even find that your military experience is highly sought after, especially if you have a top secret clearance.
National Guard or Reserves is Another Career Option After Active Duty
Even if you do get involuntarily separated from active duty, you may still be able to join the National Guard or Reserves (podcast/article). The Guard and Reserves, if you are not familiar, is a part-time version of active duty, but they can be called up to active duty in an emergency. The typical schedule is one weekend a month, two weeks a year. But there are also many Guard and Reserve members who work a full-time schedule, or more days than the normal one weekend a month, two weeks a year schedule.
There are many benefits to joining the Guard and Reserves, including access to certain benefits, including inexpensive health care, pay, you continue working toward earning a military retirement, which you would be able to start receiving at age 60, and just as important – you can continue to be part of the military, which is important for many people. It's very difficult to leave the military, so even participating in it part time can have a dramatic impact on you.
Some National Guard and Reserve jobs tie into civil service jobs, so you can get the benefit of working a civilian job during the week and do the same job once a month in the military.
Additional Veterans Benefits
Finally, there are other benefits you may be eligible to receive after leaving the military, including the Post-9/11 GI Bill, which will pay for your college tuition and provide a housing stipend while you attend school, the VA Loan which can help you buy a house with no money down, and many other benefits.
How valuable is the Post-9/11 GI Bill? Incredibly valuable. It will pay for college tuition up to the amount of the most expensive state college where you attend school. It will also give you a housing allowance at the E-5 with dependents rate. That varies by location, but can range anywhere from around $600 a month, up to almost $3,000 per month. You can use those benefits for 36 months of tuition. Those 36 months only apply while you attend school, so that equates to a four year degree when you take summer breaks into account. Here is a recent podcast and article discussing how to use the Post-9/11 GI Bill.
VA Loan. I mentioned the VA Loan. That allows veterans to buy a home with no down payment, often at rates that are slightly lower than a conventional mortgage. That is because the loan is backed by the Department of Veterans Affairs, which makes them a little safer for banks. The closing costs may be waived for veterans with a service connected disability.
See our Veterans Benefits Guide for more veterans benefits.
Should You Join the Military?
I won't even pretend to give you an answer on whether you should join the military or not. That is a personal decision that needs to be made by you, and you alone, unless you are married. Then it's important to involve your spouse.
Look, there are hundreds of reasons to join the military, and just as many reasons not to join. But I don't think you need to worry about getting laid off. Can it happen? Absolutely.
If you join the military and do get laid off, then you should have the poise and experience to roll with the punches. Use your skills, education, and experience to use your military time as a launching pad to your next adventure. Or consider joining the Guard or Reserves. That too, can be an amazing opportunity to grow your professional skills and continue earning money now, and toward retirement.
Or you could also end up making the military a career, earning a pension after 20 years of active duty service.
There are many opportunities if you join the military. I would encourage you to investigate those fully. There are amazing opportunities for your career, education, travel, friendship, camaraderie, service, and more. The time I spent on active duty were some of the most amazing years of my life, and I know many people who feel the same way. If this is something you want, then chase it down.
More podcasts on joining the military: Listen to podcast episodes 5 & 6, where we discuss active duty military benefits and joining the military, respectively. You can listen to them or subscribe to our podcast on iTunes.
About Post Author