Podcast: Play in new window | Download
Subscribe: Apple Podcasts | Google Podcasts | RSS
Your military records are the most important thing you have when it comes to receiving your military and veterans benefits. I'd love to tell you that your records are secure. But they aren't. At least, not always. It's up to you to keep copies of all your military records – in some cases, forever. Why? Because in 1973, a fire at the National Archives destroyed millions of military records. The staff at the National Archives is still working to this day to salvage any meaningful records from the destruction. But many veterans lost all records of their service. The only remaining records are in their personal records—if they still have them.
In more recent news, the VA Office of Inspector General released a report of a 2015 investigation that documented how hundreds of veterans' benefits claims records were destroyed before they were properly recorded. Those veterans' claims were never properly processed, and they missed out on benefits they may have been eligible to receive. You can read the VA IG Report here. This is tragic.
Why Keeping Records is Essential:
Natural disasters, systemic illegal destruction of records, loss, theft, damage, and even simple mistakes. Simply put, no system is perfect, whether at the organizational level or national level.
It is strongly recommended that every veteran maintain copies of their records and frequently verify the correct information is reflected in official military or veterans records keeping systems.
In today's article and podcast, we discuss which records you need to keep and for how long. We also discuss some strategies for storage and digital filing so you can keep digital copies of your records safe from damage, theft, and destruction.
Table of Contents
Why Your Military Records Are Important
There are a thousand reasons why your military records are important – from your enlistment paperwork to your discharge paperwork to the hand receipt you signed when you were issued an item you need to return.
Active Duty
For active duty, your military records can mean the difference between proving you are supposed to receive an enlistment bonus (found on your enlistment/reenlistment contract), and not receiving a bonus. It can mean the difference between accelerated rank, and a normal progression through the ranks. It could mean reimbursing the government for an issued item you returned or providing the agency with a signed hand receipt showing you have returned the item.
Guard & Reserves
For members of the Guard or Reserves, your records may make the difference between being able to retire, and not being able to retire. You can prove you earned more Points than are showing up in the system. Your deployment or other Title 10 active duty orders can also have a massive impact on your benefits eligibility, including early retirement benefits. Good record keeping is essential for members of the Guard or Reserves, as frequent base closures and realignments among Guard and Reserve bases have resulted in the loss or misplacement of decades worth of military service records.
Veterans
For veterans, your military records can open the doors to hundreds of thousands of dollars worth of benefits, including education benefits with the GI Bill, being able to receive a Certificate of Eligibility for the VA Loan, having copies of your orders may prove you were in a war zone, which may open the doors to VA health care eligibility, and much more. You also need a copy of your DD 214 or other military discharge paperwork to receive a military burial.
Awards and Decorations? Military Orders? Enlistment or reenlistment paperwork? Discharge paperwork? Keep it all.
Let's jump in and take a big-picture view of military records and look at which records you need to keep and for how long.
Types of Military Records
For this article and podcast, we're going to break military records into two categories—short-term and long-term. The difference is just what it sounds like – short-term records are anything you keep that may be useful for a finite period. This could mean a year for annual training, for the duration of a TDY or deployment, for the duration of your assignment, etc. Long-term will refer to anything that is assumed should be kept forever.
Short-Term Military Records
You don't need to keep every military document you receive. But it's a good idea to hang on to some of them for a while, just in case. I can't tell you how much time, energy, and frustration I have saved by keeping copies of my records.
Here are a couple of examples when having a simple sheet of paper saved me:
Training Certificates for Annual Computer-Based Training:
Training systems usually update your training status automatically when you take a Computer Based Training course. But sometimes, they don't update properly, and you may have to either retake the training or prove you have already completed it.
Printing your training certificate proves you completed the training and can save you a lot of time and effort. This has happened to almost everyone I know at some point. Printing a simple sheet of paper can save you an untold number of hours throughout your career.
Hand Receipts:
I once received a notice that I needed to return my gas mask or pay several hundred dollars. I had already returned it, but apparently, it was misplaced on the rack. The copy of my hand receipt saved me from writing a big check to Uncle Sam.
Papers & Records You Should Keep for the Short Term:
Annual Training Requirements – (such as computer-based training)
Issue Receipts – any hand receipt you sign when you take ownership of an item that needs to be returned (typically equipment and gear; examples include technology such as a computer or cell phone, safety equipment, expensive uniform items such as cold weather parkas, etc.)
Anything Related to Your Current Assignment – local training requirements, local issue items, etc.
Other – any record you think may be important over the short term. Some items expire and can be discarded accordingly. You may no longer need certain training records or documents if you cross-train into a new career field, etc. Use your judgment.
How long should you keep these temporary records?
Only as long as the document is valid. For example, you only need to keep an annual training certificate for up to 12 months or until you notice the training has been updated in your official records. You may need to keep other documents for the duration of your assignment or until they expire.
Military Records You Should Keep Permanently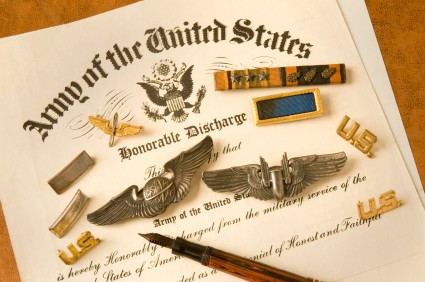 Some military records should be maintained forever. While this might seem like overkill, it's really the smart thing to do. Ask any veteran who has had to jump through hoops to receive their proper benefits, or that has been impacted by loss of benefits because their records were not available for one reason or another.
The following list is not comprehensive, but should give you an idea of some of the benefits you should maintain copies of indefinitely:
Contracts – enlistment contracts, reenlistment, contract extensions, bonuses, promotion certificates, Commissioning letter, etc.
Medical Records
Proof of military service or separation paperwork, including DD Form 214 (Active Duty), NGB Forms 22 and 22A (Army and Air National Guard), DD Form 256 (Reserves), or other separation documents.
Pay & Benefits Statements (LES, mid-month pay)
Annual Points statement (Guard or Reserves)
Retirement Paperwork
20-year letter (Guard / Reserve)
Copies of Awards and Decorations
Certificate of Eligibility for VA Loan
Certificate of Eligibility for GI Bill (and proof of payment for GI Bill Kicker if you bought into it)
Copies of all orders – TDY's, deployments, activations and mobilizations for Guard / Reserves, etc.
Anything else you deem worthy of keeping
Again, the above list isn't meant to be comprehensive. It's designed to get you thinking about the long term and whether that specific document could be important at some point in the future. If you think it might be, then keep a copy – preferably a physical copy and a digital backup.
How to Store Your Military Records and Documents
Document organization and storage are important. It doesn't do you any good to have a copy of your records if you can't find them, or they get destroyed by an accident, a natural disaster, or through negligence.
My preference is to maintain both physical and digital copies of records. In most cases a digital copy is enough to get your benefits or prove service. But there are times when an original may be required – this can be common with the DD 214 or other separation paperwork.
Physical Storage
I keep my physical documents segregated by topic. All of my medical records are together in a large manila envelope. Likewise, I keep all my pay and earnings statements together, my orders are in one location, contracts, VA benefits, etc. These are all stored in a filing cabinet where I have quick access to them if needed.
Digital Storage
Digital storage is very similar for me, except for the medium and how I use the filing and naming conventions for quick access. My digital filing system uses top level folders for the major categories (military records, VA Benefits, Air National Guard, etc.). Then I break things down by topic. Here is an example:
VA Benefits (Primary Folder) –> GI Bill (Secondary Folder) –> Individual Files
VA Benefits (Primary Folder) –> VA Disability Compensation (Secondary Folder) –> Individual Files
etc.
Top level folders have a simple descriptive name, but the individual files have a standardized naming convention to make it faster/easier to locate file. Here are a couple examples:
VA_Form_(insert form number)_YYYY_MM_DD.pdf
VA_Form_(insert form number)_FY_2016.pdf
You can use any naming convention that works for you. Just try to keep things standardized to make locating files faster and easier.
Back up your digital files!
Digital files are great because they are more or less permanent, can be used for printing physical copies if needed, can be uploaded for online claims filing, etc. But they are only good as long as you still have the copies.
I back up my digital files to an external hard drive, and to the cloud with DropBox. Online backup systems such as DropBox, Microsoft OneDrive, Apple iCloud, and Google Drive can also synchronize your files between computers, which is nice if you use more than one computer.
I discuss more about paper and digital organization in this article about organizing tax documents.
Getting Copies of Your Military Records

I recommend you keep copies of everything, but inevitably there will be a time when you don't have a document you need. In general, an individual's military records are maintained by each branch of the military for around 5-10 years after the service member separates, after which records are sent to the National Archives where they are permanently maintained. You can request copies of records directly from the National Archives. In most cases, there is no charge for individual records.
Records available from the National Archives:
Getting Copies of Your VA Records
The VA is where you can get copies of your veterans records, including copies of your VA medical records, GI Bill letter of eligibility, Certificate of Eligibility for VA Loans, and much more. The easiest way to get copies of your records is by signing up for a VA eBenefits account.
An eBenefits account is free to open, and you can download documents, create claims, submit papers, and do much more through your eBenefits account. Every veteran should consider opening an eBenefits account.
About Post Author