National Military Spouse Appreciation Day is officially observed the Friday before Mother's Day. This year, it is celebrated Friday, May 12, 2023.
US Military Veterans have two major holidays devoted to recognizing their bravery and sacrifice. Memorial Day and Veterans Day are there to remind us of the millions of Americans who have worn the uniform to defend our country, and in the case of Memorial Day, remember those who made the ultimate sacrifice. We also frequently celebrate military members and veterans on July 4th. However, there is another important holiday that is frequently overlooked: National Military Spouse Appreciation Day.
It is important that we don't overlook the sacrifices of those who support our military. I'm referring, of course, to the millions of men and women who make daily sacrifices as a military spouse. Perhaps the only thing as difficult as being a military member is loving one.
National Military Spouse Appreciation Day
The military way of life can be difficult for everyone in the family – for the servicemember, his or her spouse, and their child(ren). Everyone knows how hard it can be on service members – always being on call, long deployments in dangerous situations, and always putting the military first, often ahead of family and personal interests.
But being a military dependent is no easy task either. Spouses and children are often required to frequently move, to change jobs and schools, and hold down the fort while the servicemember is deployed or on temporary duty. Without military spouses and the support they give, military servicemembers wouldn't be able to concentrate on the tasks at hand. Honoring spouses with a day or recognition is just one way to show appreciation.
Military Spouse Appreciation Day History: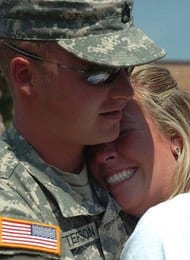 Military Spouse Appreciation Day was created by President Reagan in 1984 to recognize the sacrifices and support of military spouses. The first Military Spouse Appreciation Day was celebrated on May 23, 1984. The date has since been standardized as the Friday before Mother's Day. Military Spouse Appreciation Day was formally made part of National Military Appreciation Month in 1999.
When is Military Spouse Appreciation Day?
Military Spouse Day is the Friday before Mother's Day. This year, it is celebrated Friday, May 12, 2023.
How is Military Spouse Appreciation Day Observed?
This holiday is normally commemorated by a ceremonial speech or proclamation by the President or the First Lady. Many military installations often celebrate Military Spouse Appreciation Day with local events and ceremonies. Check with your local military installation for more information.
Other Ways Military Spouses are Honored Throughout the Year
There are many benefits available to military spouses. Some of these are available directly through the military, while others are built into the tax code.
Benefits Available to Military Spouses
Many bases and local military communities have special opportunities for military spouses that are available year-round. These can include
Many installations offer additional services or benefits when the service member is deployed. These can include things such as discounts, assistance with child care or home maintenance, oil changes or vehicle inspections, etc. Be sure to check with your base community center or similar office for more information.
Military Spouse Tax Benefits
The government also recognizes that military spouses are not always given an option of when or where they are required to move, which was the reason they created the Military Spouses Residency Relief Act, which allows military spouses to claim their original state of residence on their taxes.
This can be a big help if the spouse is originally from a state with a lower tax rate (or no state taxes at all). I wish I had known about the Military Spouses Residency Relief Act when I was newly married (I had already separated from the USAF when my wife and I were married. She was still in the USAF and I could have maintained my Texas residency and avoided paying state income taxes while she was active duty).
Employment Opportunities for Military Spouses
Employment can be difficult for military spouses, especially when they frequently move. There are many employers who provide excellent employment opportunities for military spouses. Here is a list of the best employers for military spouses.
Showing Your Appreciation
The military offers a unique way of life, and being a military spouse is unlike anything else in the civilian world. If you know anyone who is or was a military spouse, take some time to say thanks to them today, and take a moment to remember them and their sacrifices throughout the year. The military truly wouldn't function the same way without them and their support and sacrifices.
You can read more here.
Photo credit: The U.S. Army
About Post Author