Table of Contents
My spouse and I joined the military in the late 1970s. We've been military spouses since 1986, and I was a member of several fine Wives Clubs in the 1980s-90s. Thankfully, the military's gender policies have improved quite a bit over the last 40 years.
The male military spouse situation has also improved a bit during this millennium, thanks to the efforts of dozens of male military spouses like Chris Pape over at MachoSpouse.com and Dave Etter at the Male Military Spouse Radio Show.
These days I'm a member of a number of Facebook military spouse groups. (A few of the women still start their posts with "Hey, ladies!" but they're getting better.) For example, if you're a Navy officer spouse (of either gender) then you're welcome at "THE Navy Officer Spouses Club" group.
If you're a male military spouse, feel free to join "The Men's Room" male military spouse group on Facebook to discuss the finer points of important guy topics like bacon and barbecues.
I've even attended several USAA conferences where almost everyone is a military veteran or a military spouse (and like me, a few are both).
Military spouses have made a lot of progress over the years, but there's still a huge challenge: good jobs.
The Issues Confronting Military Spouse Careers
All of these groups talk about a common theme: military spouses have a hard time building their careers.
(Tens of thousands of military spouses around the globe just spluttered: "Well, duh.")
It's more than simply the frequent moves and solo parenting. (Civilians deal with those issues too, and they somehow manage to build careers in spite of those obstacles.) The biggest challenges are living in small towns or isolated locations (lacking in Fortune 500 corporations) and having to be available at short notice to cover childcare.
It's dealing with companies who don't want to hire someone when they know they'll only be around for 12-36 months.
It's being stationed overseas, where the Status Of Forces Agreement with the host nation discourages hiring American spouses even if an employer wants to hire them, creating a huge barrier for remote jobs for military spouses overseas.
It's a lack of reciprocal credentials across state lines, where you'd have to be licensed in a dozen states over the next two decades while following your spouse's military career.
Here's the downside of improving gender equality: employers don't care about your gender because few of them really want to hire a military spouse in the first place.
The good news: awareness is rising among corporations and other employers. However, there are still many discouraged military spouses all over the world (of both genders) who want to use their skills and certifications, and who just want to have a career on their own merits.
Governments, corporations, and non-profit organizations have found three ways to solve the challenge:
Programs that help train, interview, and hire military spouses,
Employers who want to hire military spouses (for very good reasons), and
Starting your own entrepreneurial career.
This post started out as a response to a reader question, and then I crowdsourced it on a few social-media groups. We'll cover the gamut from traditional corporate careers to part-time jobs, gigs, freelancing, and starting your own business. You can browse the sections, or even skip down to the end for the links to some of the most outrageous side hustles you've ever read about.
Every one of them is perfectly legal, and of course, they're all safe for reading at work as well as at home. Well, except maybe for one (it's still perfectly legal!) that you'll encounter at the end of this post.
Military Spouse Career Resources
I'll be blunt: these resource programs are a hand up, not a handout. They'll help you figure out what you want and show you how to get there. They'll assist with résumés and interview skills and even wardrobe tips.
They'll bring companies to job fairs and hiring conferences, but you have to supply the motivation and initiative.
The groups in this section are national organizations who have helped thousands of people. All of these programs work for some military spouses, but they might not be for you. All of them can help you with the basics, but you'll have to do your own research to find advanced tutoring and assistance.
Gentlemen, I'll apologize in advance for the gender bias of some of these resources. When over 90% of milspouses are still women, the organizers are going for the majority customer demographic. I've pointed out that they're ignoring one of the military's fastest-growing demographics, and that they could easily boost their business at least 10% simply by adopting a gender-neutral approach.
You're quite familiar with the feeling of walking into a meeting where you're the only guy in the room. If this happens to you among these groups, and if you don't feel welcome, then keep on walking. They'll eventually figure out that they need to change their approach, or else they'll lose their clients.
What Are Portable Careers?
They're pretty much what they sound like… careers that you can transport from one place to another, depending on where your service member spouse is stationed.
Some types of jobs and careers are more portable than others. If you tend to move around a lot, then part of what you might want to consider is how to get the right skills, training, and experience you'll need that will move easily from one place to another.
The other key is to pay attention to what employers value no matter where you live. For example, technology, organizational, and communications jobs have universal appeal.
Other types of portable careers may include employment in more specialized fields such as culinary arts, photography, copywriting, or various types of design work.
Also don't discount portable independent contracting jobs such as an online tutor, application developer, virtual assistant, fitness instructor, technical support, and website design/development.
The key is to find a career you're passionate about and then try to design a job that takes into portability.
The Best Careers for Military Spouses
The best careers are going to be the ones you're happy doing. However, you need to be practical as well.
Fortunately, there are several resources you can tap into that will help you do a deep dive as to what's available as you consider your options.
The Military Spouse Employment Partnership lists open positions available from approximately 300 partners who focus on portable career field opportunities for spouses. Several of these partners offer virtual jobs in customer service, legal, accounting, counseling and others. Some have facilities in multiple locations making it easier to continue your career path with the same organization as you transfer to new locations.
This service has already helped more than 90,000 spouses find jobs. They're constantly adding new events (both online and in person) to the calendar on their website.
Hiring Our Heroes, a program of the U.S. Chamber of Commerce Foundation which recently acquired In Gear Career. HOH isn't just trying to find jobs for military spouses– they're serving everyone who's making the transition, and they realize that corporations have to recruit spouses as well as veterans. One of the leaders in this initiative is USAA, who powers the Employer Roadmap feature of Hiring Our Heroes to show employers how to hire (and retain) military spouses
The Military Spouse Corporate Career Network is a non-profit with over a decade of experience at connecting milspouses with employers. When you upload your résumé, they'll contribute up to five hours of one-on-one discussion. They might connect you directly with an employer, but they also work with other programs. You can figure out how to boost your job skills or work on your search & interview skills.
I get a lot of reader feedback on the USAJOBS website (and its entire hiring system). Although the application process seems straightforward, the actual hiring process is very poorly communicated and incredibly frustrating. Many of the listings may be there simply to satisfy the legal requirements of advertising for what will become an internal hire. (The hiring agency might even have already identified the candidate they're planning to hire.) The hiring agency could also be listing the job many months before they have the funding to fill it, especially in early spring or summer.
If you decide to apply to an opening on USAJOBS, then don't expect much feedback. Keep searching for other opportunities. Whatever happens to that position is not a reflection on your skills, experience, or potential. Don't take it personally. The good news about getting through the USAJOBS process is that once you've been hired by the federal government, you may find it a little easier to move around in the system. Be patient, but stay busy with the rest of your career search.
Kate Horrell (who runs the Paycheck Chronicles column at Military.com) has five suggestions for dealing with being "stuck" at a duty station that doesn't seem to have your job. She's spent over two decades building her career and she understands the struggle.
These are just a few of the programs I've encountered in the last year, and there are many more in your local community. If you're seeking a local job (especially entry-level) then you should also check your military base's employment office.
Let me conclude this section with advice from a military spouse who's embraced the gig economy:
One other thing I would like to suggest is to forgo the concept of the traditional "career" or even "job". Start taking up "gigs" instead. You can find all sorts of temporary work out there that's not steady, not traditional, but still loads of fun and financially rewarding.

Since my spouse and I ended up in [an extremely small town in the middle of the plains] I realized my employment options were Walmart, Walmart, or… the other Walmart. Instead, I started working in the "anything for a buck" business. Sign up with temp agencies, ask around, check the "Gigs" section of Craigslist.

I worked on Bestbuy remodels, I stocked RedBox machines, I worked on food trucks, I traveled to state fairs and rodeos and sold cowboy boots and saddles. When you do this kind of work, you can accept or decline jobs based on YOUR schedule and not an employer's 9-5 needs. The pay is always better than you would expect from a traditional employer.
I'll add to their commentary by pointing out that gigs will create a résumé full of sales and marketing experience, as well as logistics planning and possibly even team leadership. If your chronological résumé lists "Walmart, Walmart, and another Walmart"… then maybe it's time to write an occupational résumé for "a decade of short-term sales and marketing projects across a wide range of businesses".
If you're seeking a traditional corporate career, then I hope this section helps you find what you want. However, you're still moving every few years, and eventually, you'll end up in a town where the corporations just aren't hiring and everyone's competing for gigs. When you're at your current job and contemplating a move in the next 6-12 months, then perhaps it's time to talk to your current employer about remote work.
What About the Option of Remote Work?
I'll be blunt: this tactic fails more often than it works. Lower your expectations so that you can be pleasantly surprised if your employer comes through. This is a sales pitch, and you'll need to handle rejection with poise and professionalism.
"Going remote" has two criteria: you enjoy your career with that corporation, and they appreciate your value. (If one of these factors is lacking at your current job, then you can skip this section.
You don't want to keep working for these people anyway, let alone try to persuade them to pay you for doing it remotely.) You have to educate your employer on the ROI of retaining you– and the expense of hiring & training your replacement.
You'll have to figure out how your job can be done remotely, and then you'll have to sell the plan to the company.
Your pitch is straightforward: if the company wants to keep you (or at least avoid the expense of replacing you) then they should try remote work for six months. You and your boss already know what Plan B is, and they have nothing to lose by trying to keep you. (See the rest of this post for Plan C and Plan D.) You'll have to educate the employer on the drawbacks (and their solutions) but you'll also have to help them solve their existing problems.
Maybe your new location is in an area where they can pursue new customers, or maybe you can save the company the travel expenses of sending their staff to work with existing customers. Maybe you'll give up some of your employee benefits and become a consultant or a contract worker. You have little to lose: all of these options are better than simply resigning your current job and starting over someplace else. Hopefully, your employer doesn't want to lose you either.
Be aware of another downside of pitching your employer on remote work: you've effectively told them that you're leaving the area. They may not only ignore your proposal but might even let you go that same day. The good news is that you don't want to work for that employer anyway, and now you can start your job search for your next duty station.
Going remote is also an intermediate step on the way to freelancing and creating your own career.
Freelancing
Yeah, I know. "Work at home" is full of scams & spam. The hours are endless and the pay is low (if the client pays at all) from an endless stream of invoices and 1099s. You're isolated from real human social contact while you're wearing a headset and banging away on a keyboard. Worst of all, you're still working for somebody else instead of running your own business on your own schedule.
Fine, I understand. If freelancing doesn't seem right for you, then keep working those career searches described above. I hope that succeeds! If not, you can return to this section anytime.
I'm a successful freelancer, but you don't have to take my word. Kate Horrell has more advice on seven occasional jobs for at-home parents that don't require headsets, keyboards, writing, or (in most cases) 1099s. NexGenMilspouse has seven more freelance sources with dozens of different categories of part-time or full-time gigs.
Emily Guy Birken, another career author, freelancer, and at-home parent, has ten ideas. (I've met Emily at FinCon, an annual personal-finance conference run by Philip Taylor, the owner of that PTMoney site hosting Emily's post.) Other freelancers have discovered even more sites for using your skills or exploring your interests.
One of my favorite websites, The Wirecutter, was founded by entrepreneur and tech writer Brian Lam. After he cashed out from Silicon Valley he moved to Hawaii (because: surfing), and then discovered that he still missed the adventure of starting a business.
The Wirecutter is constantly seeking writers to review gadgets, gear, electronics, home automation, and hardware products from drones to electric vehicles. It's truly remote work and freelancing with people who know how to do it right.
By the way, if you decide to write then the best resource that I've read on freelance writing is Miranda Marquit's "Confessions Of A Professional Blogger". (She's earned a location-independent living at freelancing for more than a decade.) For some quickstart tips, read military spouse Hannah Becker's freelance advice from MOAA. In addition to freelancing for others, when you decide to earn money from your blog, then read these tips from eight writers— several of whom I've met at financial conferences.
I'll wrap up this section by pointing out some of those work-at-home scams, along with legitimate alternatives.
Can You Make Money Online as a Military Spouse?
Many of the things we've already talked about have an online or work at home component, so the answer is a qualified "yes" when it comes to making money online.
There are several hybrid opportunities and they have accelerated in popularity due to the Covid-19 pandemic. The working world has forever morphed and opened up remote money-making careers like never before. There are literally hundreds of digital business possibilities based on your specific skill set and experience. The best news is that many of them are highly portable.
The Internet has changed the corporate world, and it can change your life too. Many businesses can be started for under $100 and you have over a dozen modern financing option at low expenses (or for free). Instead of trying to succeed in a corporate struggle where the rules are rigged against you, create your own corporation and choose the rules that will help you.
In this section, I'll stick to areas where I have personal experience. If I needed to earn money from more than writing, I'd pick one of these fields.
For example, you can fix stuff. You might already do it at home with your own appliances.
Appliance repair? Seriously?!? I'll admit that this field has far more men in it than women, but my daughter doesn't see any relevance in that gender statistic. She's spent a lifetime helping me fix appliances (and many other things) because she finds it challenging and fulfilling to solve the problems.
Even if you're not interested in being paid to fix other people's appliances, then at least you'll never again be at the mercy of a repair call. But if you show the slightest bit of potential and interest in the field, then the Appliance Samurai at Appliantology will show you how to get other people to pay you for it. (His commentary on beer and martial arts is free.)
You might be able to tell that he started his career nearly 40 years ago as a military electronics tech, turned it into his own appliance-repair business, and now uses his experience to train the next generation of appliance techs.
You don't even have to get people to pay you to fix their appliances. You simply buy their old appliances, fix them on your time, and resell them. It's just one aspect of a ReCraigslist business model, and when your processes are efficient then your revenue will scale.
If you gravitate toward personal finance but don't enjoy blogging or freelance writing, then consider professional financial designations like Certified Public Accountant or Certified Financial Planner. Admittedly they require significant education, study, and hard work, but they prove that you have the skills to help people manage their money.
Much of the educational expense could be covered by GI Bill benefits or scholarships. Startup and compliance costs can run into the thousands of dollars, or you can work for a firm until you're ready to strike out on your own.
For example, my shipmate Norm Okada pursued a career as a Personal Financial Management Specialist at a Fleet and Family Support Center. Instead of selling insurance or investments, he earns his living by paying it forward to the next generation of military service members & families. Military veterans and spouses Rob Aeschbach and Forrest Baumhover both earned their CFPs and run their own businesses.
Better yet, they apply their military expertise to serve military clients all over the world via e-mail and Skype. Rob has helped hundreds of junior sailors at the Navy-Marine Corps Relief Society, and he gives excellent advice to new junior officers– like my daughter.
By the way, when you start your business then Rosie's List of The Rosie Network is happy to promote your military family-owned services.
Outrageous Side Hustles, Gigs, and Other Ideas
Let's wrap up this post with a final call to action. If you've clicked through all the links up there and still haven't found something to pique your interest, then let's inspire your creativity with a long list of other earning examples.
The first three entrepreneurs are growing richer by helping other people figure out how to make money, and they've built a long list of other unconventional approaches to self-employment. The others are niche occupations that didn't seem to fit well in the rest of the post, so I've added them here.
I'll throw these links here with the endorsement that I know most of these entrepreneurs from conferences or social media connections. All of this advice is working now, and I'd do a few of these projects myself if I wanted the extra income. It's not always easy, but it's relatively straightforward.
25 Self-Employed Jobs that you can start today. (Jeff Rose is a military veteran, CFP, and entrepreneur whose annual earnings are nearly into seven figures.)
How to earn $500 per month in side hustles. (Jim Wang sold his last blog for $3M, so I trust his WalletHacks credibility.)
Crazy business ideas that make money (Steve Chou had a pretty crazy idea, too…)
Military spouse careers for interior design, decorating, and staging.
Gunsmithing at home through the Sonoran Desert Institute. (If you have questions, I can introduce you to a military spouse who just finished the course.)
If you've heard my voice, you know I'm fascinated by voiceover work.
And finally, 64 Side Hustles and counting (well, maybe not #18). J. Money is one of the Internet's most creative thinkers, hustlers, and networkers. If you can't find an idea here then this post can't help you. But if you come up with a new one for this list, please tell us!
Help out your fellow military community spouses: what other advice would you like to read in this "Portable Careers" post? What's worked for you?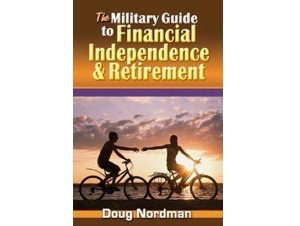 View on Amazon
Military Guide to Financial Independence
This book provides servicemembers, veterans, and their families with a critical roadmap for becoming financially independent. Topics include:
Military pension
TSP
Tricare Health System
& More
About Post Author