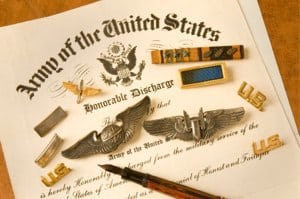 Military and veterans benefits often vary from person to person. Many factors determine which benefits you may be eligible for, including when and where you served, how long you were in the service, and whether you were on active duty or in the Guard or Reserves. Our question today is from a former Reservist who received a DD Form 256 and wants to know if this can be used to obtain a DD Form 214 to qualify for certain Veterans Benefits.
Here is his question:
I am wondering if you have had any experience helping a veteran receive a DD214. I was in the USAFR from January 1967 through January 1973, Honorably Discharged. I received my DD256 but it is not sufficient to qualify for Medical Benefits. The requirement is to have a DD214. My question involves determining if there is a process to now secure a DD214. Any assistance would be appreciated.
Thanks for contacting me. This is a common question among former Guard and Reserve members. Let's define a couple of common military discharge forms to answer your question better.
DD Form 256: Honorable Discharge Certificate
DD Form 257: General Discharge Certificate
A DD Form 214 is only issued to servicemembers when they separate from active duty service. This can include active duty for purposes of initial training (basic training plus AIT / Tech school), even if the member then goes to the Reserve Component as a Traditional Guard or Reserve member.
In addition to the DD Form 214 received after initial training, members of the Reserve Component should receive a DD Form 214 when they leave active duty if they served at least 90 consecutive days or more of active duty service. This often applies to mobilizations or activation under Title 10 orders and other circumstances.
Members of the Guard or Reserves who have been activated more than once may have been issued more than one DD Form 214. The paperwork can get tricky in these circumstances because, technically, the member is released from his Guard commitment and immediately enrolled on active duty service. At the end of the activation period, the member is discharged from active duty, issued a DD Form 214, and reinstated into his or her Guard or Reserve status.
Be sure to verify your DD form 214 shows all periods of active duty service. The best time to correct service records is while you are still serving. So be sure to get copies of all records and ensure their accuracy. As always, try to keep copies of your military records forever. You can keep physical copies or scan them and keep digital copies backed up online.
Members of the Guard and Reserves receive a DD Form 256, Discharge Certificate, upon completion of their service agreement and their time in the Regular Reserves, Guard, or Individual Ready Reserve (IRR).
Learn More about these discharge certificates and when they are issued: Each military branch most likely publishes a guide for discharge certificates. Here is the latest from the USAF Reserves: AFI 36-3202, Separation Documents. It covers when certain forms are issued and why.
Why a DD Form 214 is Important
As alluded to in the reader question, a DD Form 214 is often required by the VA and other benefits organizations to qualify for veterans benefits. It is the key to proving military service and qualifying for various veterans benefits. Because of this, a veteran's DD Form 214 is probably his or her most valuable military document.
The instructions the veteran receives with the DD Form 214 are simple: Don't lose it! (It's OK if you did; we will show you how to get a replacement further down the page).
But what if you never received a DD Form 214?
All active duty servicemembers are issued a DD Form 214 when they separate from active duty. If you didn't receive a DD Form 214 when you left the service, you should contact your last unit if you separated recently. You can also contact your branch of service admin headquarters (Army Human Resources Command, Air Force Personnel Center, or Navy BUPERS).
Each branch of the service maintains personnel records for about 5-10 years before sending them to the National Archives. If your branch of service no longer has these records, then you should contact the National Archives, where military service records are permanently maintained.
Members of the Reserve Corp only receive a DD Form 214 when they served on active duty – usually after initial training and after separating from active duty after serving at least 90 consecutive days.
If you served in the Guard or Reserves but were never activated, you may not have a DD Form 214. This is the case even if you successfully and honorably served your term. Guard and Reserve members who complete their term of service are issued a DD Form 256 (Honorable Discharge Certificate) or DD Form 257 (General Discharge Certificate) upon completion of their term.
If you were activated while part of the Reserves, you should have a DD Form 214. However, some older Guard or Reserve members have reported not receiving a physical form. If you believe you should have received a DD Form 214, you must contact your unit, your branch of service, or the National Archives to obtain a copy of your DD Form 214.
How to get Copies of Your Records
Here are some tips for getting copies of your DD Form 214, military records, and other information:
Correcting Errors in Your Military Records
If there is an error in your military records and you were supposed to have been issued a DD Form 214, but for some reason it was never issued, you would need to file a request with the Board of Corrections for Military Records. That can be done with DD Form 149, Application for Correction of Military Records.
You must substantiate any request for change of military records with evidence, such as a copy of your orders, travel vouchers, signed statements from your commanding officer or someone you served with, or other evidence. Filling out this type of form is outside of the scope of this article. Still, you should be able to obtain free assistance with any of these issues at your county or state Veterans Affairs office or through a Veterans Service Organization such as the DAV, VFW, American Legion, etc.
About Post Author