Table of Contents
Many military veterans aren't aware they are eligible for VA health care benefits. The common misconception is that veterans can only use VA medical care facilities if they have a service-connected disability rating. Veterans with a service-connected disability rating can use VA medical centers, but health care benefits aren't only limited to those individuals.
Let's dispel some of the myths about VA health care eligibility, see who is eligible, and learn how you can apply for VA health care benefits.
Two things to remember:
This is only general information. Each case is unique, and final benefits decisions rest with the VA.
VA health care eligibility only means you can visit VA medical centers and clinics for health care. It does not necessarily mean all health care is 100% free (some medical care may be free, however, many veterans may be required to pay a co-pay).
There may be limitations on the type of health care you may be eligible for, and some medical care may require a co-pay or other associated cost, depending on your VA Priority Group, the nature of your coverage, and the medical care you receive.
How to Establish Eligibility for VA Medical Benefits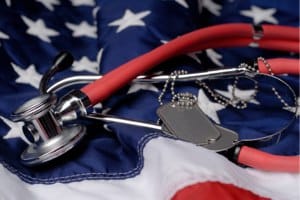 VA health care eligibility is based upon active duty military service in the Air Force, Army, Marines, Navy, Coast Guard, or Merchant Marines (during WWII).
Members of the National Guard and Reserves may be eligible for VA health care benefits if they were called to active duty on a Federal Executive Order (this generally excludes active duty for training purposes). Other groups of servicemembers may also be eligible for VA medical care.
Misconceptions about VA health care eligibility: It is not a requirement to have served in combat or in a war zone. You do not need a service-connected disability rating. You did not need to be injured or wounded while in the service.
VA health care eligibility factors: VA health care eligibility is based on many issues, including active duty military service, type of military discharge, service-connected disabilities, medical conditions incurred while in the service, location of service, and more. You can be eligible based on your service dates, deployments you served on, or other criteria.
VA Health Care Eligibility Questionnaire
Let's start by looking at some basic eligibility requirements, based on the VA health care eligibility questionnaire:
1. Are any of these statements true?
You served in the active military, naval, or air service and were discharged or released with a rating of Honorable or General under Honorable Conditions
You were/are a Reservist or National Guard member and you were called to active duty by a Federal Order (for other than training purposes) and you completed the full call-up period
Veterans have the option of selecting yes or no.
If you answer yes, you will be taken to the following question: Are any of these statements true?
You were discharged or separated for medical reasons, early out, or hardship
You served in theater of combat operations within the past 5 years
You were discharged from the military because of a disability (not preexisting)
You are a former Prisoner of War
You receive VA pension or disability benefits
You receive state Medicaid benefits
Served in the Republic of Vietnam from January 9, 1962 to May 7, 1975
Served in the Persian Gulf from August 2, 1990 to November 11, 1998
If you answer Yes to the second question, you most likely qualify for VA health care. You can skip to the section below, labeled "Applying for VA Health Care Benefits."
If you answer No to either of the two questions above, you may still be eligible for VA medical benefits based on criteria such as your military service or household income. You will need to submit an application for VA health care benefits to learn more based on your specific information.
Important note about household income:
In 2015, the VA eliminated the use of net worth as a determining factor for both health care programs and copayment responsibilities. The VA will now only consider a Veteran's gross household income and deductible expenses from the previous year.
The VA automatically determines the veteran's income and deductible expenses by matching records with the Internal Revenue Service and Social Security Administration.
This reduces the burden on the veteran to file an annual income eligibility form each year. It is estimated that this change will enable some 190,000 more veterans to become eligible for health care benefits in the next 5 years. Learn more.
Applying for VA Health Care Benefits
Once you have established your eligibility for VA health care benefits, you will need to fill out Form 10-10EZ or Form 10-10EZR to apply for benefits. These forms are also used to update your current information if anything has changed. There are several ways you can fill out or update the 10-10EZ: online, by phone, by mail, or in-person at a VA medical facility. Here is the info you need:
Online: Visit this link and fill out the form.
Phone: Call 1-877-222-VETS (8387), Mon-Fri, 8:00 am – 8:00 pm EST. A VA rep will send you a completed form via mail. You will need to verify and sign the form, then return it to the VA.
Mail: Complete Form 10-10EZ or Form 10-10EZR and mail it to Health Eligibility Center, 2957 Clairmont Road, Suite 200, Atlanta, GA 30329-1647.
In person: Visit any VA Medical Center or clinic. Here is the VA Directory.
Required Supporting Documentation
You can reduce the application processing time by providing information about your service when you apply. This includes documentation such as your DD-Form 214 or other military discharge paperwork, service records that indicate you were a POW or received a Purple Heart, or records that show you received hostile fire or imminent danger pay or a combat medal.
VA Health Care Enrollment
This article covers how to enroll in the VA health care system.
Applying with for 10-10EZ and providing all relevant information will generally enroll you in the VA medical care system. Most veterans will automatically remain enrolled in the system from year to year. However, some veterans will need to establish eligibility each year to maintain their enrollment priority. This is generally the case for veterans who qualify for VA medical care based on their income or other information that can change from year to year.
Other veterans may be eligible based on returning from a combat zone within the last five years. Enrollment Priority may change based on the date they returned from the combat zone. The VA will contact you when they need additional information to maintain your enrollment priority.
VA Identification Card
Veterans who are eligible for VA health care are also eligible to receive a Veterans Health Care Identification Card which is used to access VA medical care. These cards have a designation on them indicating a service-connected disability, Purple Heart, or former POW status if applicable.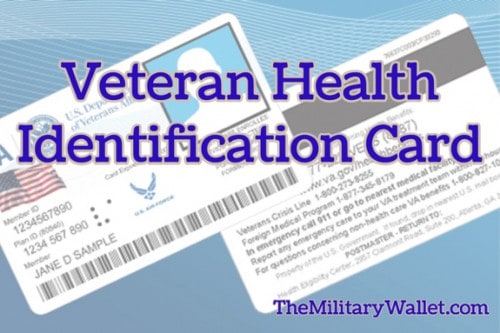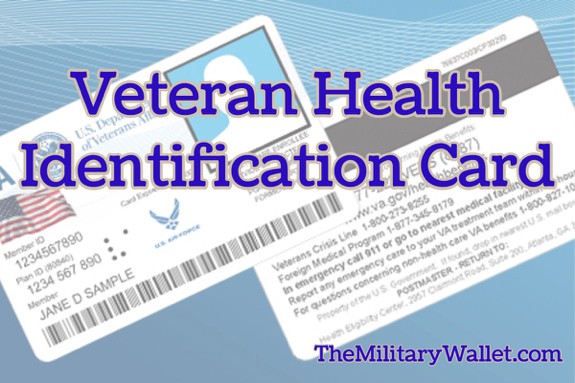 The only official use of the card is to receive medical care at VA Medical Facilities, but many veterans also like to show this card as proof of military service if they no longer have a Military ID Card or do not have a state-issued ID card with a veterans designation. This card is only available to veterans who are eligible for VA medical care.
Eligible veterans can apply for a VA ID Card at any VA medical facility. They must fill out the 10-10EZ and have their picture taken. The VA then verifies eligibility and sends out the card within 7-10 business days.
There is a different VA ID Card which is available to all veterans. This card is free from the VA, but is not intended to be used for any specific veterans benefits.
Options for Veterans Who Are Ineligible for VA Health Care Coverage
Veterans who are not eligible for VA health care should look into other health insurance options, such as an employer-sponsored health care plan, health insurance through a spouse, joining a trade organization that offers health insurance, or purchasing an individual health care plan from the Affordable Care Act Exchanges. This article covers health insurance options after leaving the military.
Photo source: WikiMedia Commons
About Post Author