Military and veterans benefits are often seen as overly generous by those who don't understand what it takes to earn them. While it is true that some military benefits are generous, servicemembers have to go through a lot to earn them.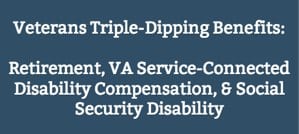 Take military retirement, for example. A military member can retire after 20 years on active duty, and pull down 50% of their base pay for the rest of their life. There aren't many similar retirement programs anywhere in the U.S. But there is a reason it is so generous – it is incredibly difficult to achieve. Only about 17% of servicemembers remain on active duty long enough to earn a military pension. The job is difficult, and attrition is high.
Injuries sustained in the line of duty contribute to the low-percentage of military members reaching retirement. As military members, we work in hazardous conditions, both in and off the battlefield. Congress and the Department of Veterans Affairs recognize this. That is why they award veterans service-connected disability compensation benefits for injuries or illnesses that occurred or were made worse while they served on active duty. The disability compensation is awarded to servicemembers due to their reduced capacity to work. I don't think anyone has a reasonable argument that this benefit isn't earned.
So why write this article?
Because these are two of the three benefits that the Washington Times recently bashed in an article entitled, "Veterans caught triple-dipping on benefits."
The third benefit? Social Security Disability Insurance (SSDI) benefits. This benefit is only awarded to severely disabled individuals who are unable to work. Individuals must have paid into the Social Security system to be able to receive this benefit. Because military members pay into the Social security system*, they are eligible to receive Social Security benefits, including SSDI. (Note: some military members may be eligible to receive Social Security Disability benefits for Wounded Warriors, which is a variation of the SSDI benefit specifically tailored to military members).
*Military members used to be exempt from Social Security contributions, but that changed years ago; military veterans who are eligible for Social Security may be eligible for increased benefits depending on when they served.
Is There an Issue with Triple-Dipping?
The Washington Times article is written as though veterans are scamming the American taxpayer. Just look at the title – Veterans caught triple-dipping on benefits.
Caught, as in they were doing something wrong. But they aren't. Everything is within the scope of the law.
Let's look at the three benefits again:
Military retirement: Is this an earned benefit? Absolutely. And I don't think we need to go into any deep discussions about what it takes to earn a military pension. Fewer than one in five active duty members remain in the service long enough to earn it.
VA Disability Compensation: Is this an earned benefit? Sadly, yes. The VA wouldn't award this benefit if it wasn't "earned" through the injuries or illnesses sustained during the servicemember's time on active duty. There are checks and balances in place to review the veteran's claims, and the award is given based on medical evidence and decreased quality of life. No benefit is awarded as a hand out.
Social Security Disability: Is this an earned benefit? Sadly, yes. Similar to the VA disability compensation, the Social Security Administration has checks and balances to ensure someone is qualified to receive the benefit. People receiving SSDI don't choose to get injured to the point of being unable to work.
The "Problem" with Triple-Dipping
The reason these veterans are receiving extra attention is because most people aren't eligible to receive two forms of disability compensation. For example, there is a clause that prohibits people from receiving SSDI if they earn more than $13,000 a year. But Social Security rules don't count income from military pensions or VA disability compensation. So some veterans who are receiving both a military pension and VA disability compensation may also be eligible to receive SSDI, even if they have income over the $13,000 threshold.
A Deeper Look at Triple-Dipping
The article went on to state, "nearly 60,000 triple dippers collected $3.5 billion in benefits," and, "Of the $3.5 billion spent in 2013 on the triple dippers, $1.4 billion came from the VA, $1.2 billion came from the Pentagon, and $937.4 million came from Social Security."
On the surface, that is a huge number. But the article went on to quote two specific examples:
Veteran 1: A 54-year-old who retired in 1997 after 20 years in the military, who had lung disease, vascular disease and lost use of his feet, collected $122,887 in benefits in 2013 — nearly three times the $43,808 someone of his pay grade would have made in the military.

Veteran 2: Meanwhile, a 59-year-old who retired in 2004 after 26 years, who lost his feet, is blind in one eye and has renal problems, collected $152,719 in 2013 — more than twice the $72,824 salary of someone at his final military pay grade. Most of his benefits — $85,958 — came from VA disability, while $46,396 was military retirement, and $20,365 was from Social Security.
These are serious illnesses and injuries.
What the article fails to mention is that Veteran 2 receives the maximum special disability award of $85,958. That is only given to severely disabled veterans who require full aid and attendance in their home. In other words, the money is to be used for home nursing care.
The funds aren't going into the veteran's bank account. They are being used to provide health care for service-connected injuries.
Budget Cuts Are Important – But Find them Elsewhere
I know the government is trying to balance the books and cut redundancies. But I think they should look elsewhere. The thing is, veterans rely upon their earned benefits, and in the case of the veterans called out by the Washington Times, these veterans are simply trying to hang on to life.
Are there some veterans who game the system? I'm sure there are. But the vast majority of veterans simply want to receive the benefits they earned. They aren't getting rich off the fat of the land. They don't want to be labeled as freeloaders. They simply want to go on with life. And for those who are so severely disabled that they can't work, or that they require hospice care, I think that is the least we can offer them. Without the vitriol and politics, please. We owe them that much. And a whole lot more.
Story: Washington Times.
Additional Commentary: DisabledVeterans.org.
About Post Author