Table of Contents
A military ID card or dependent ID is a valuable card that can unlock a variety of valuable benefits, such as health care through TRICARE, education benefits, and access to base facilities, including the commissary, base exchange, MWR centers and other support agencies.
Unfortunately, getting a military ID card isn't always as easy as waltzing onto your local military installation and requesting one. Only certain individuals are eligible to receive a military ID card or dependent ID card. We'll cover those details and more in the article.
What about a veteran ID card?
Great question. There are veteran ID cards that can also be used to unlock certain veterans benefits, gain base access for certain activities and more.
In this article, we will cover information about some of the forms of military ID that are available, who is eligible to receive one and alternative forms of identification to prove military service if you are a military veteran who is not eligible for a military ID card.
Military ID Card Eligibility
Note: In general, you must be in the DEERS system to receive a new military ID card. This includes the servicemember (sponsor) and eligible dependents (who must be entered into DEERS by the sponsor).
You are usually eligible to receive a military ID if you are currently serving in the military (active duty, Guard, Reserve, or Inactive Ready Reserve), or you are a military retiree. Qualified dependents are eligible for dependent ID cards as well.
Finally, certain veterans are eligible for a military ID card if they are a Medal of Honor recipient, have a 100% disability rating, or in certain other limited circumstances.
Here are some general rules regarding military ID card eligibility. Check with your local issuing base personnel office for more specific information.
Active Duty ID card.
You must be on Active Duty military status and be in the DEERS system.
Guard/Reserve military ID card.
You must be in the Guard or Reserves, which may include the Inactive Ready Reserves (IRR).
Retiree military ID card.
You must qualify as a military retiree, which generally means 20 years of active military service, or 20 years in the Guard or Reserves (though age limits may change eligibility requirements for Guard/Reserve retirees). Medically retired servicemembers may also be eligible.
Gray Area retirees will receive a different military ID card until they reach age 60.
Former military / no longer serving, not retired.
Most former military members who did not retire are no longer eligible for a military ID card.
There are a few exceptions given to certain veterans who meet the following qualifications: Medal of Honor recipients, 100% disabled veterans, former members in receipt of retired pay, Transitional Health Care Member (TAMP), and some others. They will receive DD Form 2765.
Military dependent ID card.
These may include, but are not limited to: Lawful spouse, un-remarried surviving spouse, unmarried children (including adopted or stepchildren) who are: under 21 years of age, over 21 but incapable of self-support (documentation is required), over 21 but under 23 who are attending an approved learning institution as a full-time student (documentation is required).
There are additional eligibility rules for former spouses, dependent parents/in-laws, and certain other cases. Contact your card issuing service for additional information.
Veterans ID card.
See section below for most up to date information.
More types of Uniformed Services ID Cards.
How to Get a Replacement Military ID Card or Dependent ID Card
For more information about where to go, contact your local base personnel office, or visit the Rapids Site Locator (RSL) for ID card requirements and to locate the nearest ID Card Facility/RAPIDS Station based on city, zip, state or country. Here is a RAPIDS Appointment Scheduler user guide to help navigate the site and set up your ID card appointment.
Documents Needed to Obtain a Military ID Card
Applicants are required to provide at least two original forms of identification from the lists below. The ID must be current and not expired. At least one of the forms of ID must be from the primary identity source document list. You can use one form of ID from the Secondary Identity Source Document List. The member must have proof of name change if their name has changed.
These lists apply to military ID cards, retiree ID cards, and dependent ID cards.
Primary Identity Source Document List
US passport or US passport card
US drivers license or state-issued ID card, with photo
US military ID card
US military dependent's card
Permanent Resident Card or Alien Registration Receipt Card (Form (I-551)
Foreign passport
Employment authorization document, with photo
Personal identity verification (PIV) card
Secondary Identity Source Document List
The secondary identity source document may be a form of ID from the list above, provided it is not the same type. For example, you cannot use two different passports from two different countries as your form of ID.
U.S. social security card
Birth certificate with official seal – Must be an original or certified copy issued by a state, county, municipal authority, possession or outlying possession of the United States
ID card issued by a federal, state or local government agency or entity; must have photograph
Voter's registration card
U.S. Coast Guard Merchant Mariner Card
Certificate of U.S. citizenship (Form N-560 or N-561)
Certificate of naturalization (Form N-550 or N-570)
U.S. citizen IF card (Form I-197)
Identification card for use of resident citizen in the United States (Form I-179)
Certification of birth abroad or certification of report of birth issued by the Department of State (Form FS-545 or Form DS-1350)
Temporary resident card (Form I-688)
Employment authorization card (Form I-688A)
Reentry permit (Form I-327)
Refugee travel document (Form I-571)
Employment authorization document issued by the Department of Homeland Security (DHS)
Employment authorization document issued by DHS, with photograph (Form I-688B)
Foreign ID with photograph
Driver's license issued by a Canadian government entity
Native American tribunal document
Information Found on Military ID Cards
Military ID cards include the member's name, affiliation (uniformed services), agency/department (branch of service), expiration date, rank, date of birth, DoD ID number, benefits number, and additional information found in the bar code, chip, and/or magnetic strip.
The DoD phased out the use of social security numbers on military ID cards and retiree ID cards starting in 2009. The DoD ID number is now the primary identifier.
Veterans ID Card Information
One of the most common questions we receive comes from veterans who are looking to get a veteran ID card that proves their military service.
There are many reasons why proof of military service can come in handy – including securing veterans benefits, proof of service for military discounts, or for personal records.
Thankfully, the VA offers two types of veterans ID cards, one for members with a service-connected disability rating, and a general veterans ID card for those who do not have a disability rating. The U.S. government created the Veterans Identification Card Act 2015 which authorizes the VA to issue veteran ID cards to all veterans with an honorable discharge. The VA began issuing these cards in November 2017.
Veterans ID Cards – Two Types
There are two types of veteran ID cards issued by the VA. The veteran ID card (VIC) and the ID card are used for health care services.
Veterans ID Cards
The VA began issuing official DoD-issued military veteran ID cards to veterans with an honorable discharge starting November 2017.
Please note these veteran ID cards are not military ID cards. They simply show you served honorably in the U.S. Military, and will not function to provide military benefits, base access, or other veterans' benefits. If you served in the military and have since separated from, but didn't retire from the military, you may not be eligible for a military ID card.
Veterans must have an honorable discharge to be eligible for this new Veterans ID card. Learn more about how to upgrade your military discharge characterization.
Veteran Health Identification Cards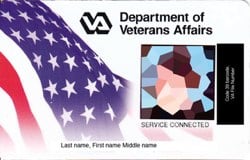 The VA also issues veteran health identification cards for veterans who are in the VA medical system.
Many veterans believe they need to be receiving service-connected disability benefits in order to be eligible for VA health care benefits. This is not the case. All veterans are potentially eligible, based on different criteria, including when and where they served, whether or not they have a service-connected health condition, if they were discharged for medical reasons, served in a war zone, recently returned from an overseas deployment, or other conditions. Each situation is unique and each veteran should contact the VA to determine their eligibility status.
Update: Beginning on January 1, 2020, veterans with a VA Health Identification Card are eligible to access military installations to use the Base Exchange, Commissary, and certain MWR activities.
Other Ways to Prove Military Service
A military ID card is an official way to prove your military affiliation. But some people prefer not to pull their ID card out in public. And of course, many veterans wish to show proof of service but are no longer eligible for a military ID Card. In those cases, you need a different way to prove your military service.
Your DD 214 Will Prove Military Service
The easiest way to prove your military service without one of the above ID cards is with a DD Form 214, which is the document that serves as your service record. This is issued to all military members when they separate from military service (the military used to issue a wallet-sized DD Form 214, but so far as I know, this is no longer the case).
Unfortunately, carrying around a letter-size document is inconvenient. One tip we have received from many veterans is to take your DD Form 214 to an office supply store such as Office Depot, Office Max, Fed-Ex/Kinkos, etc., and ask them to shrink the card to a wallet-size version and have it laminated. This will give you a wallet-sized document that will prove your service.
Note: Your DD Form 214 is one of the most important documents you will receive, so keep good care of it! Here are more details on the DD Form 214, including how to get a new DD 214.
If you do not have access to the above veterans ID card options, you may still be able to prove your military service in other ways.
How You Can Get a Different ID Card to Prove Military Service
Unfortunately, a DD Form 214 isn't a photo ID, it is simply a document. Thankfully there are many other ways to prove your military service.
If you are looking for a photo ID or other wallet-sized ID to prove your military service, then these may be good options for you:
State Driver's License or ID Card.
State or County Veterans ID Card program.
Some counties or other communities issue veteran ID cards. These aren't "official US or state government IDs," but they may be valuable in the local community, as many restaurants and retailers will extend discounts as a "thanks for your service." These cards may also be good for local or county benefits programs, but these vary by locale.
Veterans Service Organization Membership Card.
Many veterans service organizations such as the DAV, VFW, American Legion, and other organizations have membership cards. Check with your local military organization for eligibility requirements.
Do you know of any other forms of ID that can be used to prove military service? If so, please contact us. We will add it to the list.
VA ID Card photo source: WikiMedia Commons
About Post Author